Seventeen DNCBers enjoyed another glorious Wednesday morning outing at Iona Regional Park. We saw some neat stuff, as attested by the many beaut photos, some even by Newbies, on our Flickr site. The people and plant photos are brilliant too.
Six of us left Petra's at 7:30 a.m. (Terry & I in my son's Jeep "toy"),  and met the others at the Iona parking lot around 8 a.m. Metro Vancouver's Melanie B welcomed and briefed us on what's happening at the park, and some of the neat species that had bred there this Spring (e.g. Common Nighthawks, at least 5 pair of Yellow-headed Blackbirds, Spotted Sandpipers, etc.). She also confirmed, that, although work was still in progress, the gate to the sewage ponds was open (thankfully).
Although the tide was way out, we decided to check out the beach before entering the park trails. Good decision. Two brilliant Long-billed Dowitchers were feeding close to shore. And hundreds of Peeps, mostly Western Sandpipers, were flitting and feeding nearby. Roger and others were able to photograph a Least and Pectoral Sandpiper (yellow legs) among them. We heard Spotted Sandpipers and Killdeer were accommodating too. Lots of Gulls, mostly Ring-billed, and Great Blue Herons around too.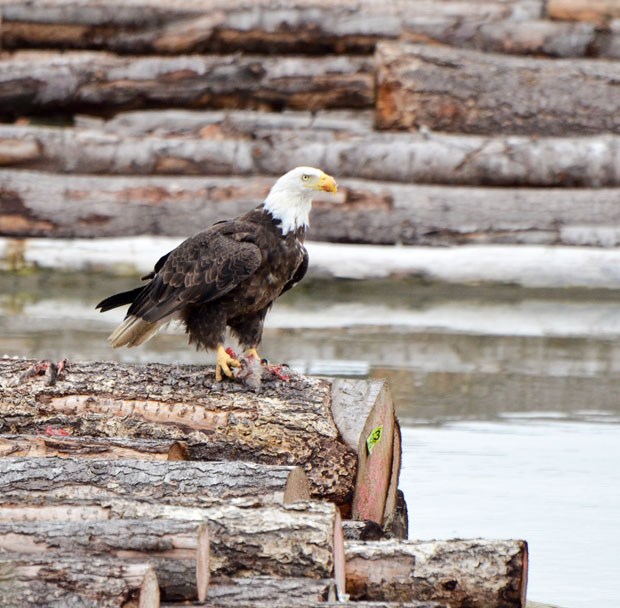 Following David's obligatory Group Photo back at the parking lot, we took the inland trail between the ponds. Lots of Swallows (mostly Barn and Tree, some on second clutches), Finches (House and American Goldfinches) and Sparrows (Song, White-crowned) in the bushes among the tasty Blackberries (my breakfast dessert). We saw several Warblers and our photogs were even able to capture stunning shots of Common Yellowthroats, Yellow, Yellow-rumped and Orange-crowned. Not many ducks on the ponds; someone saw a Hooded Merganser. David reported 35 species seen on his eBird List for this Iona outing.
We entered the back gate to the sewage ponds and there wasn't a lot of activity here either. I couldn't even find a Gadwall among the Mallards. We did see two Spotted Sandpipers. My Bird of the Day was an American Kestrel that flew, and hovered, above us (nice shots on Flickr). A lone young bird was in the Bald Eagle's nest, watch closely by the parents. Lots of Marsh Wrens buzzing.
We exited the sewage ponds and followed the Fraser River trail. Purple Martins were hawking insects above us, and some were feeding late clutches in their pylon nest boxes. Melanie said it's been a super year for the PUMA colony here. The barn owl box apparently had three young too. Nearby we saw the Willow Flycatchers in the same tree we have seen them on previous Iona outings. River otters were evident too with their scat on the trail, as were coyotes. It's always kind of neat too to watch the tug boats working the log booms along the river here.
It was 11:30 a.m. when we got back to the parking lot; perfect time to head to the Flying Beaver for lunch. Eight of us had the best seats in the place on the patio over the river, and my Red Truck lager made the venue even better. The beef dip sandwich was average, but I didn't mind; the conversation was almost stimulating. We left there shortly after 1 p.m. and I was able to stop at Costco on the way home and spend the usual 300 bucks for a jug of milk. It was another awesome DNCB outing.
The 17 were: Roger M, David & Noreen, Colin & Stephanie, Marion & Kirsten, Glen B, our Organizer Terry, Johnny Mac, Newbies Beatrice Mac & Sabine, Ladner Pam, sophomore Richmond's Doc Christy, Jonathan w/o Lorraine, and me.
Next Wednesday, July 31, we'll leave Petra's at 7:30 a.m. for Blackie Spit, meeting at the park parking lot around 8 a.m. For info on our outings, plus reports and photos of previous outings (e.g. San Juan Islands cruise), I urge you to check out our website at www.dncb.wordpress.com. As always, your comments are invited. Cheers: Tom
Tom Bearss, President Delta Naturalists Society