Lucky 13 DNCBers enjoyed a dry, productive and enjoyable Tuesday morning of birding at Terra Nova Park in Richmond. David recorded 37 species seen on his eBird list. Check out the brilliant photo evidence on our Flickr site.
Some car-pooled from Petra's at 7:30 a.m. and we all met at the dike trail parking lot entrance to the park. The weather forecast was for rain which accounted for only 13 brave souls showing up. It was a very manageable number and occasionally the chatfests were almost interesting. We heard a Marsh Wren in the reeds, the first of three Wren species; we got great looks at both Pacific and Bewick's Wrens later. As we looked across the Fraser at the airport, American Wigeons, Green-winged Teal, Gadwall, Mallards, and Double-crested Cormorants were the only species lounging along the shoreline.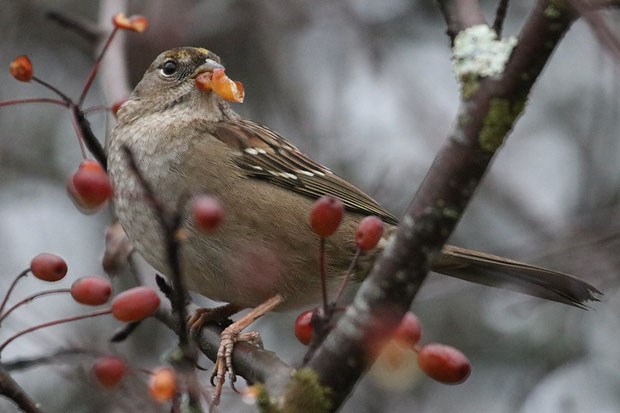 Terra Nova Park has changed since my last visit with lots of play structures for kids, trails nicely groomed, and interesting and informative signage. From the stream bridge we found an American Coot and a Eurasian Wigeon (on closer examination was actually a hybrid American-Eurasian bird). Lots of little birds flitting around; we got the regular four Sparrows (Song, Fox, Golden- and White-crowned), three Finches (House, Purple and a large flock (15+) of American Goldfinches), both Ruby- and Golden-crowned Kinglets, and a Brown Creeper. I saw four Pine Siskins, and the Downy Woodpeckers and Northern Flickers are always neat to see.
Walking through the Community Gardens, Anna's Hummingbirds were playing, and we saw the first of several hawk/raptor species, a Cooper's Hawk. Later we saw Red-tailed Hawks, Northern Harriers, a Short-eared Owl, of course several Bald Eagles, and Marti saw a Peregrine Falcon. It was cool and overcast, but no rain, and quite comfortable as we walked along the shore path as well as the circuit trail passed Quilchena Golf Course and the homes. A huge flock of Snow Geese (3,000+) floating near shore aroused the usual gasps. We found several Barn Owl pellets but didn't see any BO's. I've been told that the nest boxes in Terra Nova are very successfully used by breeding pairs.
Passing the new potential Wildflower Garden and the Bee Kiosk, we got back to the vehicles around 11:30 a.m. Perfect timing for us to get to O'Hare's Pub on Steveston Highway by noon. Nine of us had a super lunch; my classic burger with a pint of their house lager hit the spot. I drove Terry to my mechanic's shop to pick up my Range Rover with new front brake pads (I was pleased it only cost $380), and we got Terry home in Tsawwassen by 1:30 p.m. Another awesome DNCB outing, followed in the evening by a sensational Nats Christmas meeting and presentation by David & Noreen on their Southern Africa Adventures.
The 13 were: our "leader" Richmond Brian, Organizer Terry, David & Noreen, Glen B, both Roger M & Roger K, Mike B, Johnny Mac, the three "girls" Marion, Marti & Jean, and me.
Next Wednesday, Dec. 11 (not Tuesday), is our quarterly Birds on the Bay outing in Boundary Bay Regional Park. We meet at and leave from historic Cammidge House at 9 a.m. on a 2.5 hour amble through the park, returning to Cammidge House at 11:30 a.m., and home-made goodies provided by our Delta Nats Ladies. For more info on this outing, and other reports, events and photos, see our website at www.dncb.wordpress.com. As always, your comments are welcome.  Cheers: Tom
Tom Bearss, President, Delta Naturalists Society