Twenty-four DNCBers enjoyed a mild, sunny, and productive, Tuesday morning at Stanley Park in downtown Vancouver. We got lots of up-close-and-personal looks at some neat species; check out the amazing photo, and video, evidence on our Flickr site.
Some car-pooled from Petra's at 7:30 a.m., others drove directly to the Second Beach parking lot. Either way, it was a horrendous drive through the tunnel and onto Oak Street bridge, then it got a bit better through the city, but still very very slow. It was after 9:00 am, when a seawall path walker took our Group Photo with 21 of the 24 participants. There were lots of Barrow's, and a few Common Goldeneye in beaut plumage in English Bay. A raft of Surf Scoters, some Bufflehead, a Horned Grebe were there too. Bufflehead and American Wigeon were even diving/feeding in the swimming pool.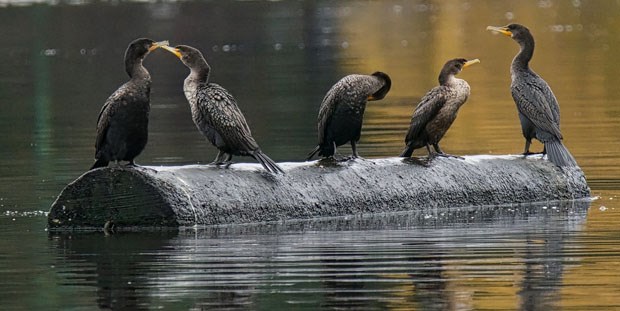 We decided to forego walking along the seawall and go directly into the park toward Lost Lagoon. Tonnes of little birds everywhere in the trees and bushes along the path, including both Black-capped and Chestnut-backed Chickadees eating from Roger's hand. Both Ruby- and Golden-crowned Kinglets, Bewick's and Pacific Wrens, Brown Creepers, Spotted Towhees, Fox and Song Sparrows were seen too. Numerous pairs of glorious Wood Ducks and the almost-as-brilliant Hooded Mergansers were sparkling. Even the "drying" Double-crested Cormorants were attractive. Some saw three of the resident River Otters and the Beaver too. A Pied-billed Grebe, a Eurasian Wigeon among the Americans, and a Peregrine Falcon flypast, were neat sightings as well in the lagoon. David recorded 36 species on our eBird list for the morning.
We leisurely circled the Lagoon and, as expected, the huge and chatty group got spread out. We gathered back at the swimming pool at 10:45 a.m., and decided to check out Beaver Lake before lunch. We convoyed there, walked the kilometre trail around the lake, and were blanked on our target bird, Red-naped Sapsucker (gone south). Glen and others were very pleased with the mushroom sightings. We saw Northern Flickers and Downy Woodpeckers, but not much else, other than some friendly Steller's Jays and more Mallards, Wigeons and Wood Ducks in the lake. Now approaching noon, we (11) decided to try out the new Stanley Park Brew Pub (formerly the Fish House) for lunch.
A Mahonia Bush outside the Brew Pub attracted about six Anna's Hummingbirds which entertained our photogs before lunch. Several DNCBers tried the different beers on tap. My cheeseburger, fries, and pint of the Day Trip Lager were all very tasty. It was a very enjoyable lunch and outing, but got tarnished by the $40 parking ticket on my windshield. Someone "cheaped out" on purchasing a day ticket.
The 24 were: Organizer Terry, "Bird Whisperer" Roger, Mushroom Guru Glen, time-challenged, continuously positive & smiling Germanics Margaretha & Gabriele, directionally-challenged ILB Tony, Richmond Brian & Louise, New West Jonathan & Lorraine, Newbies Beach Grove Jeremy & North Van Jill, Burnaby Marion & VanCity Kirsten, TTFN David H w/o Noreen, Aussie Nance, Ladner Pam, Keener Janet, Spotter Debbi, Bird Box Team Jim & Jack,  North Delta Pat, West Van Lori and me.
Next Tuesday, Nov. 26, we will leave Petra's at 7:30 a.m. on our outing to Blaine, Washington, around Drayton Harbour and Semiahmoo State Park. We'll meet and carpool from the Peace Arch Park parking lot behind the Duty-Free shop at 8 a.m. For more info on this and other outings, reports and photos, see our website at: www.dncb.wordpress.com. As always, your comments are encouraged. Cheers: Tom
Tom Bearss, President, Delta Naturalists Society