Seventeen brave souls spent a rainy, windy, Tuesday morning on the White Rock pier, then at Blackie Spit Park. Despite the crappy weather there were tonnes of birds around and our photogs got some great shots which you can enjoy on our DNCB Flickr site.
Some car-pooled from Petra's at 7:30 a.m. and we all met at the entrance to the re-built White Rock pier around 8:15 a.m. It was raining lightly, not real cold (actually approaching 10 degrees C), but the wind on the pier was horrendous. The tide was high with no shoreline (therefore no shorebirds or dead Anchovies seen) but tonnes of birds, seals and sealions around, so the anchovies or other small fish and crabs must still be abundant.
Close to the pier were Surf and White-winged Scoters (someone saw a Black Scoter), both Common and Red-breasted Mergansers, Bufflehead, Greater Scaup, a few Common Goldeneye, Horned Grebes and at least one Red-necked, Double-crested and Brandt's Cormorants, and many Gulls, Harbour Seals and California Sealions.  A herd of about eight sealions huddled and diving in unison was impressive.
We marched against the wind to the end of the pier where a friendly walker took our Group Photo.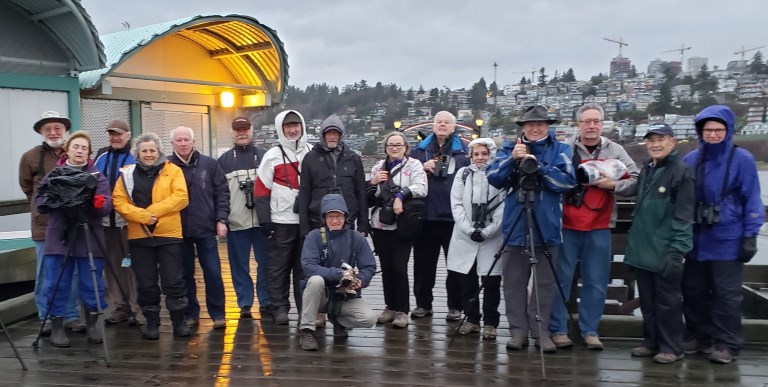 Three Black Turnstones were wandering on the pier among the Pigeons.  Some picked out Bonaparte's, Mew, and Ring-billed (possible Thayer's Gull too) among the many Glaucous-winged Gulls. The wind and waves restricted our view further out so we didn't see any Alcids. The walk back, with the required chatfest, was more comfortable with the wind, and "my new best friend" Colin carrying the Scope was a real blessing.
We left White Rock around 10 a.m. for Blackie Spit. Overcast, but not rainy or windy, wandering the spit and Rene Savenye park area was relatively pleasant. And there to welcome us were the resident Long-billed Curlew and three Marbled Godwits. And they were brilliant, posing on land and in flight.  Lots of Common Loons in the Bay and we picked out a Pacific Loon. Surprisingly, there were very few waterfowl here, unlike the hundreds of wigeon, teal and pintails we normally see.  A couple of Greater Yellowlegs flew in to test our ID skills, but we were blanked on the other shorebird species; possibly missing because no shoreline to feed on with the high water.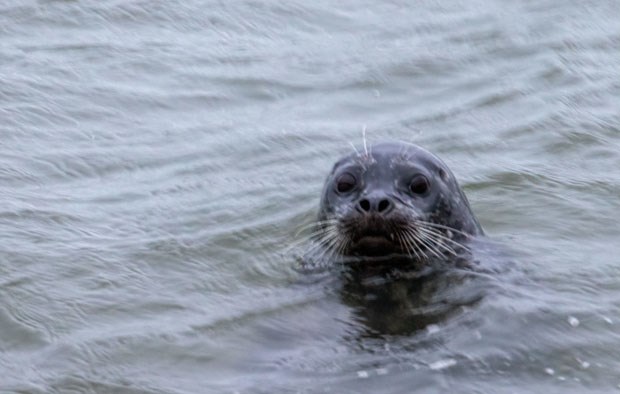 In the grove of trees near the off-leash dog park, we saw most of the neat little birds, such as Anna's Hummingbirds, both House and Purple Finches, American Goldfinches, Golden-crowned Sparrows, Northern Flickers, Spotted Towhees, Juncos, etc.  David logged 39 species on his eBird report (see below) of this morning's outing – interestingly, no one saw a Starling.
Back at the parking lot approaching 11:30 a.m., we aborted the outing and nine of us decided to retire for lunch at the Ocean Park Pizza Pub on 16th Avenue. A super decision as the lovely Ariana made us all feel comfortable, and my Welsh Meatloaf (house specialty) with mashed potatoes and green beans, with two pints of Bavarian 1516 Lager really hit the spot. I was home before 2 p.m. with plenty of time to prepare for the monthly Nats meeting where Jocelyn Demers screened his brilliant documentary film, The Future of Birds. Our first 2020 DNCB outing was another gem.
Next Tuesday, January 14, we'll leave Petra's at 7:30 a.m. for Burnaby Lake Park (Mandarin Duck?), meeting others at the Nature House parking lot around 8:30 a.m.
For more info on this outing, other events, reports and photos, check out our website. As always, your comments are welcome. Happy New Year. Cheers: Tom
Tom Bearss, President, Delta Naturalists Society