Thirty-one folk participated in some or all of our Wednesday morning outing to the Tsawwassen Ferry terminal, then the Tsawwassen First Nations (TFN) boardwalk, then at Reifel Bird Sanctuary on Westham Island. We saw lots of species (55) including some rarities, and also enjoyed some pleasant "bondings" with regulars and newbies, including with our MP Carla Qualtrough and Donna Burke. Check out the photo evidence on our Flickr site.
After leaving Petra's at 7:30 a.m., our first stop was the pull-off on the causeway to the ferry terminal. With our scopes we had good looks at the 14 plus Caspian Terns, Black Oystercatchers, a huge raft of Surf Scoters, Harlequin Ducks, and both Double-crested and Pelagic Cormorants. Of course, Great Blue Herons were everywhere, mostly from their 200 nest site at Tsatsu Shores.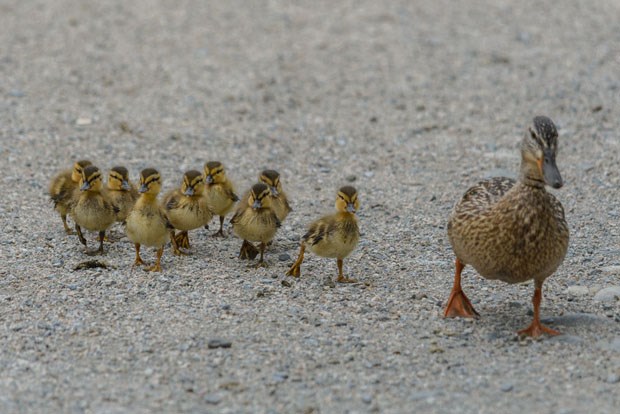 Around 8:30 a.m., we moved on to the TFN office building and the entrance to their "five star" boardwalk over the marsh to the Great Blue Heron Way dike trail. Here we met our Delta MP, Minister Carla Qualtrough and Special Assistant Donna Burke, who joined us for this stage of our outing. Of course, it was a chatfest as we wandered along this Cadillac of boardwalks, but we did see Cedar Waxwings, Savannah Sparrows, Barn and Tree Swallows, and at the boardwalk end and trail beginning, in the mud in the bay/Salish Sea, we saw a small flock of Western Sandpiper early migrants. Our Guru Anne picked out a few Least and Semi-palmated Sandpipers feeding among them too. Differentiating the Peep species is difficult for us mortals, even though some were in breeding plumage.
Approaching 10 a.m., back at the boardwalk entrance, Terry and Donna took Group Photos, and Carla gave us some encouraging words on her views of the second Deltaport and the pipeline, before she and Donna left for a factory tour. Of course, we briefed her too on the great and wonderful things your Delta Nats do in addition to our fun outings, such as the Delta Bird Strategy we introduced to and are now advising Delta staff on implementation, our active Barn Owl and Bird Box Program, our informative monthly meetings, etc.
Our convoy drive from TFN to Reifel was fairly uneventful. There was a lot of algae and overgrown grass in and around the new TFN ponds at the end of Tsawwassen Drive, so we saw no ducks there. More DNCBers were at the Reifel entrance when we arrived around 10:30 a.m. Roger took the traditional Group Photo at the Reifel "sign". Both Anna's and Rufous Hummingbirds were at the entrance feeder. We decided to take the outer trail walk; Marsh Wrens and Common Yellowthroats were singing all along the trail. Finally Roger spotted four birds landing in the outer pond, and we had great looks at the Marbled Godwits. Interestingly, one of the Blue-winged Teal was feeding near where they landed. And nearby were several Yellowlegs (both Greater and Lesser), and Long-billed Dowitchers in their rusty-coloured plumage. A sole Least Sandpiper was also there, along with the Green-winged Teal, Northern Shovelers and Northern Pintail.
More DNCBers joined us on the outer trail, as did the almost-tame resident Sandhill Cranes. An Eastern Kingbird dropped by for his photo shoot too. We saw lots of other species, too many of the 55 total to mention, which you can see on Anne's eBird list. It was about 12:45 p.m. when we got back to the entrance and ten of us decided to go for lunch at our regular spot, Speed's Pub in Ladner. Arriving past 1 p.m., it was less crowded, and my Fish & Chips Special plus two pints of Okanagan Springs 1516 lager was delicious and wolfed down quickly (I was starving). It was another glorious DNCB outing.
The 31 adults, some fleetingly, were: our Organizers Terry C & Roger M, Guru Anne, North Delta Jean, photog Ladner Jack Mac, photog sisters Pat & Maureen, newbie/oldie Rochelle F, Mike B & Mike B2, Johnny Mac, newbies Minister Carla Q & Donna B, Marion & Kirsten, Richmond newbies Catherine S & Christy W, Langley Bob, Mom & Daughter Debbi & Kathryn, Jonathan & Lorraine, former DFWT Director and Westham Island resident David B and his two children, Anita D-D & Joanne V-S,  New Yorkers Chief Bill & Caroline, Ladner Pam, Margaretha S, PB Lorna, and me.
On Wednesday, July 11, we'll leave Petra's at 7:30 a.m. for Derby Reach Regional Park, meeting at the Edgewater Bar/Derby Reach Campground Parking Lot (off Allard Crescent) at 8:30 a.m. For info on this and other outings, reports and photos, see our website at: www.dncb.wordpress.com. As always, your comments are welcome. Cheers: Tom
Tom Bearss, President, Delta Naturalists Society (PS The White Pelican was at Brunswick Point this morning, Friday)