As most new moms can relate, it's difficult to get time for 'me.' When our 9-month-old twins go to bed I find I'm cleaning the kitchen, making grocery lists, prepping meals for the next day or folding laundry all while trying to keep my eyes open long enough to maybe watch half an hour of The Great British Baking Show (which is awesome by the way) before crashing in bed. I'm not complaining, in fact I love it. But it goes without saying that it's exhausting. It's part of the reason I was so intent on creating and launching my blog during this chaotic time of my life. Writing is a passion and I thought it would give me an outlet. But I've found it's challenging to be diligent about it. Self-imposed deadlines? No way. So when I discovered the Monthly Wine Writing Challenge I thought it was perfect. It provided me with a topic and a deadline, what more could I ask for?
This month's topic is solitude. Ironic to say the least. But the timing of it was perfect. My hubby and I were just about to take the babies on holiday and I thought "of course I will have some time to myself to sip on a glass of wine and perhaps write a blog post or two." They nap, they go to bed early, how could there NOT be time, right? Heck, I was even planning on going on a wine tour during the week, what a great opportunity for content!

Man oh man was I wrong.

First off, let me just say that my husband is amazing. He works full time and is 100 per cent an equal parent when he's home with the kids. But being away from home with babies is a whole new ball game. I'm not sure how, but it seemed like there was twice as much to do during the day and only half the time to do it. It threw us off our game, big time. But one night, before some other family joined us for the rest of the week, we decided to fight the tired, open a bottle and enjoy the deck for a bit. Just the two of us.
The bottle was a 2011 Quail's Gate Merlot. For those that know me, know that Quail's Gate is one of my absolute favourite wineries. I worked there many moons ago, so maybe I'm a bit biased. But the quality has endured year after year so it's not hard to justify opening a bottle. So we sat. Watched the boats on the lake. Counted the sky divers floating from the clouds (there were 16 in one jump). We chatted ... mostly about the babies, but still. We checked our phones. Glanced at the baby monitor on occasion. But mostly, we just enjoyed the moment. We debated going inside to make dinner but decided to stay outside and have one more glass while watching the previous night's episode of Big Brother on our phone. That end part may sound ridiculous to some, but to us, it was perfect.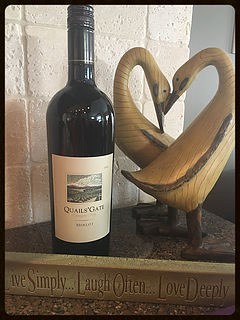 When we got home a week later I started to stress. Deadline for the #MWWC26 was looming and I didn't have much of a framework for my post. I didn't think that I had experienced a quintessential 'solitude' type moment. I even Googled the word to try and jump start my brain. Solitude means to be alone … sans husband. To be isolated, deliberately void of contact with anyone else. The only time on the whole trip that I was alone was when I went to my massage therapy appointment (me plus unfamiliar bed equals ouchy neck.) Long story short, I forgot my wallet and didn't end up getting the massage. I cried once I got back to the van. Seriously. Lack of sleep will make you do koo-koo things.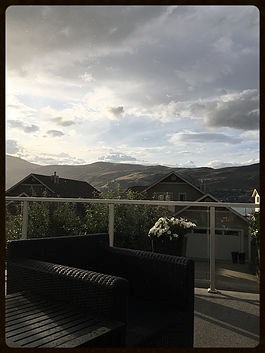 A couple of days later, I told myself I needed to get serious about what I was going to write about. So hubby took the babies outside to play on the lawn while I swept the floor (the jobs never end) and brainstormed. I thought, well maybe I don't have to write about our holiday at all ... maybe I pull from a memory pre-kids. Or maybe I write about how my only solitude these days is taking the dog outside for 5 minutes to pee while the kids nap. But that doesn't involve wine. I was really stuck. I still AM stuck. Right now, solitude isn't a reality for me. The images below (which come up when you Google solitude) won't be something I experience for years to come. And I'm OK with that, I really am. As long as I get those moments on the deck with the husband and a glass of wine every once and awhile.