Raj Singh Toor's five-year campaign to get a street named in Vancouver to commemorate the Komagata Maru incident of 1914 appears to have finally paid off.
A staff report that goes before city council May 30 recommends the Canada Place roadway near the harbour be provided a secondary honourary name, Komagata Maru Place, as an act of cultural redress for the city's role in the incident.
"Even though it's taken five years, we're all very happy that this will happen," said Toor, a grandson of one of the passengers who was aboard the Japanese steamship, which was turned away from Vancouver's harbour in a move rooted in racism.
Toor is vice-president of the Descendants of the Komagata Maru Society and first reached out to city council in 2018 to have a street named in memory of the incident.
He initially lobbied for a portion of Main Street between 49th Avenue and Southeast Marine Drive be renamed Komagata Maru Street or Drive.
The stretch was chosen by community members because of its connection to South Asian businesses, the city's largest South Asian population, its proximity to the Ross Street temple and the annual Vaisakhi Parade.
But Toor said by telephone Wednesday that city staff's recommended location at Canada Place — which he suggested in conversations with staff — is a good choice, particularly because it has a view of the harbour where the Komagata Maru was docked in 1914.
Council still has to formally approve the name, but Toor said he was assured by Mayor Ken Sim that it will get his full support. Coun. Lenny Zhou, who is one of seven ABC Vancouver councillors, said he will also ensure staff's recommendation is approved.
"This is a dark chapter of our history in Canada and Vancouver," Zhou said. "So remember what happened, commemorate what happened and make sure it never happens again. It's very, very important."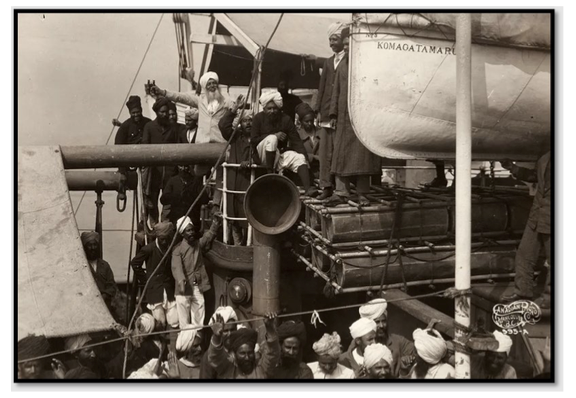 British subjects
Toor was at city hall Tuesday with Sim, Zhou and other members of council to mark Komagata Maru Remembrance Day. In 2021, council formally apologized for injustices and discrimination against the 376 passengers travelling on board the steamship from India to Vancouver.
The ship arrived in Vancouver on May 23, 1914.
Although the passengers had valid travel documents — including passports that proved they were British subjects and the mandatory $200 Asian head tax — they were prohibited from leaving the Komagata Maru.
The city staff report said passengers' representatives wrote repeated letters to then-mayor Truman Smith Baxter requesting food, water and medical aid in response to the deteriorating living conditions on the ship.
"The city did not respond to these letters, nor did they seek support from senior government to provide these provisions," said the report, noting the mayor organized a public meeting at which his message was to send the "undesirables" back to India.
At the time, council unanimously passed a motion advocating for the exclusion of "Hindus and other Asiatic races into this country." Approximately 340 of the passengers were Sikh, 27 Muslim and 12 Hindu, with most from Punjab, India.
The Komagata Maru remained docked for 62 days while the small, local South Asian communities advocated for the passengers and raised funds to pay for provisions and legal efforts.
Council also aims to pay tribute to the efforts of the South Asian community in 1914 by directing staff to explore options for how to recognize the specific role it played during the Komagata Maru incident and its larger historical and cultural significance.
'We can't undo the past'
Toor's grandfather, Baba Puran Singh Janetpura, who was 24 at the time, was one of the passengers. He was fluent in English and had plans to seek higher education once he arrived in Vancouver.
Instead, he went without food, water or medication, and ended up in clashes with authorities in Vancouver and back home in India, where he was sent to prison. Twenty passengers were shot and killed upon return to India, according to historical accounts of the Komagata Maru incident.
Toor said his grandfather later joined the Indian independence movement, which led to the end of British rule. In 1962, Toor said, his grandfather was honoured by the Indian government for his active role in the independence movement.
He now has a hospital named after him in India.
Toor said his grandfather, who died in 1976, had an opportunity to return to Canada but refused because of the way he was treated in 1914.
Still, he believes his grandfather would have been happy to learn of the apologies from all levels of government and the move to name a street in Vancouver to recognize the incident.
"We can't undo the past, but we can move forward and leave a legacy for the future generations by educating them about the past," Toor said. "So we are extremely happy."