A European couple is taking a winter adventure of a lifetime, motoring up the world famous Alaska Highway on the back of their sidecar motorcycles.
Robby Knecht and Mag Habouzit began their journey criss-crossing Canada in October, arriving at Mile Zero this month to chart a course north.
"Even in Europe, people know about the Alaska Highway," Habouzit said during a stop in Whitehorse earlier this week. "We didn't know until last week that we will take the Alaska Highway. We know where we want to go more or less, but we change our plan very often.
"But then we were in Dawson Creek and we were like, OK, great, let's ride on the Alaska Highway, and we've done 1,400 kilometres."
Motorbiking in the winter is old fun for the high school sweethearts. Habouzit recalls Knecht getting his first bike in 1984, when they were just teenagers, and picking her up to go skiing.
---
---
Their Canadian adventure now is just one of many since those days, and part of Knecht's ambition to travel the world by motorcycle. He started last January riding up to North Cape in Norway, and finished by crossing 34 European countries.
"People said, 'Oh, be careful in Eastern Europe, if you ride Turkey, Serbia, it's dangerous'. No, no," said Knecht. "Only TV shows the countries as dangerous. When you cross, people are like you, like me, they want only peace."
"When you cross countries, all people are very cool, very good," he said.
With their three kids all grown up, and after careers working in international policing and humanitarian aid, Habouzit joined the global journey and the couple sold their possessions, buying up two of the last Russian-made Ural sidecars they could find for sale in Europe.
---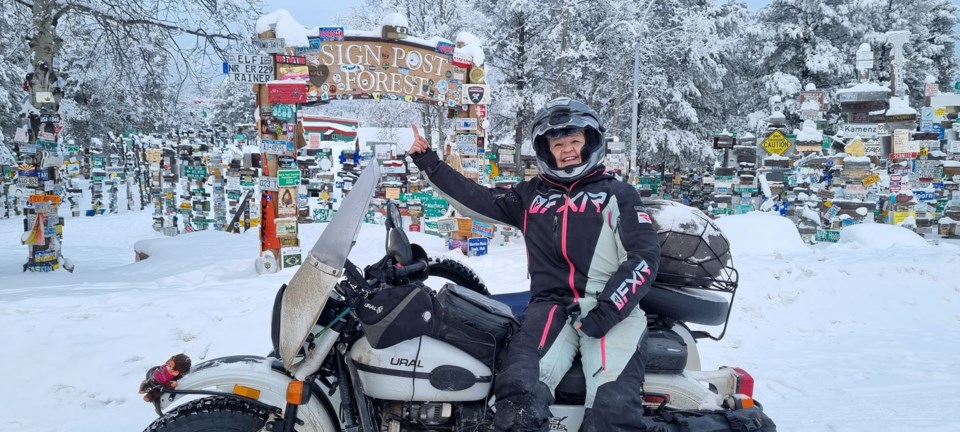 ---
Habouzit says they were "super lucky" to find one sidecar through a dealer they knew in France, and a second that was supposed to ship from Germany to the United States, but was instead redirected to France, as the motorcycles were under export embargo due to war between Russia and Ukraine.
"When I was ready to join Robby, I said, OK, we have to have two of the same models. In case we have a breakdown, we have to have the same model, it's a lot easier to repair," she said. "So we have two of the last sidecars fully made in Russia... Ours are from Siberia."
The sidecars were brought to Canada on a four-day plane ride from Geneva, Switzerland, to Montreal — "Five minutes, tick, tick, tick, we got the stamps, here we go. It was super easy," said Habouzit.
---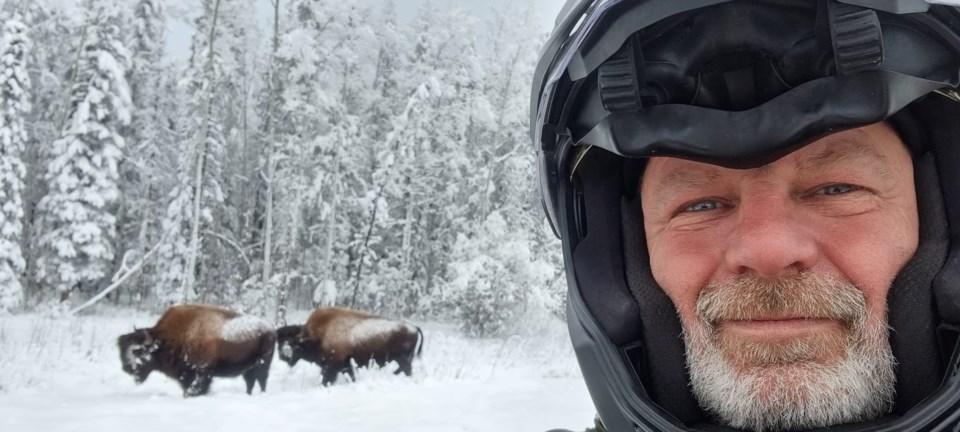 ---
They couple has since clocked more than 16,000 kilometres, travelling the country on a six-month visa and attracting the curiosity and enthusiasm of fellow motorists.
"Lots of thumbs up from truckers," said Habouzit. "Every time we stop at a gas station, we get plenty of people asking questions."
Added Knecht, "A sidecar Ural, it's atypic. It's a special look. A 'wow' look."
As for taking an Alaska Highway journey now, during the winter: "Only because there is no tourists and no mosquitoes," Knecht said with a laugh.
"We come from Switzerland; we know winter, we know snow. It's a real pleasure to ride with fresh air, with a wide view."
---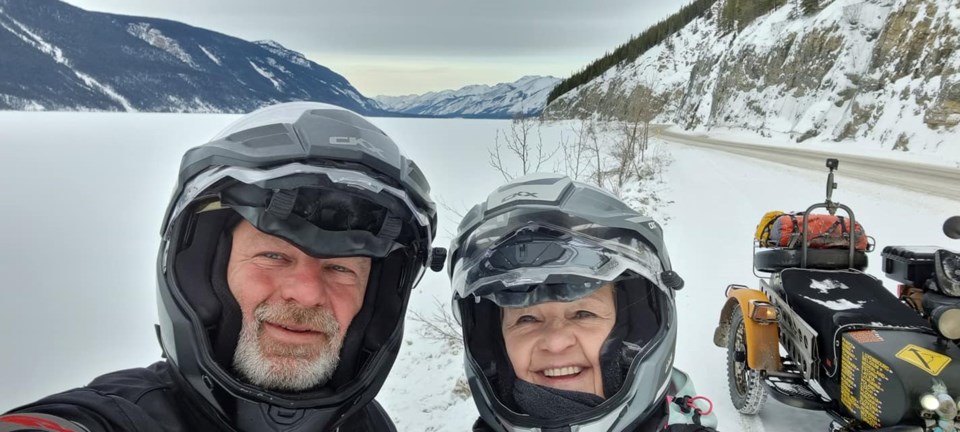 ---
"Winter brings a different atmosphere than summer," Habouzit added. "We meet a lot more locals, true locals who live here all year long. It's completely different. And the scenery is magical."
Depending on the weather and the cold, the sidecars range in mileage, sometimes taking them 250 kilometres, other times 340 kilometres, before needing to be refuelled.
"We have separate tanks always with us, of course, because your country is really big and we can have 400 kilometres with no gas station," said Habouzit.
"We're well equipped. We stop a lot as well to heat up, but again we don't ride fast. It's 70-80 maximum. It's really a cruising ride," she said. "We do very well with the weather. What's amazing is in one day we have a snow storm and sunshine, and blue sky and fog... It's crazy but enjoyable."
---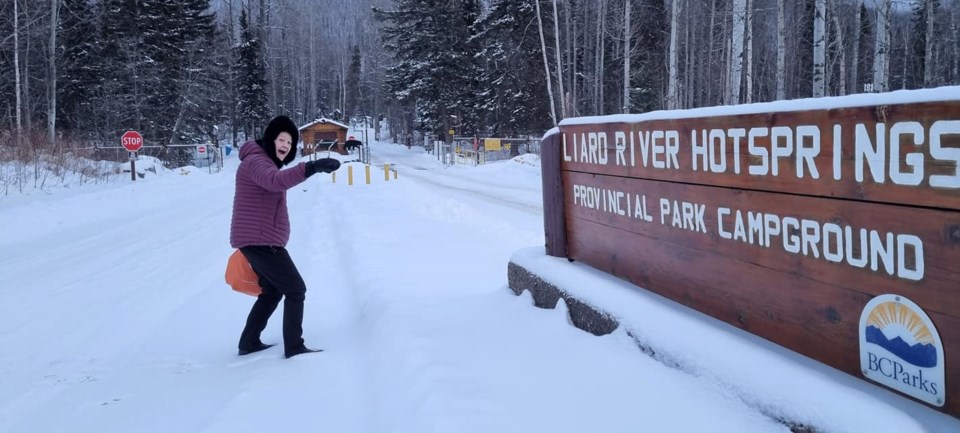 ---
The northern friendliness and hospitality has been second to none, too.
Habouzit says the couple enjoys free coffee every time they fill up at a gas station, and even got a warm night's stay in Fort Nelson thanks to a friendly local hotel manager they met while fuelling up in the small B.C. community.
"All is beautiful in Canada. The Alaska Highway is very, very nice," Knecht said. "But the most important part in this journey is when you meet people."
As of this writing, Knecht was making his way up the Dempster Highway from Dawson City, Yukon, to Tuktoyaktuk in the Northwest Territories to see the Arctic Ocean.
From there, the couple isn't sure what direction they'll go next, whether crossing into Alaska from Dawson City, or going back to Whitehorse to finish the Alaska Highway.
---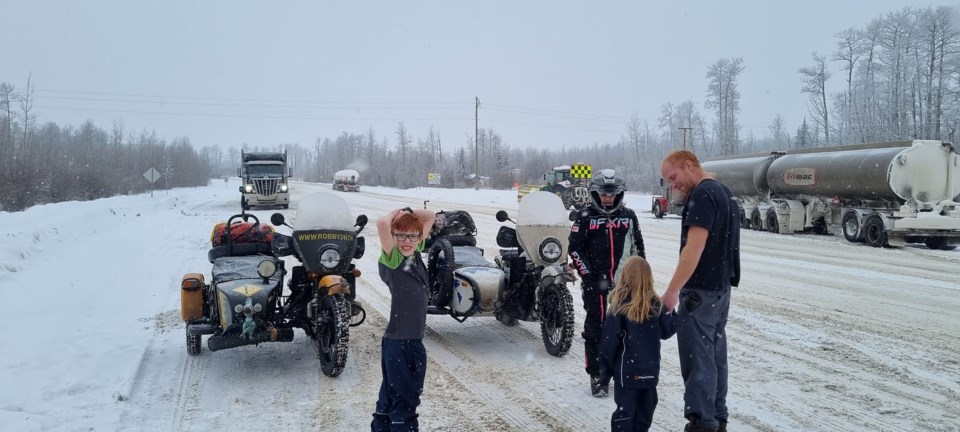 ---
They've been invited to a world motorbike show in Toronto in February, and their ultimate plan is to travel south through Mexico and Central America, to the tip of South America in Ushuaia, Argentina. They also want to visit Chicago and Louisiana in the United States.
Knecht and Habouzit are chronicling their journey on Facebook and YouTube, and other social media platforms, all along the way.
"Many Canadians, they send us messages and they say, 'Oh, thank you for making us visit our own country, our own roads'. Many of them say they don't take the time, they fly to Florida to find the sun," said Habouzit.
"Some of them just realize how beautiful some parts of Canada, I mean, every part of Canada, is."
---