No doors. No windshield. And definitely no cup holders. But in 1896, in one of the first car advertisements thought to ever run in print, Cleveland, Ohio's Winton Motor Carriage Co. had something else up its sleeve.
"DISPENSE WITH A HORSE," stated the ad's headline.
"The hydrocarbon motor is simple and powerful. No odour."
In the following decades, cars would become even more powerful, more ubiquitous — at once transforming the way humanity got around all while belching out carbon dioxide and other pollutants at increasingly dangerous levels.
More than 125 years later, the internal combustion engine remains one of the primary drivers of global emissions, on the road, accounting for roughly a fifth of all greenhouse gases and helping to drive catastrophic events like last year's heat dome in British Columbia, which is now thought to have killed 619 people.
In Canada, road transportation together with the oil and gas sector account for nearly half of all the greenhouse gases produced across the country (that number does not include fossil fuels burned overseas).
Odourless or not, fossil fuels are also a leading cause of outdoor air pollution, something that Health Canada estimates contributed to 15,300 premature deaths in 2016, though one recent international study estimates those deaths could be more than double that.
In Metro Vancouver, decades-long research has linked higher prevalences of attention-deficit hyperactivity disorder (ADHD) and lower educational benchmark scores with air pollution from vehicle traffic and a lack of green space.
Indoors, research has suggested combusting liquefied natural gas as a cooking fuel at home increases the likelihood children will have asthma by 42 per cent and increases the risk they will develop asthma over their lifetime by 24 per cent — comparable to living with a smoker.
Research into indoor air quality remains in its infancy relative to what's known about what we breathe outside. But early work indicates that a number of daily tasks could be leading to a "very unhealthy" environment at home.
Given those threats to human health, 34 health organizations across Canada are calling for a tobacco-style ban on fossil fuel advertising that includes:
motor vehicles with an internal combustion engine;
fossil fuel utilities distributing fuel to homes;
and the fossil fuel companies that produce and distribute oil, gasoline, diesel and coal.
Together, the industries account for more than 60 per cent of all carbon pollution in Canada, according to the coalition of health professionals.
"Chevron or Shell shouldn't be able to have a big billboard advertising their gas is clean," said Melissa Lem, a family physician in Vancouver, B.C., and president-elect of the Canadian Association of Physicians for the Environment (CAPE).
"The images we see and the words that we hear need to reflect the reality that fossil fuels are bad for health. And so allowing these companies to greenwash, allowing these companies to promote the use of their products is analogous to promoting the use of tobacco."
In an open letter to several federal ministers, including those responsible for health, natural resources, and climate change, the organizations — which together represent over 700,000 health-care workers — called for an end to "fossil fuel misinformation" that "obstructs climate action."
The letter — signed by Doctors of BC, the College of Family Physicians of Canada, and the Public Health Association of BC, among other organizations not known for their activism — calls out fossil fuel advertising for failing to disclose the known health and environmental hazards it poses to the public.
"High-profile anti-smoking campaigns and graphic disease warnings on cigarette packaging alert about the dangers of smoking," reads the letter. "Similarly, Canadian broadcasters allot free time to public service announcements about the risks of alcohol.
"Yet there has not been a parallel effort to inform the public about the health and environmental risks of carbon pollution and other pollutants generated by the burning of fossil fuels."
Lem said the campaign to end fossil fuel advertising is a direct appeal to guard public health in the same way Canada banned cigarette advertising in 1998 after decades of pressure from doctors.
Only this time, the dozens of health-care organizations are looking to do so much faster.
"We don't have five decades to wait to ban fossil fuel advertising and to reduce demand for them," said Lem. "It just makes sense for health professionals to be leading this campaign because the climate crisis is a health crisis."
This is not the first time CAPE has turned to advertising to warn of the health risks of fossil fuels. In August 2021, the group erected its own billboard near the entrance to the Tsawwassen ferry terminal in Delta, B.C.
The aggressive billboard campaign targeting BC Ferries for burning liquefied natural gas — or LNG — a largely methane mixture they say is threatening human health and the world's climate system.
In the 20 years after methane is emitted, the gas is roughly 85 times more potent in its ability to warm the planet than carbon dioxide. Since 2007, methane emissions have steadily risen across the planet, according to a 2021 United Nations Intergovernmental Panel on Climate Change (IPCC) report, considered the gold standard of climate science.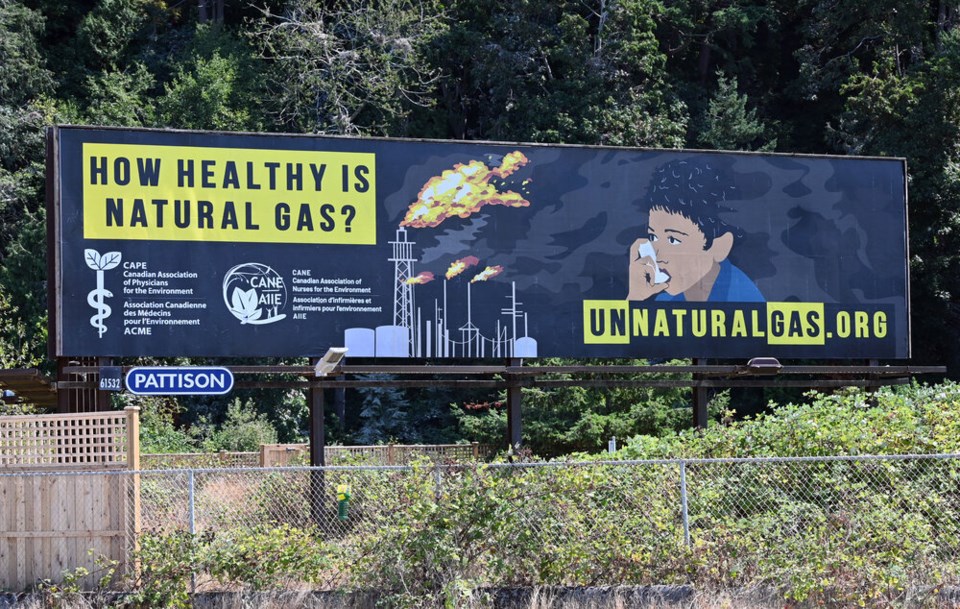 Bans on fossil fuel advertising have already been rolled out in places like Amsterdam, which has banned ads for fossil fuels, cars and aviation. The Canadian campaign also points to advertising watchdogs in the United Kingdom and the Netherlands that have also targeted false advertising produced by companies claiming their products or operations are carbon neutral.
And in France this year, the country passed a bill that will ban advertising internal combustion engine vehicles that still produce emissions beyond a certain threshold by 2028.
Claiming to be the first fossil fuel ad ban campaign in the world led by health professionals, the campaign is also calling on Canada's Competition Bureau to expand oversight of companies trying to 'greenwash' their products.
Targeting greenwashing wouldn't be new for the bureau, an independent law enforcement agency set up to protect and promote competitive business practices.
Following a global report in January that found 40 per cent of companies make misleading environmental claims, the bureau warned Canadians to be on the lookout for the practice.
"It can take many forms, including claims, adjectives, colours and symbols used to create an impression that a product or service is 'greener' than it really is," said the bureau in a statement at the time.
"If a company claims a product or service is 'green', take a moment to reflect on that claim."
The bureau has had success in the past. In one victory against greenwashing earlier this year, the Competition Bureau reached an agreement with Keurig Canada to pay a $3-million penalty after it made false and misleading environmental claims.
The case centred around the coffee company telling consumers — through social media, its website and directly on product packaging — that its single-use K-Cup pods were recyclable. The bureau found B.C. and Quebec were the only provinces where municipal recycling programs widely accepted the coffee pods.
Keurig Canada was also found to have made false or misleading claims by giving consumers the impression they could recycle the pods by peeling off the lid and dumping out the grounds.
In addition to the $3-million penalty, Keurig Canada was forced to pay for the cost of the bureau's $85,000 investigation and donate $800,000 to a Canadian environmental charity.
The company is no longer permitted to make the bogus claims on its packaging, online or in news media.
Regulating fossil fuel advertising, however, would be a sea change for the bureau.
In an April application to Canada's Competition Bureau, Indigenous leaders and environmentalists came together calling for RBC to end its financing of fossil fuels and stop "deceiving the public."
RBC is among the top five banking financiers of fossil fuel projects in the world, and the biggest in Canada, according to a report produced earlier this year.
The report, which surveyed 60 banks around the world, found RBC had increased its investments in fossil fuel projects to nearly $38 billion from over $19 billion in 2020.
In a statement to Glacier Media, RBC spokesperson Rafael Ruffolo says the bank "strongly disagrees with the allegations" and believes the complaint to be unfounded.
Regulatory oversight is not the only avenue the open letter is pursuing to transform motor vehicle and fossil fuel advertising.
In addition to robust regulation, the 34 health professional organizations are seeking a government-enacted "comprehensive ban on advertising by fossil fuel industries, products, and services." And if those advertisements continue, the Government of Canada should at the very least mandate "disclosure of the health and environmental risks associated with fossil fuel production and use."
"We need to have disclaimers like those pharmaceutical ads that you'll see from American stations, how they advertise the drug, but then they have all this text afterwards talking about all the different risks and side effects that can be associated with use of that medication," said Lem.
"We need the same kind of thing for fossil fuels."