The evidence for Bradley Cunliffe is too strong to suggest the number of homeless people living in the Metro Vancouver region is on a downward trend.
Not from what he's seen in the Tri-Cities, where the last regional homeless count in 2020 identified 86 people either living in a shelter or on the street.
"It's got to be more than that now," said Cunliffe, who was homeless for several years before securing a spot in a shelter and recently moving into transition housing in Coquitlam.
He rattled off a list of locations where unhoused people live in the area, including parks, along riverbanks, near train tracks, behind buildings and in the deep woods, where he resided when he first became homeless after leaving home at 20.
He's now 44.
Standing outside his residence Tuesday on Gordon Avenue in Coquitlam, Cunliffe pointed to the mountainous forest in the distance in response to a question about where he called home when he was without one.
"Just before that tree line," he said. "I just followed the Minnekhada [Park] trail and kept going. The cougars kind of scared me. But other than that, it was great. I liked it quite a lot, actually."
First homeless count since 2020
For roughly 13 years, he moved around the Tri-Cities to various sleeping spots, including in front of Port Coquitlam city hall and outside the building where he now resides, which operates as a shelter and transition housing.
He said he's grateful to have a temporary home, knowing that so many people in the region continue to survive in the streets. In 2020, the homeless population in Metro Vancouver was estimated at 3,634.
Whether that number has increased is in the process of being answered as more than 1,000 volunteers set out Tuesday and Wednesday to count and speak to people in the Tri-Cities and the rest of the region.
The goal is to gather new data on the homeless population, an exercise that hasn't been done since the pandemic was declared in 2020.
The expectation is that many communities will see an increase in people considered homeless, with the chronic drivers of trauma, mental illness and drug use at the forefront of reasons why.
The cost of rent, lack of housing and services, inflation and the widening gap between rich and poor will also be factors.
In Vancouver, those drivers have consistently remained true, as has the fact that Indigenous peoples continue to be overrepresented in the counts; 39 per cent of people counted or who responded to a survey in 2020 identified as Indigenous.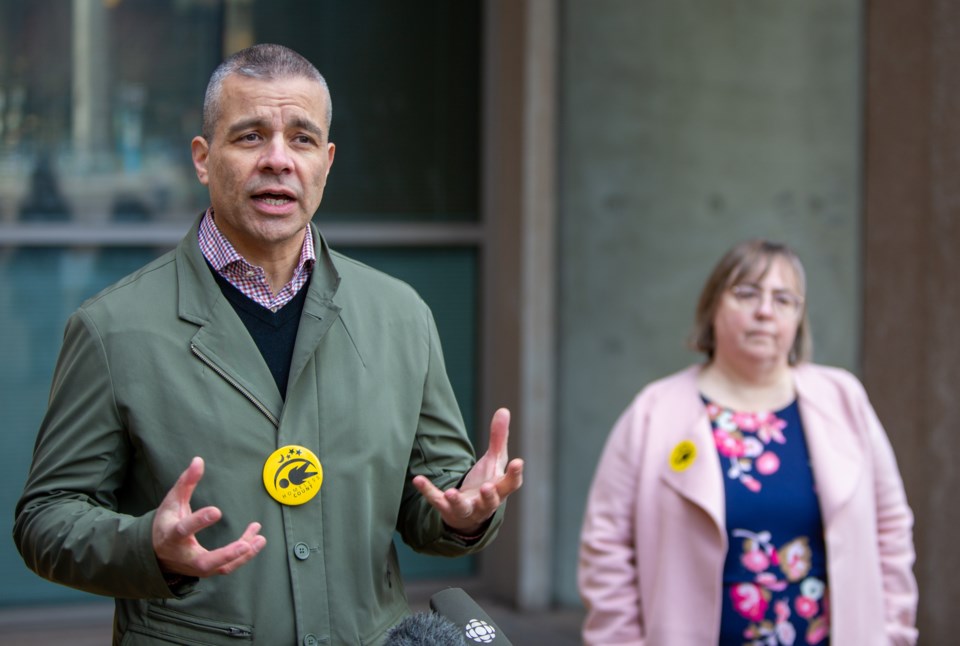 Residential schools
This time around, volunteers will ask Indigenous peoples whether they are residential school survivors or have a connection to the country's dark period — important information that David Wells said helps strengthen the push for more Indigenous-led housing and services.
"It gives us the weight behind a policy decision to say, 'This is where we need to continue investing, continue to put some more resources, put some units and build community,'" said Wells, chairperson of the Indigenous Homelessness Steering Committee for Metro Vancouver.
Wells attended a news conference Wednesday outside Vancouver's main library branch on West Georgia Street to update media on the count. He was joined by Stephen D'Souza, the executive director of the Homelessness Services Association of BC, which is coordinating the count.
D'Souza spent his morning with volunteers in Vancouver's West End.
"I think the pandemic just really aggravated people's trauma," D'Souza said.
"So people who were already struggling, and finding a way to kind of function before the pandemic, have been further isolated. It's pushed them more towards self-medication, and that just started a downward spiral. We heard a lot of that today during conversations."
'A big and daunting task'
Lorraine Copas is the executive director for the Social Planning and Research Council of B.C. and chairperson of the Metro Vancouver community advisory board for Reaching Home, which is a group of organizations working to try to end homelessness.
"That's a big and daunting task when we look at the kind of housing market that we see in many of our communities, and especially Metro Vancouver, which is a high-cost market," Copas told reporters.
"That's why this data is so important to us to really understand the different pathways into and out of homelessness, and what's changing, are we making progress in certain areas, and who's being pushed out and who's falling behind."
But even with the data, and the continued investment by governments in housing and in mental health and addictions services, homelessness has continued to hold steady or increase in many communities over the past decade.
In Vancouver, for example, volunteers in the 2011 count recorded a population of 1,581. In 2020, that increased to 2,095, despite thousands of units of supportive housing, social housing, modular housing and shelters added to the city's housing stock.
Governments have also purchased hotels to accommodate people from the streets and those at risk of homelessness.
"It's certainly frustrating," Wells said. "We know that there's a lot of talk about housing, there's a lot of initiatives being put out there. We know it takes time to build housing, but we know we need more of it."
'It beats the hell out of the street'
Cunliffe would agree with that, as he waits to find a permanent place to live.
The former Home Depot employee said he has struggled with addiction and is now on a methadone program. He was in and out of jail in his younger days and lives with some mental health issues that prevent him from landing a secure job.
He collects income assistance with a portion for disability and has access to food, nurses, counsellors and services that he wouldn't otherwise have sleeping in a park.
"It beats the hell out of the street," Cunliffe said. "If I don't have to move, I won't because it's hard to find a place where I'm accepted for who I am. I've had trouble just being who I am with my past history."
For now, he spends his days picking up discarded needles around his building and liaising with homeless people in the Tri-Cities, bringing them supplies, water and paperwork for housing.
The opioid crisis, he added, has hit vulnerable people hard: 32 people died in Coquitlam of an overdose in 2022 compared to one death in 2013, according to BC Coroners Service data.
"The drugs are lethal now, people are dying everywhere, it's crazy," said Cunliffe, who showed a Glacier Media reporter a small box jammed with discarded needles he collected Tuesday. "Since the fentanyl thing happened, I've never seen anything like it."