A beautiful piece of Delta's past will soon be preserved for the future.
A three-year fundraising campaign launched by the Delta Museum and Archives Society to purchase a significant oil painting by acclaimed local marine artist John Horton came to a successful conclusion recently.
In mid-August, civic-minded people interested in art and local history were invited to An Evening of Enchantment on the beautiful grounds of the estate of Harlow and Mary Ann Burrows.
Greeted with valet parking and red carpet, champagne and live music, some 100 guests enjoyed an eight-course dining experience prepared by Delta's own internationally renowned chefs Bruno Marti and Tobias Macdonald and their team.
Horton was the guest of honour with his painting, Arrival at Port Guichon, on hand.
Horton's original paintings are in private, corporate and government collections world-wide. The 22 x 36-inch framed oil painting, inspired by a 1903 photograph in the Delta Archives, brings to life Delta's early industrial marine history.
Horton dramatically captured Port Guichon in its heyday by featuring the Vancouver Island ferry Victorian, the British sailing ship Forteviot, the Victoria Terminal rail line and several buildings constructed by prominent citizen Laurent Guichon.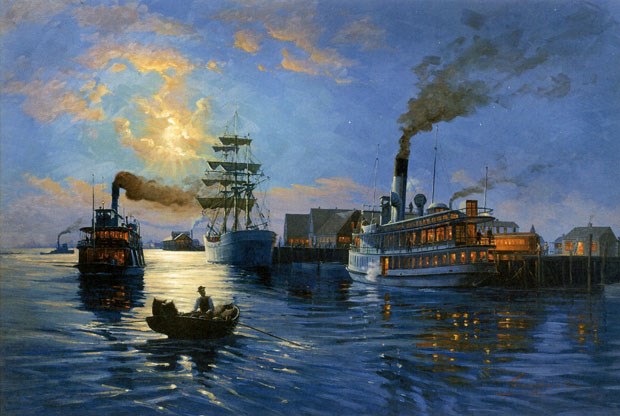 Former mayor Doug Husband, who helped spearhead the fundraising efforts, said thanks to the generosity of those at the event as well as auction proceeds, enough was raised to purchase the painting, which will be turned over to the City of Delta to be displayed in a prominent location in a civic facility.
"We knew it would be an excellent venue and we knew we had all the ingredients for success, but we weren't sure we would accomplish the goal, which was to raise enough money for the painting, and we did, so that was a great success," said Husband. "This has been going on for about three years through the traditional ways of fundraising and then we decided if we were going to have any success, we needed to have an event."
Husband said he hopes to be in on the discussions with Delta to decide where the painting will be displayed.
"I wrote to them [Delta] recently hoping to have some consultation with them," he said. "I'm kind of opposed of it going to city hall because people are not going to city hall to see history, they are going there to do business. I'm hoping they use it for school programs and in conjunction with the new cultural centre. The painting needs to be situated in a place where there is a compatible story, so I'm hoping we can work something out."
Husband offered thanks to Delta South MLA Ian Paton who led the auction as well as everyone who contributed cash donations initiated by Mary Ann Burrows, an artist in her own right and sincere in her efforts to shine a brighter light on art and culture in Delta.
Husband also thanked other event committee members, including Diana Cousins, Don Jarry and Horton, for their efforts in creating a memorable evening.
Mary Ann Burrows said she and her husband were thrilled to open up their home for the evening.
"The real reason I did this because it was for art and I think it is important to celebrate and bring the community together to support art as well it was for Doug. He is a wonderful person and does so much for the community," she said.
"When we sat down he had so much passion for this. We had never done anything like this before… opening up our home to the community, so it was a great event and happy we could meet so many wonderful people who have such a keen interest in art and community."