A Ladner YouTuber is working to keep the spirit of Halloween alive during the COVID-19 pandemic.
There is no question that Halloween will look very different this year, but Matt Reed and his YouTube channel Redneck Engineer are working to show trick-or-treaters and their parents Halloween can still be conducted safely.
With a background in automotive engineering and electric vehicle technology, Reed has taken the advice of family and friends and has created the YouTube channel to showcase his projects. The first video showed steps to ensure social distancing and how to create your own candy dispenser out of cardboard and PVC pipe.
Reed is also making a map showing Ladner trick-or-treat safe stops. To be on the map, a homeowner must lay out social distance markers and have a touchless way of delivering candy at a safe distance. In his plan, Reed is following many of the recommendations for celebrating Halloween as laid out by the BC Centre for Disease Control (BCCDC).
Other suggestions from the BCCDC include, not wearing a medical mask in addition to a costume mask, handing out individual treats instead of offering a shared bowl, avoiding commonly touched surfaces like doorbells and handrails, avoiding props that can cause coughing, such as smoke machines and trick-or-treating in a small groups in non-busy areas.
Although not as many people have signed up for the safe houses map as Reed would like, about half a dozen have expressed interest and he expects more to follow.
Reed says he started making the projects for people who both accept the gravity of the pandemic and still want to live their lives.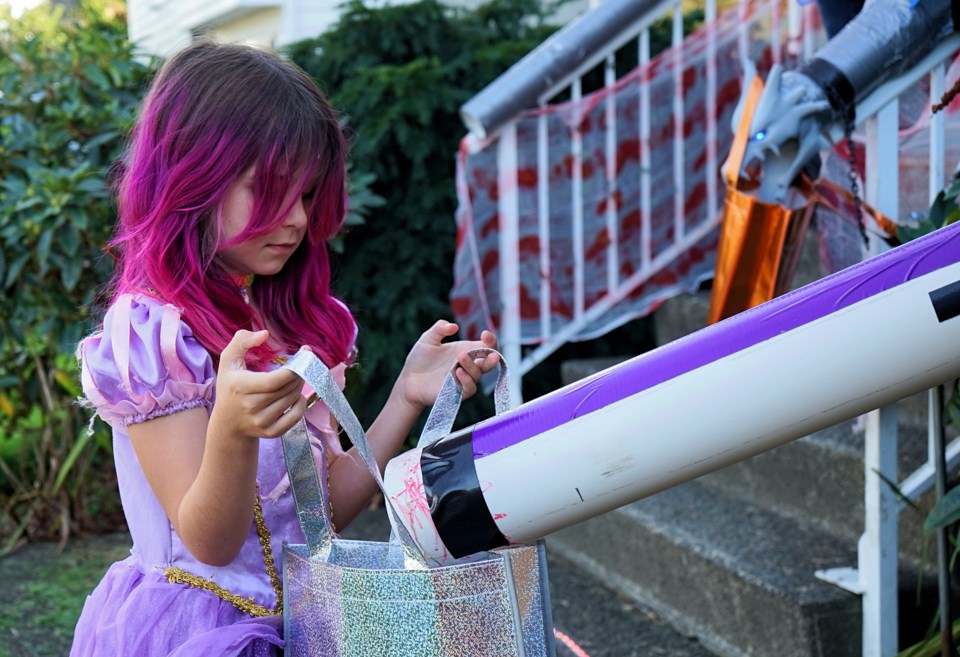 The Optimist caught up with Reed at his home where showed off three different candy dispensers, each escalating in time and financial costs. The least expensive build was a creeper from the videogame Minecraft made out of cardboard boxes with a PVC tube duct taped to its side for candy transfer. The second, an elephant, with a trunk that served as a candy chute and lastly, a dragon that would dispense candy each time a sensor was activated by movement. 
While some of his candy dispenser builds are more complicated, Reed believes parents can put minimum amount of effort in and make something magical.
"I just hope that people will participate in Halloween safely more than anything," Reed said. "The middle ground is there and it's easy to take."
To register for Reed's trick-or-treat safe stops map he can be contacted at: Matt.Raymond.Reed@gmail.com.