While the Oscars celebrate success in film and the Emmys highlight television, there was no such equivalent for the music industry up until the late 1950s.
The National Academy of Recording Arts and Sciences started in 1957 in Los Angeles to connect musicians and producers and honour exceptional music.
For that purpose, the first Grammy Awards ceremony (the Gramophone Awards at the time) was hosted soon after in 1958, celebrating the music and creators who went above and beyond. The biggest night for music has also proven to be one of the most memorable for iconic fashion.
The inaugural Grammys only had 28 different categories. Since that time, the Grammys has turned into a massive annual celebration, with the most recent ceremony having 91 different categories—a major expansion from its freshman year.
The most important categories of the night—and the only ones that cross all music genres—are Best New Artist, Song of the Year, Record of the Year, and Album of the Year. The Big Four awards, as they're known, are so prestigious that only two artists (Christopher Cross and Billie Eilish) in the award show's history have ever won all four in one night. Even when artists don't take home a gramophone or make music history, they can still solidify a spot in fashion history on Grammy night.
With all the awards and all the buzz, the Grammys has become host to a who's who of important celebrities and a wonderful capsule of popular fashion at the time. Stacker dug into the rich history of iconic Grammys outfits and spotlighted 25 of the most unforgettable.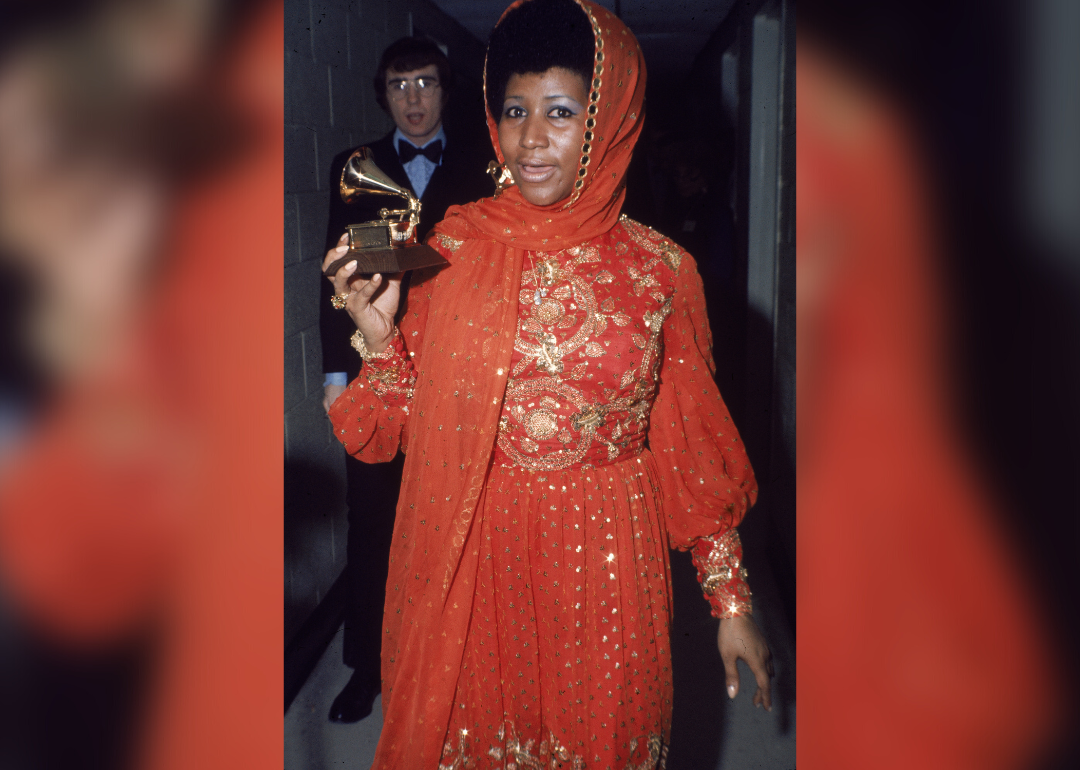 Aretha Franklin, 1970
The Queen of Soul had a life almost as interesting as she was. Aretha Franklin was a self-taught musician from Memphis, Tennessee, and was the first woman inducted into the Rock & Roll Hall of Fame.
She channelled her life and identity into her fashion, said to wear "what she wanted, how she wanted, when she wanted" by costume designer Clint Ramos, who studied Franklin's fashion for the 2021 biopic "Respect." That sentiment perfectly manifests in Franklin's 1970 Grammys outfit, a burnt orange gown with puffy sleeves and gold designs etched into it, along with a similarly patterned scarf.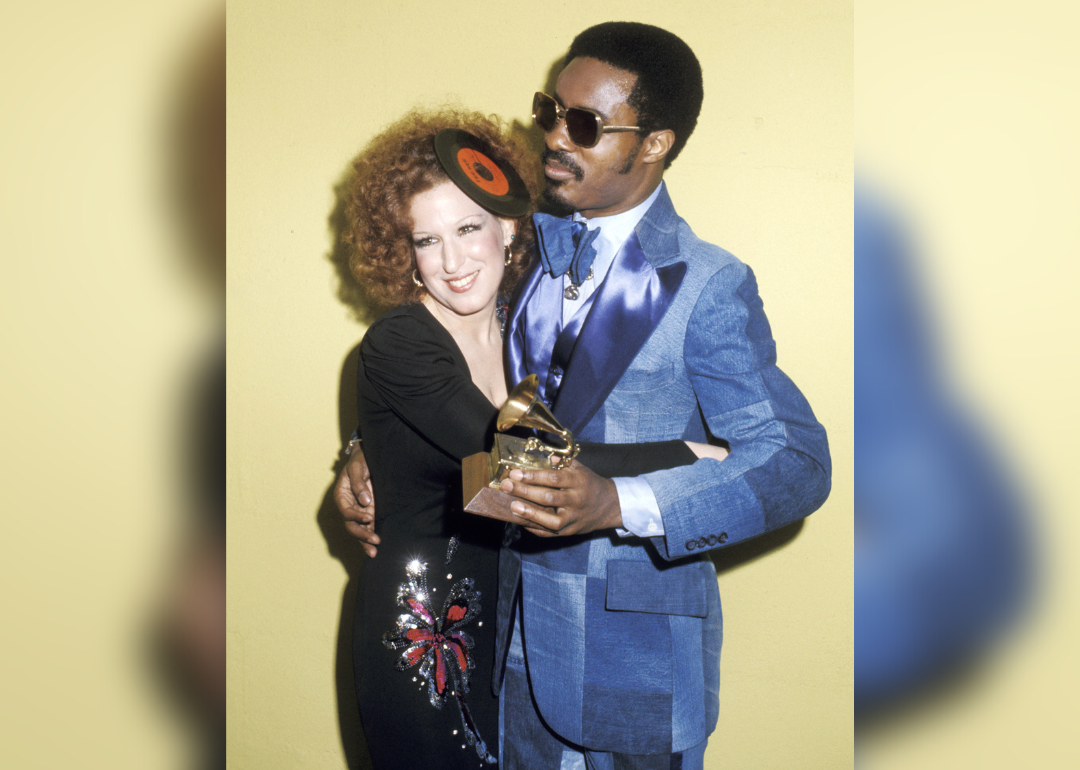 Stevie Wonder, 1975
At age 38, Stevie Wonder became the youngest living person to be inducted into the Rock & Roll Hall of Fame. Equally impressive, 14 years earlier, the R&B legend was up for six different Grammy nominations at the 1975 awards ceremony (and won four).
Wonder arrived on the red carpet, arm in arm with Bette Midler, wearing a quirky variation on a classic suit. Not only was his entire suit denim, but it was made of patchwork denim of various washes and accentuated by deep blue silk.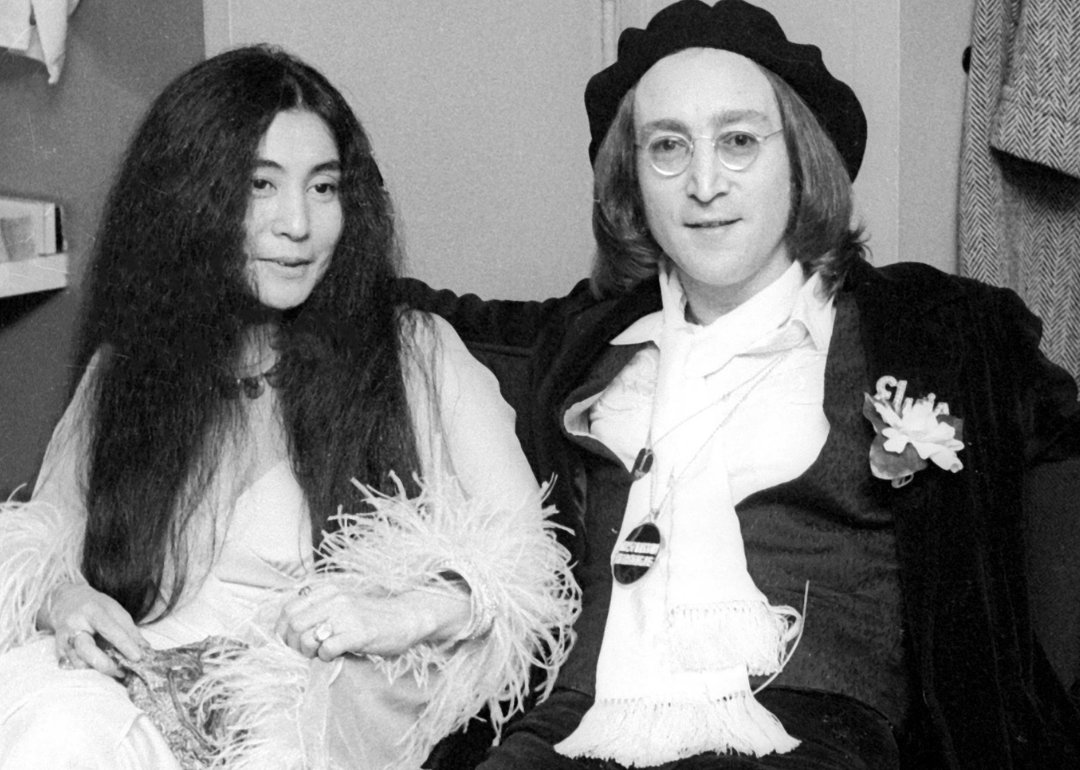 John Lennon, 1975
The 17th Annual Grammys is most known for the comedy it produced as a result of Paul Simon and John Lennon co-presenting Record of the Year. The musicians found camaraderie in the fact that they were separated from the groups that made them popular.
Another memorable aspect of the night was the outfit that Lennon wore alongside his wife at the time, Yoko Ono. Lennon donned a black suit with a white shirt and long scarf underneath, topped with a black beanie and an Elvis pin. With Ono in a blue slip dress and blue shawl, the couple looks like they stepped right off the streets of modern New York.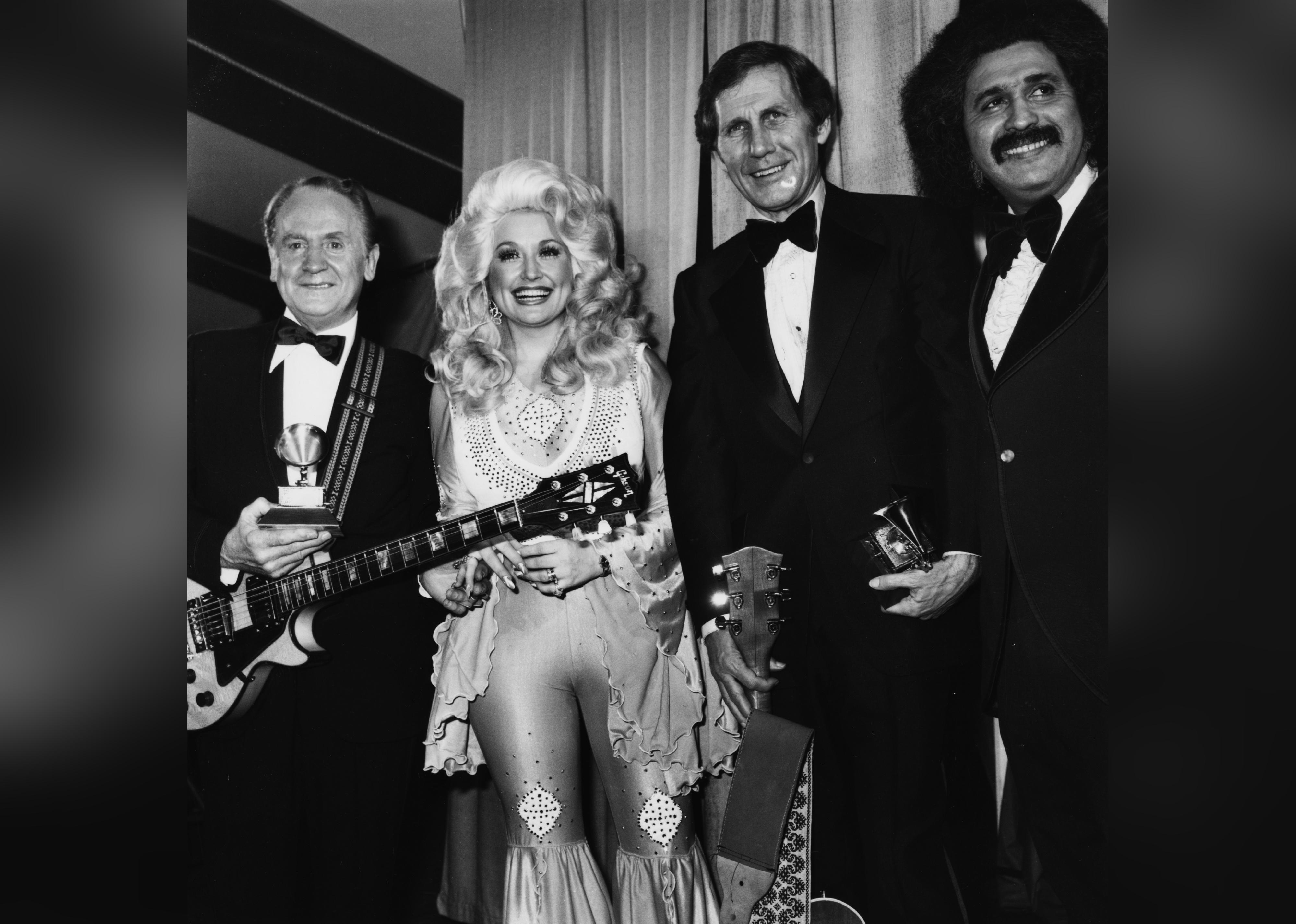 Dolly Parton, 1977
No one on the planet is quite like country singer Dolly Parton, who's known for her impressive voice, catchy songs, and uniquely Western fashion sense.
In fact, the singer is so celebrated that she's been nominated for 53 different awards at the Grammys, winning 10. At the 19th Annual Grammy Awards, Parton hit the red carpet in a hot pink and white outfit of high-waisted bell-bottom pants, a tight top with long-flowing sleeves, and a cowboy-style vest.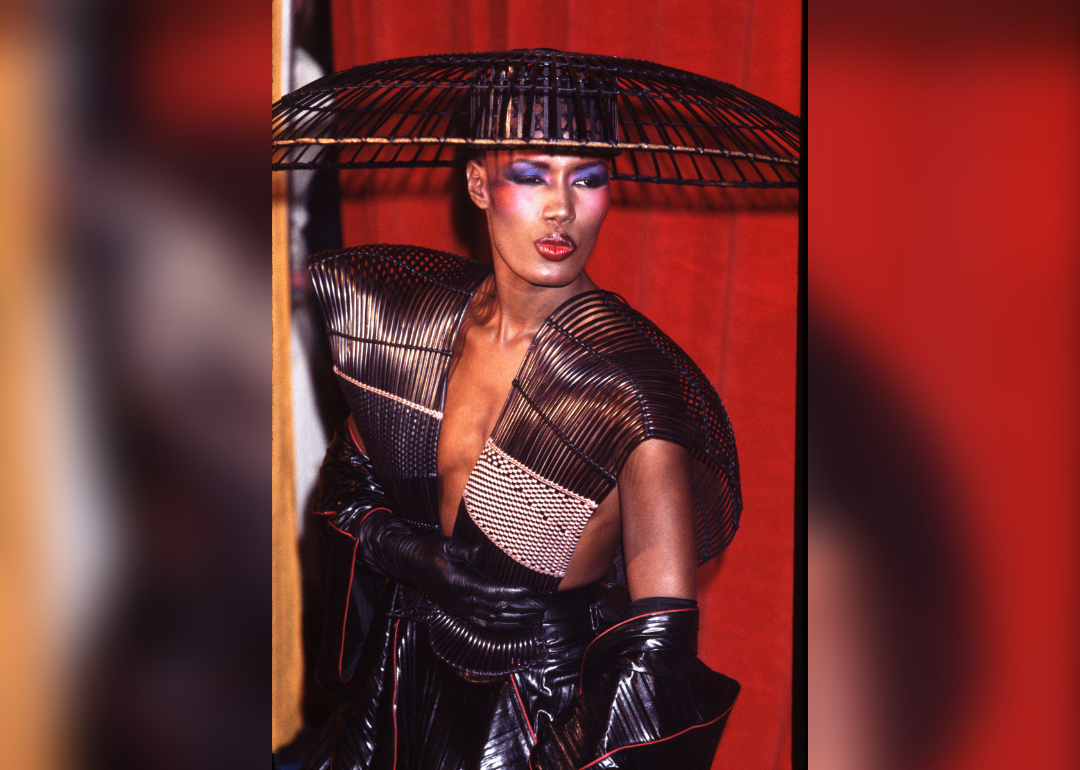 Grace Jones, 1983
Model, singer, and actor Grace Jones never subscribed to fashion norms, becoming something of a mascot for the highly experimental and campy "disco club" style.
No look encapsulates this better than her 1983 Grammys outfit, a black-and-red-striped futuristic piece with broad shoulders, a tight waist, and a very wide-brimmed headpiece created by Japanese fashion designer Issey Miyake. In fact, the headpiece was so big that it kept hitting fellow host Rick James' head while the two were presenting an award, forcing the duo to improvise several comedic bits to address it.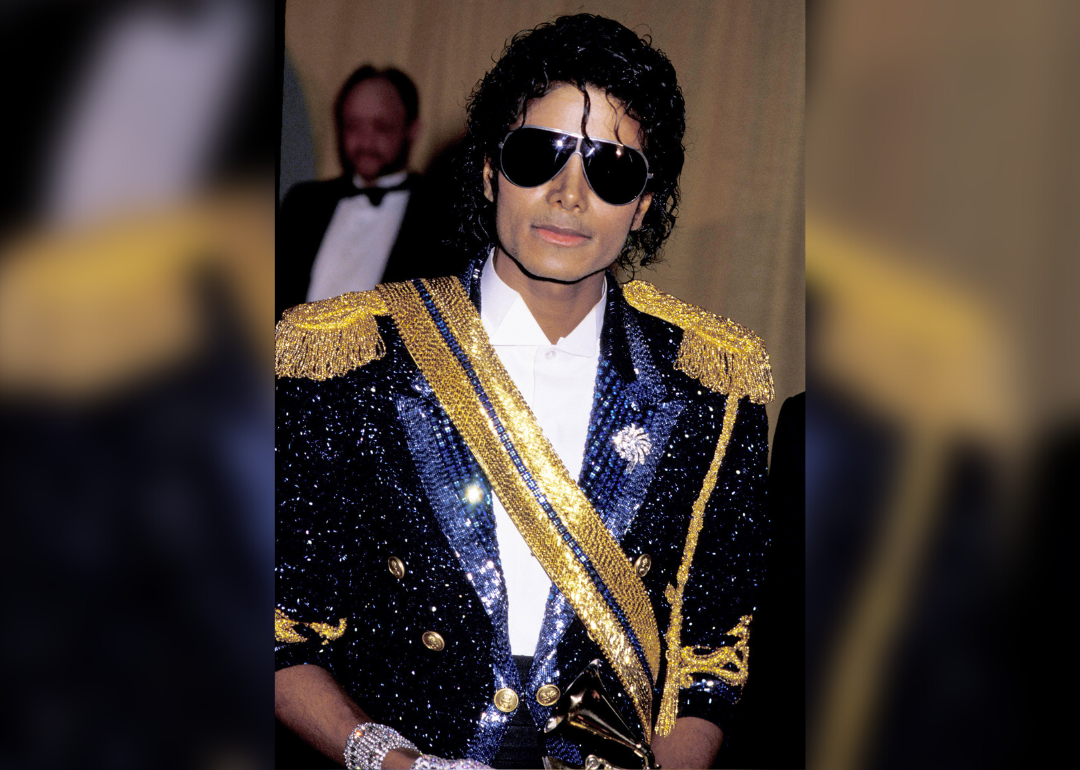 Michael Jackson, 1984
The 26th Annual Grammy Awards was a landmark year for the awards show as the record for most awards won by an artist was shattered by none other than Michael Jackson. Jackson won eight different awards in 1984, including Song of the Year and Album of the Year; he also managed to win the unofficial Best Dressed of the night.
The King of Pop wore a stunning sequined suit jacket with straight black pants and sparkling shoes, paired with his trademark lone white glove that was similarly bejewelled. This singular ensemble has become so iconic that a Michael Jackson doll in said outfit hit the shelves in stores shortly after.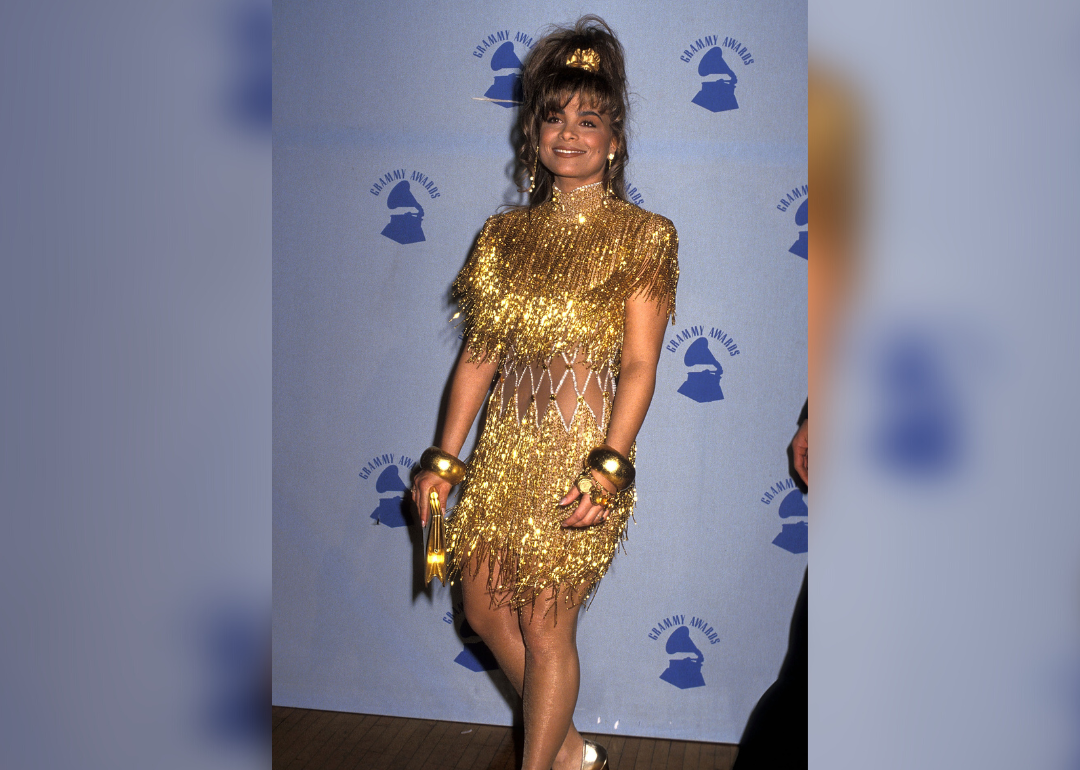 Paula Abdul, 1990
Paula Abdul is now known for her numerous stints as a judge on various singing and dancing competition shows—including "American Idol," "The X Factor," and "The Masked Dancer"—but her music career was the start of it all. At the 32nd Annual Grammys, Abdul received her first nomination for Best Pop Vocal Performance for the song "Straight Up" and hit the red carpet with her then-boyfriend, John Stamos.
The pair made quite the impression, largely due to the singer's sparkling fringe golden mini dress and high collar. Various diamond-shaped geometric cut-outs adorned the singer's torso that contrasted her chunky gilded bracelets and equally gold scrunchie.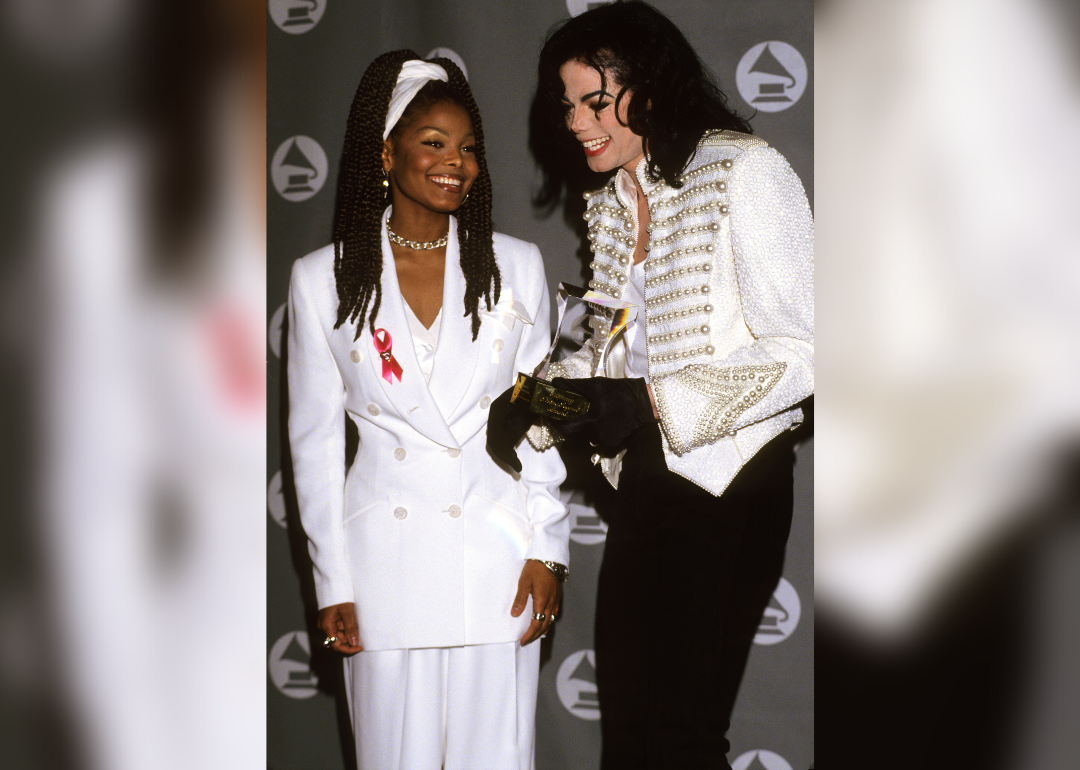 Janet Jackson, 1993
In 1993, Janet Jackson made her film debut in the John Singleton film "Poetic Justice" alongside Tupac Shakur and Regina King. As cool as Jackson was in the film, her Grammys look from that year might have been a touch cooler. The singer wore an all-white, double-breasted pantsuit paired with a white hair wrap and silver jewelry. Michael Jackson mirrored his sister's outfit on the red carpet in a white suit jacket of his own, and both singers had red ribbons pinned to their clothes as a symbol of Aids awareness.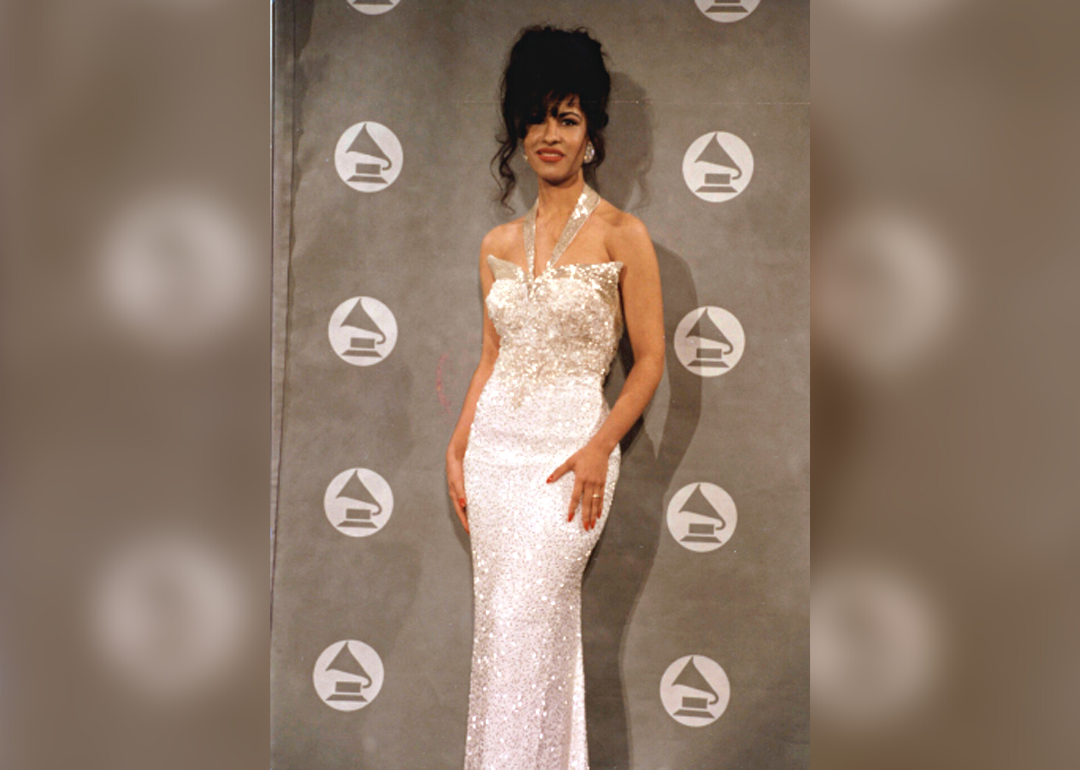 Selena Quintanilla, 1994
While 1995 saw the tragic murder of American Tejano singer Selena Quintanilla, her legacy and impact in music, fashion, and Mexican American representation are still highly relevant today. In fact, her legacy was honored at the 2021 Grammys with a Lifetime Achievement Award.
Arguably her most iconic fashion moment was her 1994 Grammys dress—a white metallic halter gown created by Lillie Rubin for the brand Caché. The singer appeared in the dress again in her "No Me Queda Más" music video. Jennifer Lopez also wore a replica of the white gown in the film "Selena" in 1997. While this dress has gone down in history, Selena is thought to have found it while shopping at the Galleria shopping mall in Houston.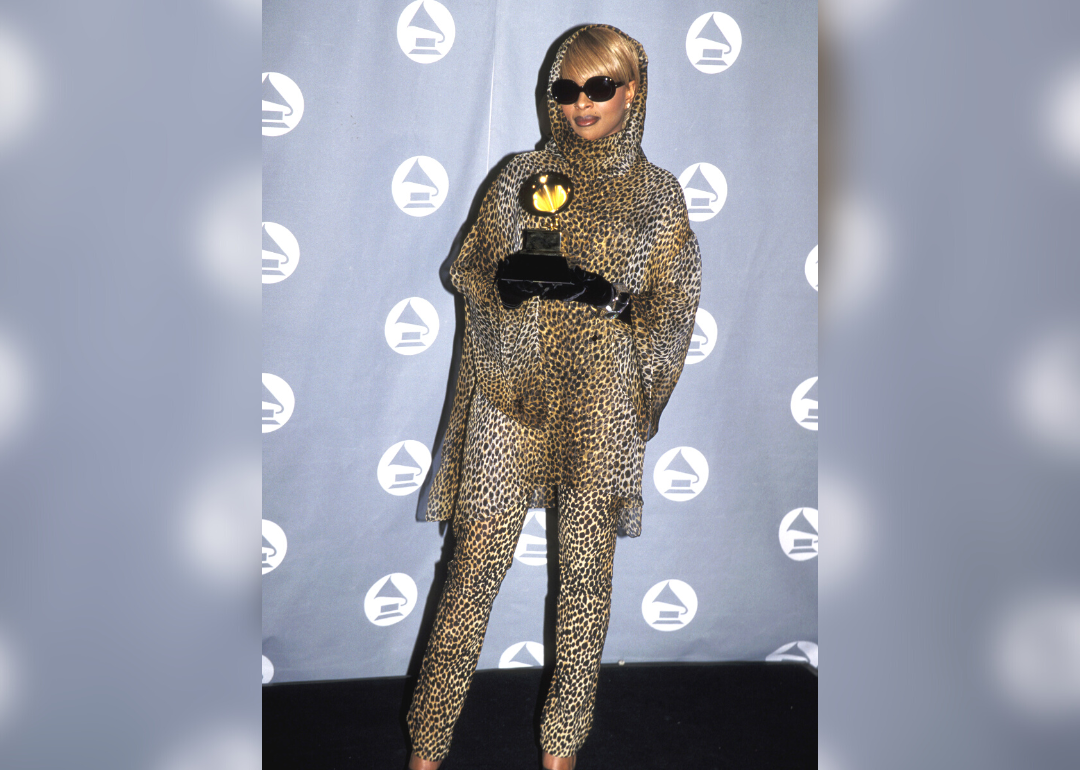 Mary J. Blige, 1996
Mary J. Blige has been a fashion trendsetter for almost the entirety of her career, cultivating a divalike style that infuses her hip-hop influences. Her early trademarks involved monochrome, fur, and, of course, the classic animal print as seen in her 1996 Grammys outfit.
The singer was nominated and won the award for Best Rap Performance by a Duo and celebrated with a head-to-toe leopard print jumper featuring billowing sleeves and a hood. Apparently, this look really stuck with the rapper, as she's gone on to do several other variations of the look in the years that followed, most recently in 2021 for the opening night party of the brand Sexy Fish Miami.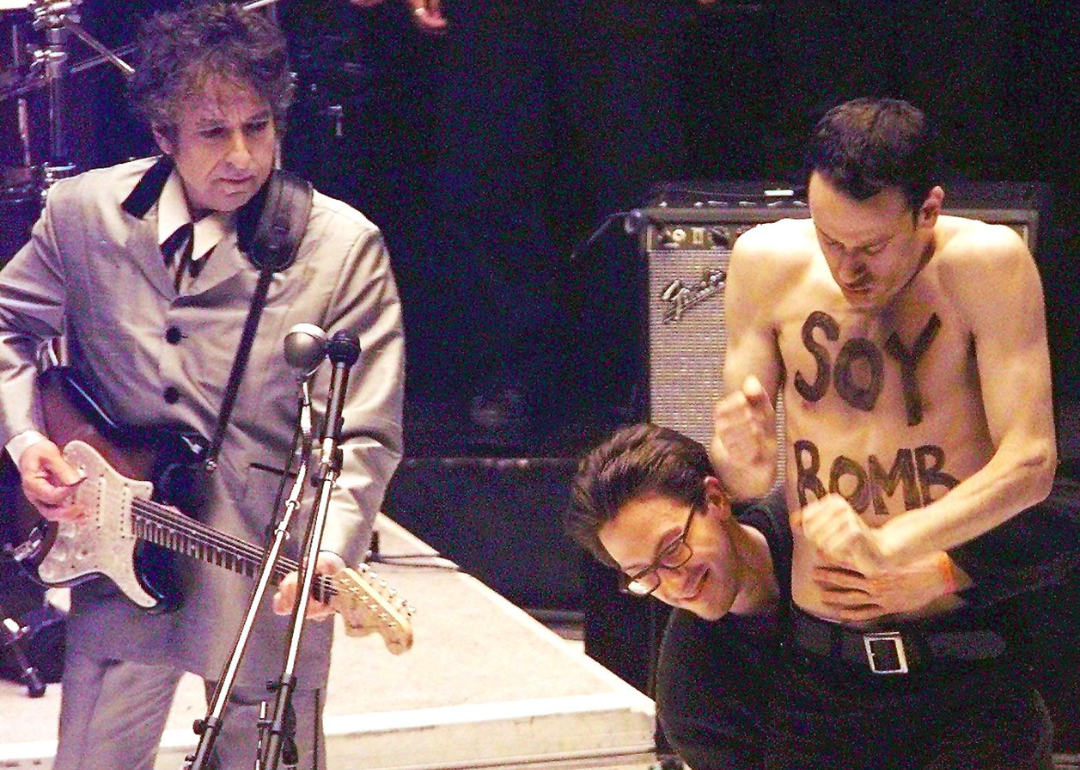 Bob Dylan/Michael Portnoy, 1998
While Bob Dylan is the subject of this, his silver suit worn during a performance of the song "Love Sick" hardly stands out enough to warrant a whole entry; it's what happened during the performance that earns this attention.
The team behind Dylan's Grammy performance hired a group of extras to be in the background, and coincidentally, experimental performance artist Michael Portnoy was one of them. While Dylan was singing, Portnoy stripped off his shirt to reveal the phrase "Soy Bomb" written on his chest as he danced and sang robotically before being removed by security. The interruption and phrase "Soy Bomb" became one of the most talked-about Grammys moments ever, with everyone discussing what the phrase could possibly mean.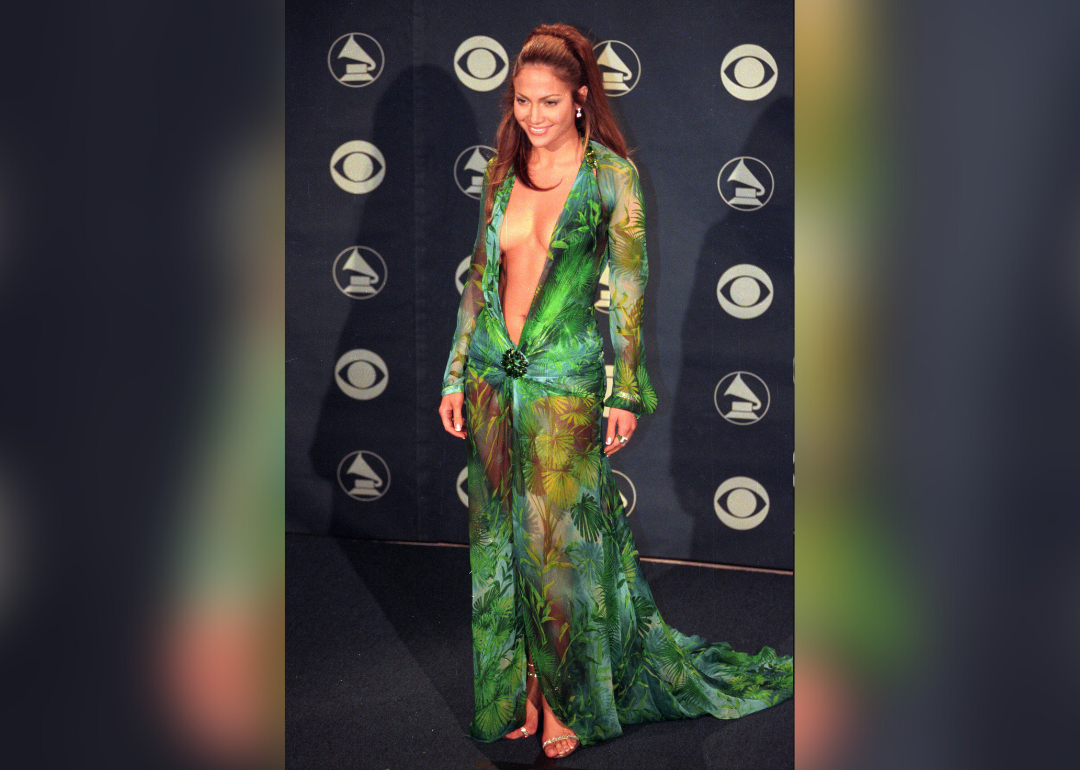 Jennifer Lopez, 2000
Once upon a time, there was a dress so jaw-dropping it forced Google to invent the image search option to satisfy fans desperate to gawk at the gown for a second time—and that dress was Jennifer Lopez's 2000 Grammys ensemble. The dress itself is a floor-length Versace piece constructed of a sheer green fabric with a jungle-inspired print, but the real star is the plunging neckline that goes all the way to J.Lo's belly button. This outfit isn't just restricted to the early aughts, as Lopez stepped out in the same outfit at the Spring 2020 Versace show in Milan.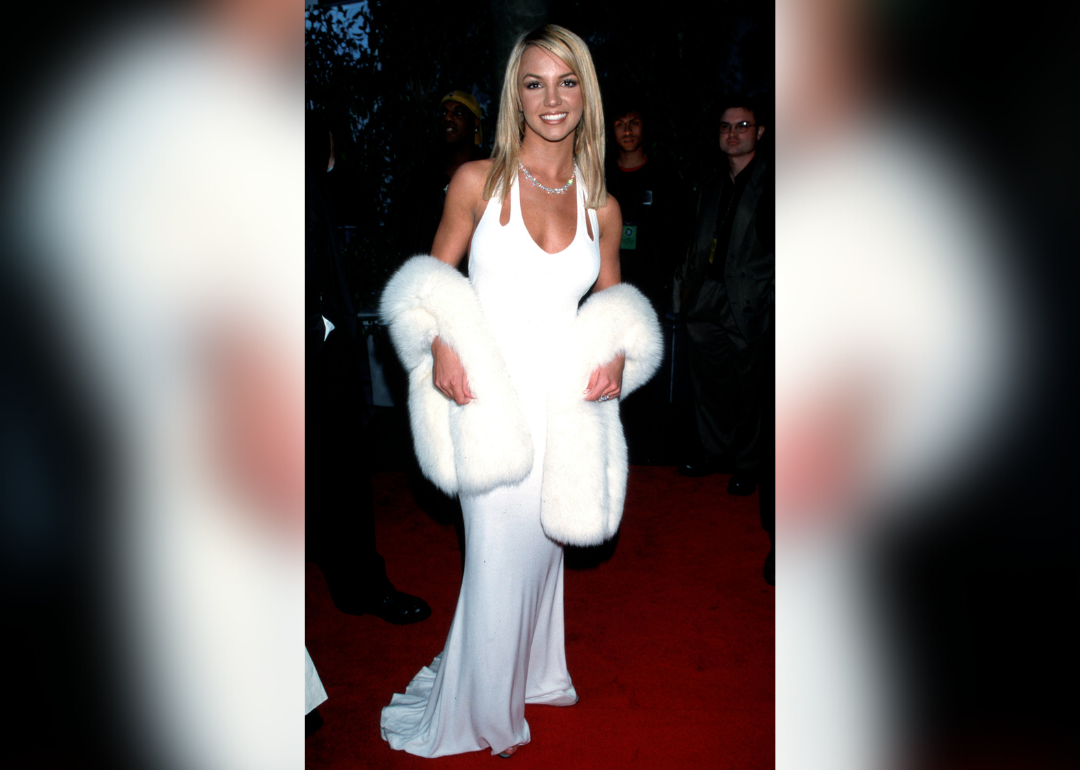 Britney Spears, 2000
In the world of pop culture, there were few people as important as Britney Spears was in the year 2000. The album "Oops!… I Did It Again" and the single "…Baby One More Time" were everywhere, and their success got Spears nominated for Best New Artist and Best Female Pop Performance.
Despite her young age at the time, Spears chose a very sophisticated so-called "grown-up" dress to attend the 42nd Grammys, encapsulating the air of old Hollywood glamor. Vegas-born fashion designer Randolph Duke designed the white gown, which Spears topped off with a diamond necklace and a white fur stole provided by Dominican American fashion designer Oscar de la Renta.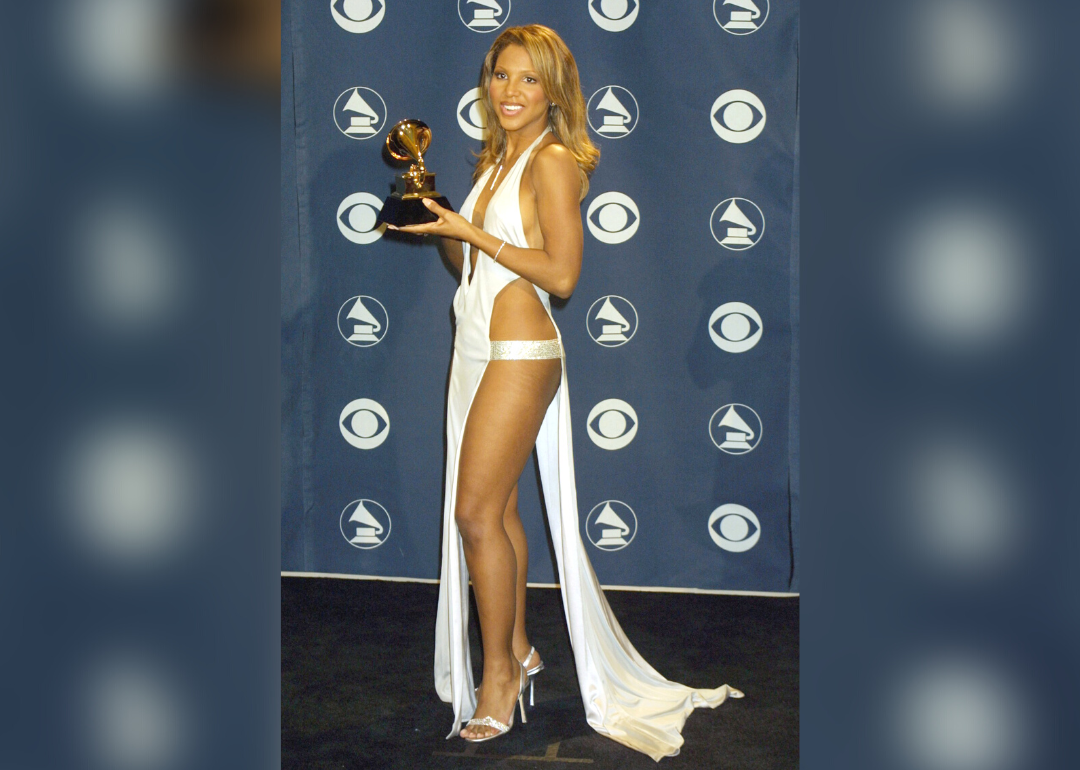 Toni Braxton, 2001
Singer Toni Braxton shocked Grammy audiences by showing up to the 2001 awards ceremony in a dress that seemed to show more skin than it covered. Made of satin, the white Richard Tyler dress showcased an intense plunge in the front, no back, and almost completely cut-out sides that perfectly complemented Braxton's figure.
Braxton and her stylist, Tameka Foster, both cited the singer's desire to play with risque fashion and to show off her body before she has children as major inspirations for picking this dress. This dress was so iconic that Tyler allegedly received 10 requests to rent it immediately after Braxton wore it.
Andre 3000, 2004
The 46th Grammy Awards had some major highs and lows for rapper Andre 3000, one of two frontrunners for the rap duo Outkast, who took home three Grammys, including Best Rap Album and Album of the Year for "Speakerboxxx/The Love Below."
Andre 3000 earned the title of "world's best-dressed man" from Esquire magazine, so it's no surprise that his 2004 Grammy red carpet look was centered around a chic lime green suit jacket that's since become one of his more celebrated looks. However, the musician faced controversy due to his "Hey Ya!" Grammys performance outfit, which kept the lime green colour of his jacket—only this time, he combined it with Native American-inspired feathers and war paint. CBS immediately issued a public apology to the Native American community.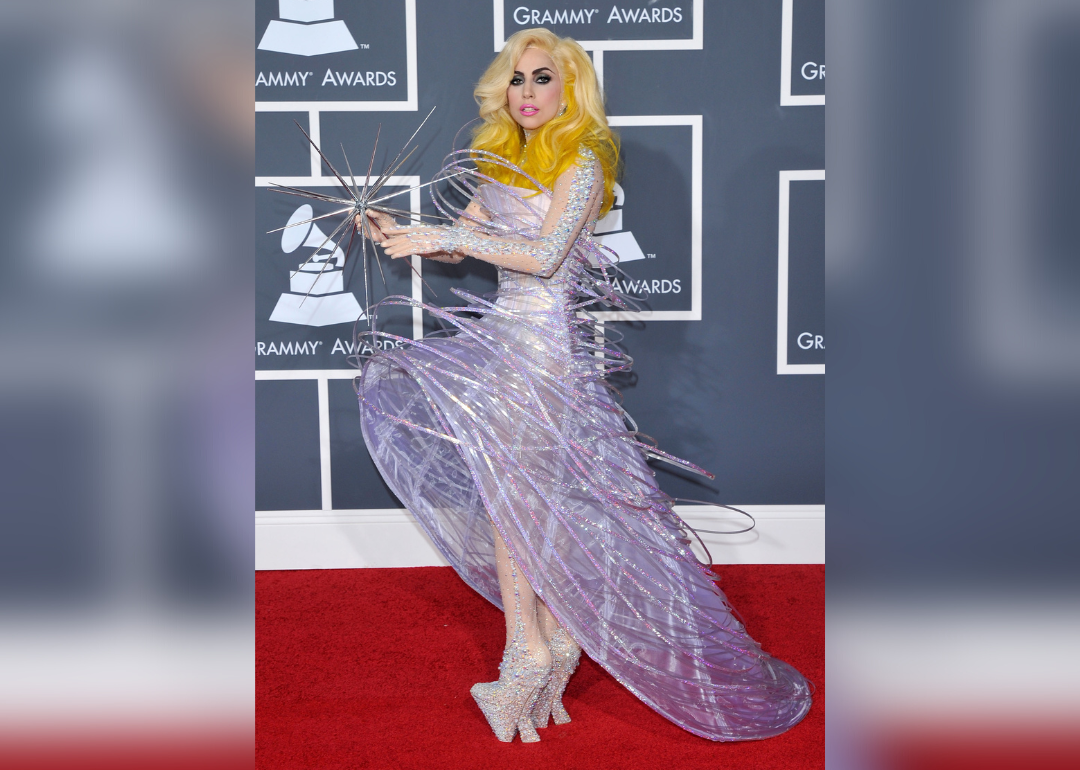 Lady Gaga, 2010
Lady Gaga, with the generous help of Giorgio Armani and Swarovski, had three outfit changes at the 52nd Grammy Awards, each one more breathtaking and innovative than the last.
Gaga's first dress was a celestial-inspired high-low gown with crystal hoops completed with sparkling platform heels and a silver star carried in her hand. Her second look was her performance outfit featuring a sparkly green bodysuit with a deeply plunging neckline and puffy sleeves brought together by an even more intense pair of platform shoes. Her last look is the most iconic and sculptural of the three, with the singer swamped in a massive lightning bolt headpiece and a crystal-covered jacket with winged shapes on the collar and shoulders.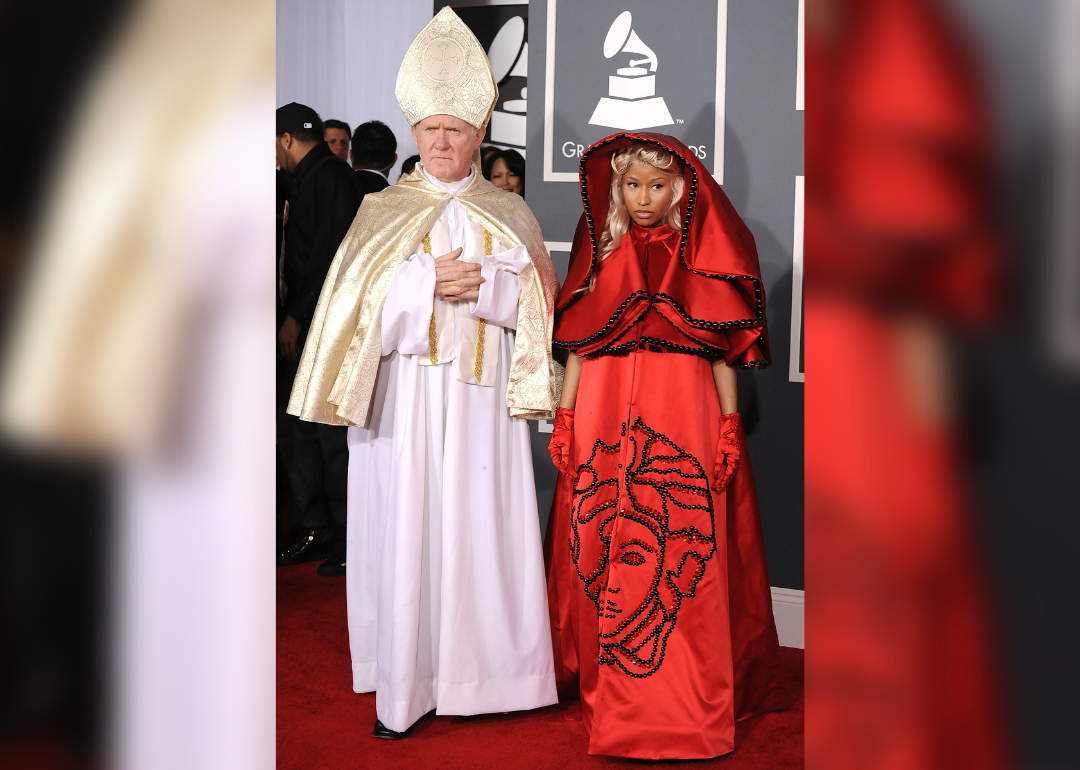 Nicki Minaj, 2012
Nicki Minaj took the 2012 Grammys by storm with her stunning outfit that was equal parts religious imagery and Little Red Riding Hood.
The female rapper, by no means a stranger to atypical fashion choices, hit the red carpet in a Versace original: a massive red satin cape adorned with what people thought was the head of Medusa. She completed the outfit with matching gloves, a blonde wig, and the Pope. Yes, Minaj brought a Pope look-alike to the Grammys who stood by her side all night and later joined Minaj on stage as she performed her song "Roman Holiday," which also featured a staged exorcism.
Prince, 2015
Most headlines regarding Prince at the 2015 Grammys were about his use of the platform to deliver a message promoting the Black Lives Matter movement, which was still relatively young at the time. While this is impressive in its own right, Prince's outfit also deserves some buzz, as the musician took the stage in an all-orange, all-sequined outfit complete with a silver cane. It's alleged that this outfit references Sathya Sai Baba, an Indian guru and revered spiritual leader across the world who was almost exclusively photographed in his bright, monotone orange outfits.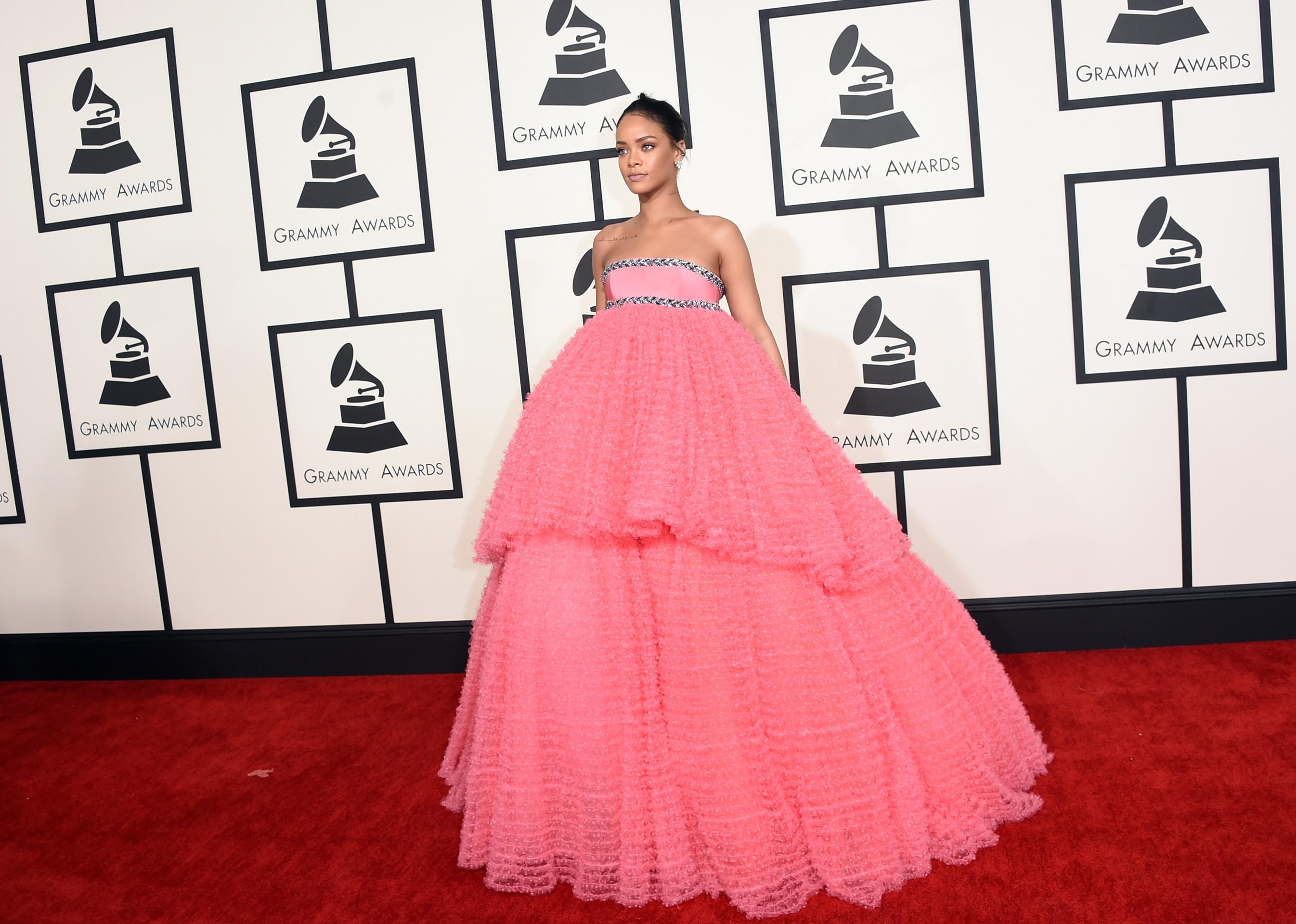 Rihanna, 2015
Despite Rihanna not being nominated for anything at the 2015 Grammys, the singer and entrepreneur was definitely up for Best Dressed of the night. The last to arrive on the carpet, Rihanna looked like a Barbie princess in this strapless pink Giambattista Valli gown from the brand's Haute Couture Spring 2015 collection, which utilized light colours and floral motifs.
The dress features the iconic empire waist shape, wherein the waistline of the dress falls under the bust instead of at the waist, noticeable in many period pieces due to its popularity in the Regency era. Rumor has it Rihanna discovered this dress while shopping online and knew at first glance she was going to wear it.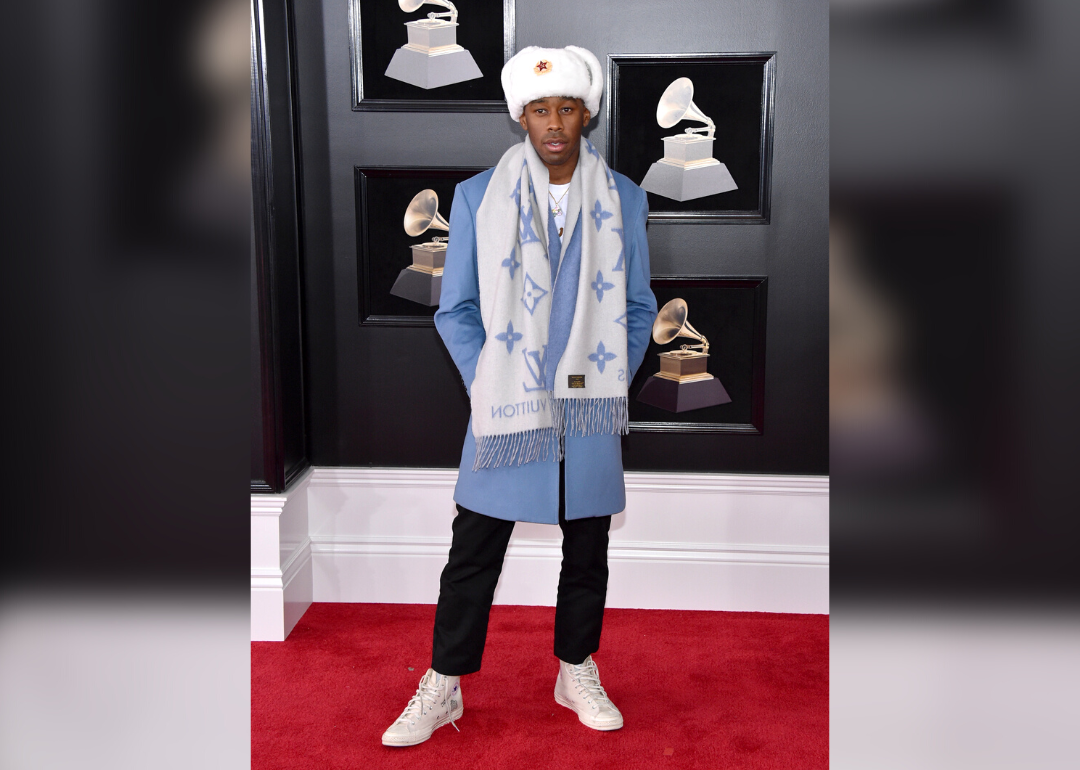 Tyler, the Creator, 2018
Tyler, the Creator's "Flower Boy" is considered one of his most profound and sincere works in his catalog, receiving a Best Rap Album nomination at the 2018 Grammys, where the rapper used the album as inspiration for his outfit.
Specifically, Tyler's red carpet outfit featured Converse Chuck Taylor All Stars, a brand with which he'd released his own successful collaborations, personalized with a flower illustration associated with his album and the quote "double my luggage," a reference to his song "Potato Salad." He completed his outfit with a baby blue Supreme jacket and a Russian Ushanka hat with the traditional Soviet symbol of a sickle and hammer.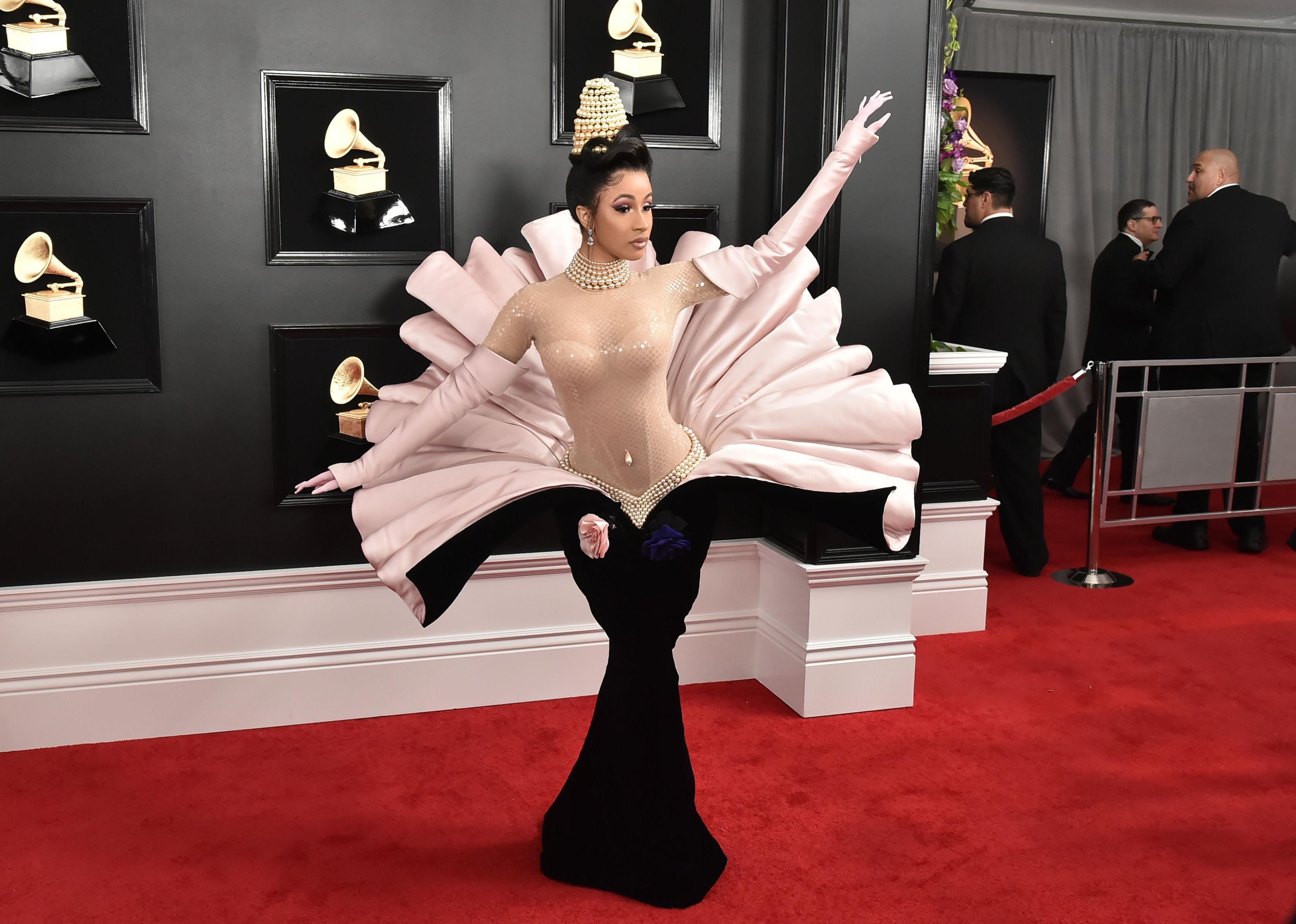 Cardi B, 2019
In a delightfully playful change of pace from other entries on this list, Cardi B's 2019 Grammy dress is, well, an oyster—an oyster shell, technically, which would make Cardi herself none other than the pearl. This piece was designed by Thierry Mugler and is actually from the 1995 archives of the Mugler Couture Fall collection, complete with the original pearl necklace, belt, gloves, and pointed pearl headpiece.
People have drawn allusions between Cardi's oyster dress and Botticelli's famous painting "The Birth of Venus," but the reality of wearing it was significantly less romantic. Cardi needed a whole team of people to help her shuffle down the red carpet.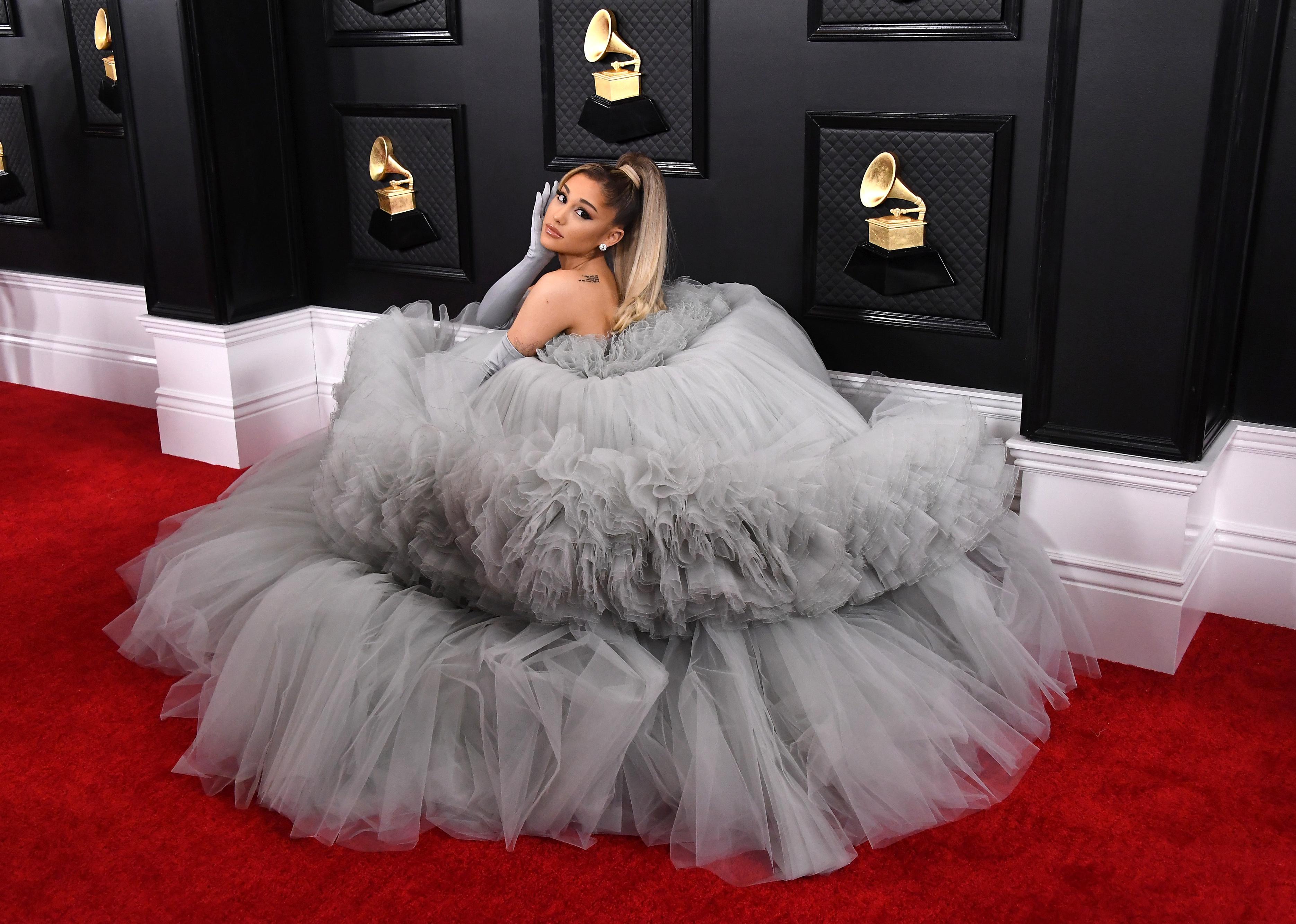 Ariana Grande, 2020
Ariana Grande's 2020 Grammy experience was certainly a busy one. The singer was nominated in five categories, including Album of the Year and Record of the Year, and was also slated to perform. However, she was not too busy for an outfit change.
Grande's first look of the night was a Cinderella-esque custom couture gown by Italian designer Giambattista Valli, who created a voluminous layered tulle skirt in various shades of gray with matching gloves. The second outfit kept to a similar colour scheme, but this time Grande wore a two-piece outfit with a satin top and full skirt made by the Italian design house Maison Schiaparelli. With two iconic dresses like these, it's no wonder the singer couldn't pick which to wear.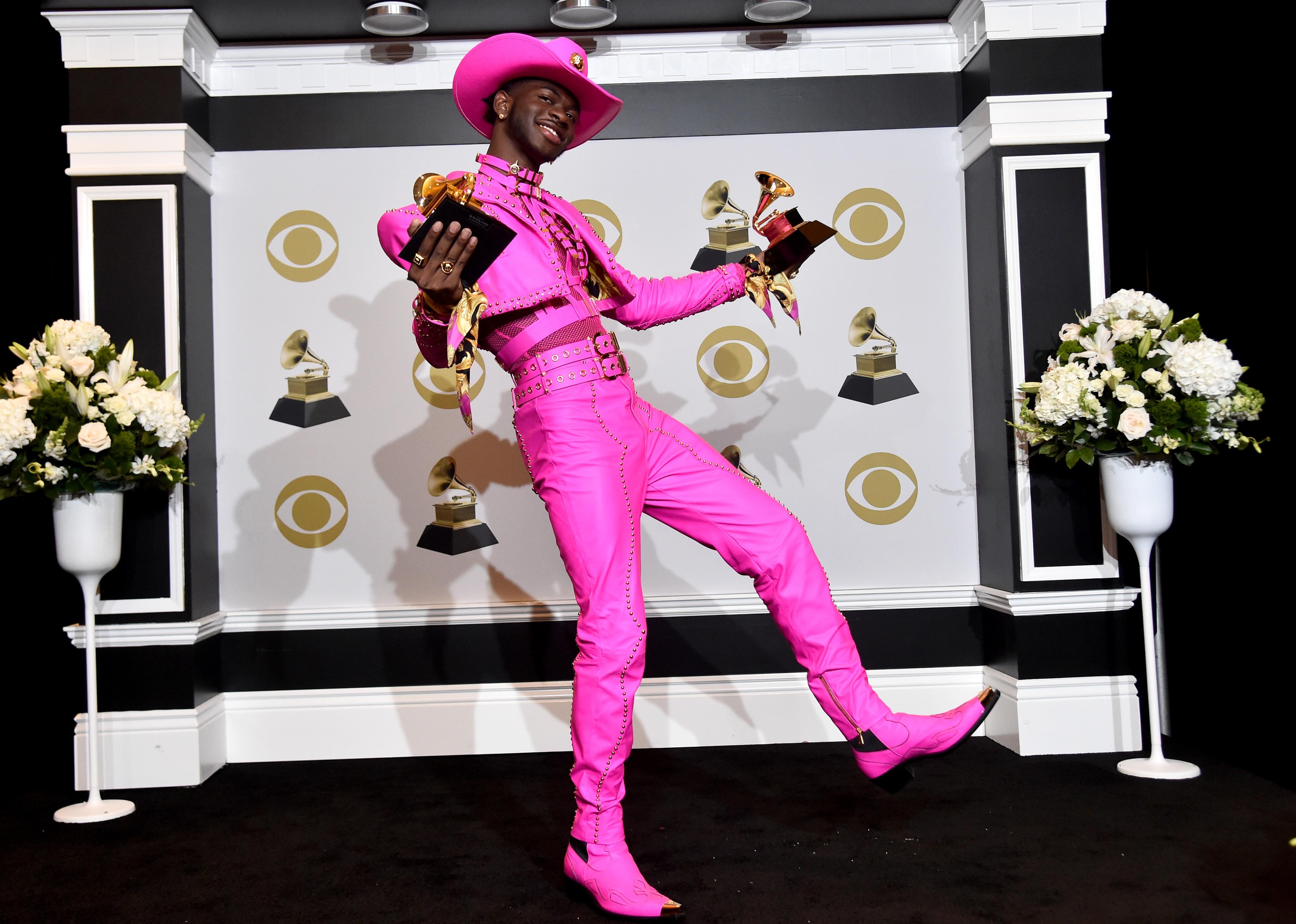 Lil Nas X, 2020
Lil Nas X has made waves as an openly gay musician who celebrates and embraces Black cowboy culture, and a major mode of expression for the 20-something singer and rapper has been his fashion. One of his most iconic looks is his 2020 red carpet outfit for the Grammys, where he stepped out in a neon pink cropped jacket and high-waisted pants combination accented with mesh, leather straps, and jewellry.
Lil Nas X's stylist, Hodo Musa, collaborated with Versace for this outfit and the accessories, citing the brand's '90s aesthetic and its previous successful collaborations with hip-hop artists like Tupac and the Notorious B.I.G.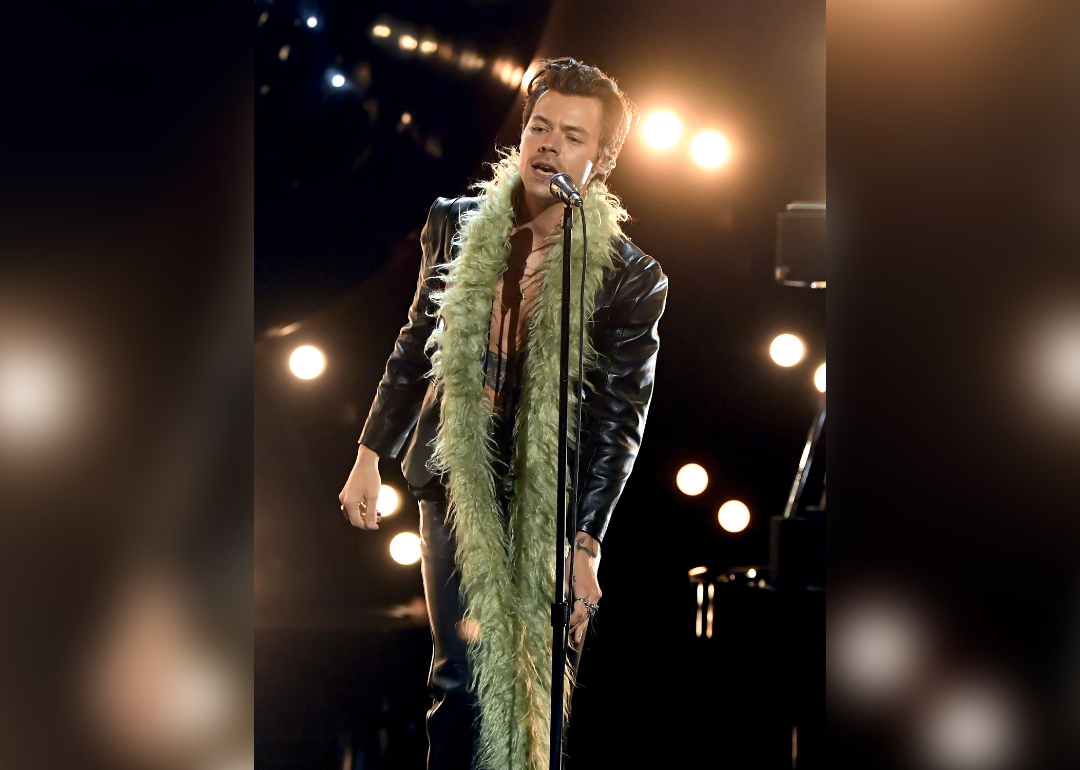 Harry Styles, 2021
It seems Harry Styles had one important message for the 2021 Grammys audience—and that message, of course, was that any outfit can be significantly improved by the presence of a colourful boa.
First, the singer-songwriter hit the red carpet in a mustard-colored houndstooth blazer over a pink knit top with brown velvet pants and a vibrant lavender boa to top it off. The look that blew everyone away, however, was a result of Styles' longtime collaboration with Gucci. The brand created a black leather suit jacket—with no top underneath, of course—and matching flared pants that the singer adorned with a green feather boa.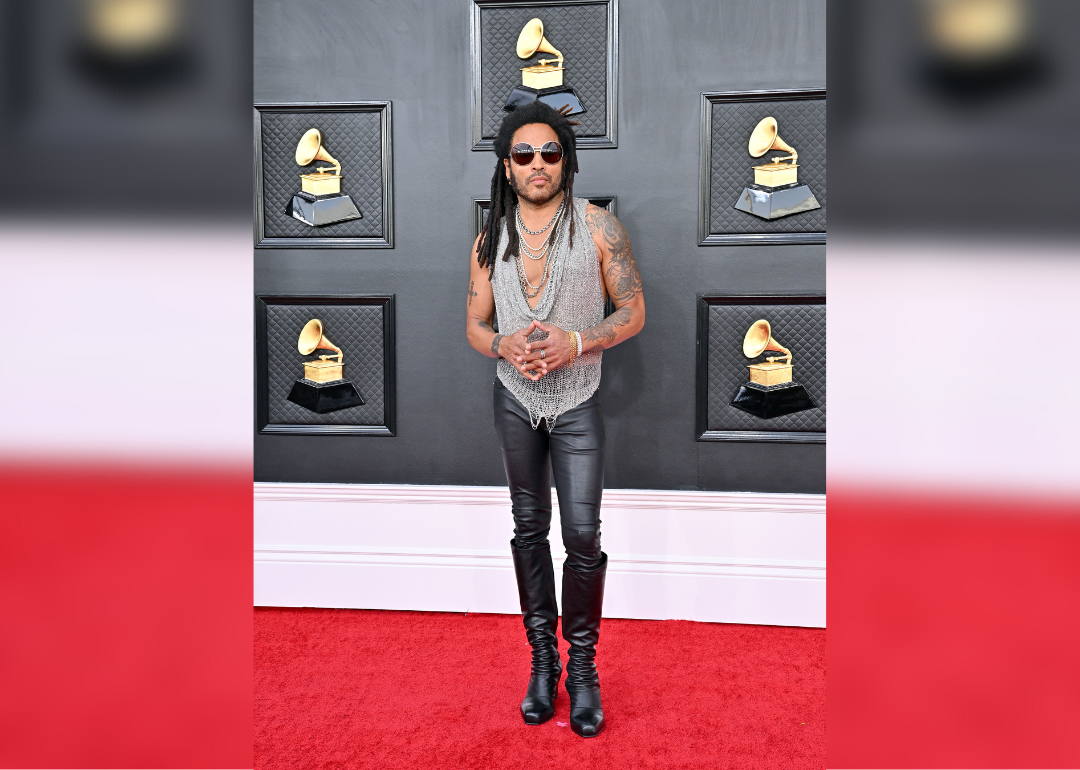 Lenny Kravitz, 2022
With a musical style that harnesses rock 'n' roll and how it interacts with other musical genres, like funk and R&B, it's fitting that Lenny Kravitz's fashion sense embodies a similar spirit of rock-infused exploration.
His 2022 Grammys outfit encapsulates his casual cool rocker vibe with a chain metal tank top as its centerpiece, constructed by Ukrainian American designer Natalia Fedner, known for Metal Couture, paired with a classic pair of black leather pants. To complete the look, Kravitz chose a pair of Jordan Adani knee-high black leather boots that almost seemed to blend into his pants with the impressively tall boot heel that he's become associated with.