You arrive at the studio, yoga mat under your arm and full of angst and stress so physically crippling that you think you're cursed by some sort of spiky inner demons.
You haven't been able to easily shake them lately, but you're hopeful that through this practice you'll finally get some release.
This is unlike the quiet, controlled, and meditative spaces you've practiced in before; the yoga instructor cranks up Slayer while you strike a warrior pose. High amplified distortion, thick, aggressive sound, and extended guitar solos blot out the chatter of your inner thoughts, making room for a relaxed mindfulness only metal yoga can serve.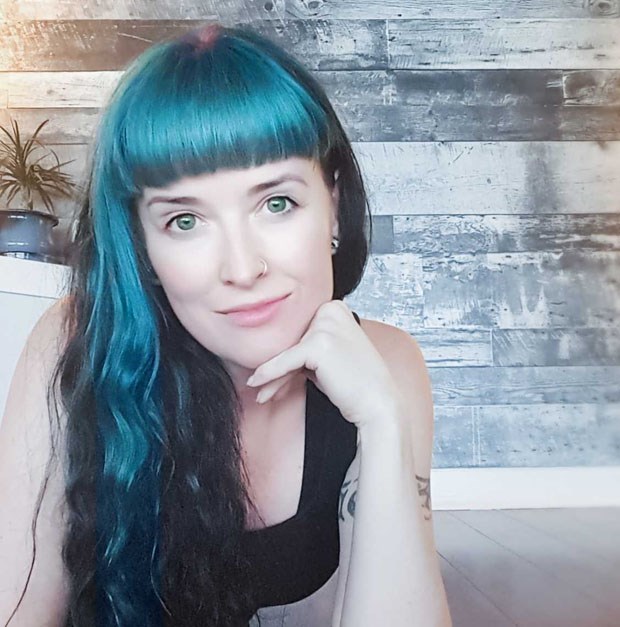 "I find it a trip because the music is so intense and amazing that it's all you can think about," said Jenine Lehfeldt, owner of Sweet Serenity Yoga and Wellness. "I have a harder time in a regular yoga class – I mean, I feel calm, but in metal yoga all I concentrate on is the movement and the breath. It's the most present I've ever been in my own body."
The North Delta woman will be advocating for mental health and awareness by hosting NamaSlay Metal Yoga at her studio from 8 to 9:15 p.m. on Friday, July 19.
Proceeds from the event - which requires a $15 minimum donation - go toward Deltassist Family and Community Services Society, a non-profit organization that supports Delta residents through counselling and community-building workshops, events, senior support, outreach programs, and information services.
Instructor Chelsea Franz is donating her time to teach the class and support a message she strongly believes in: that community matters, and no one is alone.
"Whether or not you're living with a mental illness, care for someone who is struggling with depression or anxiety, or simply just want to get involved, NamaSlay presents the opportunity to raise funds for mental health and have fun," Lehfeldt said. "We tell people to let go of the typical expectations; this class combines a powerful yet gentle yoga practice with energetic music to tear down the ego and establish a deeper connection with the self." She's breaking down stigmas by publicly sharing her own story. The former TV and film hair and makeup artist expressed her creativity on set for years, until a freak accident turned her world upside down. She was electrocuted on the job, suffering damage to the ulnar nerve in her right hand, resulting in painful and irreversible damage to her dominant hand. After time off work to heal, and then further physical injury as she strained to perform her work left-handed, she had to face a hard-to-swallow reality: either she'd remain frustrated and demoted, or the career she'd worked so hard to establish was over. Depression and alcoholism set in as she attempted to numb the pain and cope with what she saw as a hopeless situation; when that didn't work, she found herself planning her own death.
Lehfeldt was hospitalized, ended up in a psych ward, and was mandated to a recovery house, where she found yoga - and eventually a new career, business, and life.
Lorraine Yates, manager of seniors and community services at Deltassist, empathizes with Lehfeldt.
"I think there needs to be more talk about mental health and addiction - and people need to give themselves a break," she adds. "People are really hard on themselves, but I think being able to talk about things openly brings understanding. Unless people go through these issues themselves, or have a loved one who does, they don't understand how scary it can be."