Have you ever wondered what it's like to be on a movie set? What about filming a television show? Put those two experiences together and you get a television movie. Sort of.
Turns out that making TV movies like Hallmark is an entirely singular experience. The films don't have very high budgets and they typically shoot in three weeks, plus they're dialogue-heavy. The quick pace challenges actors' memory skills and sometimes they have to be nimble and improvise if something goes wrong like they realize there's a plot hole in the script or the weather doesn't cooperate so the movie is a few minutes short.
We sat down with seven Vancouver-based actors who are seasoned pros at making Hallmark movies as part of a new series called 'Meet the Hallmarkies.' We asked them what it's like to shoot a Hallmark and this is what they had to say about the differences between shooting a Hallmark movie and a feature film or television series.
Adil Zaidi (The Perfect Recipe/Welcome to Mama's, A Christmas Together with You, My Best Friend's Bouquet)
"There's upsides and downsides to the way that [Hallmark] works their formula. Their budgets aren't massive but they do put out a lot of work.
There's a possibility that scripts don't entirely end up super fleshed out when you're on set and so it leads to a fun situation where sometimes you get to improv a little bit, you get to play around a little bit. They'll maybe give you a take to let you do what you want, you can dive into the story a little more. Whereas in the network TV that I've done in the past, everything is so well thought out through a writer's room that once you get to the set the plot and the story are set in stone. You've got to work you got to work around what the writers room is giving you.
I've definitely been on Hallmark before that...if you don't think something is working out, chances are that you probably will be able to get a take to have it done your way. Which I think is fun. There's definitely a lot more fun to be had. Whereas a lot of the other network stuff I've done is business."
Cardi Wong (Christmas for Keeps, My Best Friend's Bouquet, Always and Forever Christmas)
"It's interesting because when I was in that zone of booking a bunch of Hallmarks in a row, I found the formula for what Hallmark wants, and what it's been described as before is they want the characters to be aspirational. There has to be hope and there has to be a sense of something is going to work out for the best for everybody. So that's kind of the approach I took to every single audition but the problem with that for every single audition outside of Hallmark is that same formula might not work for a CW show. That aspiration might not work for a CW show, or that might not work for this movie about something else. So that took me a little while to find the tones and the tempos of how you should play different roles. But that being said, even if I'm on another movie that's outside of Hallmark, it's still some of the same crew. So it's a very small community in that way.
And then when you don't do Hallmark and do other projects, it makes you appreciate what's easy and fun about a Hallmark and vice versa."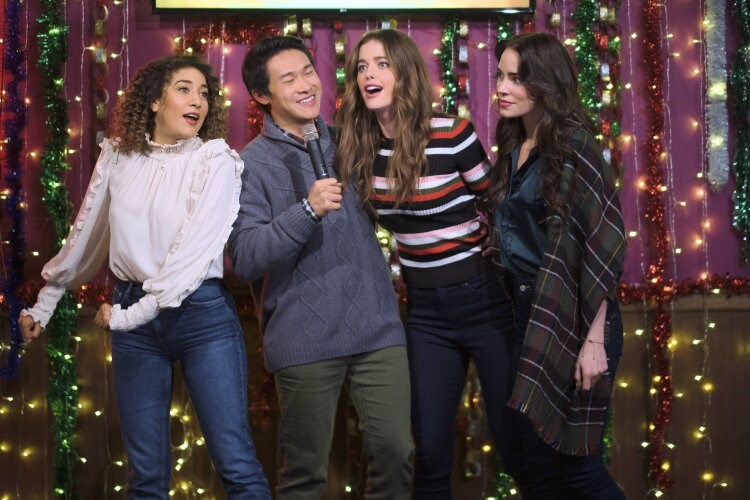 Donna Benedicto (Matching Hearts, Jingle Bell Bride, Sweet Carolina)
"Hallmark movies and TV movies, it's kind of a little less serious, the ones I've been on, because the material's usually light and romantic and heartwarming. So, on set is really fun. And a lot of the time, we're working with the same crew members that we've worked with before. I've worked with crew more often than I have with other actors. So it does have this family feel. I feel really, really comfortable on the set of Hallmark movies, I am most likely to see a handful of familiar faces on onset with me as crew. And then the American networks, we usually do run into a few crew members that we've worked with before, but far more serious, especially on something like Supergirl or the shows that have a heavier material, like The Good Doctor.
And then usually with the Hallmark schedule as well, because sometimes they shoot these movies in a short amount of time. Then you might have to wing a couple of things, like shorten a scene or lengthen a scene.
One time I was shooting a movie that was mostly outdoors and was supposed to be a summer movie, but it was snowing in February. So we were a couple of minutes short of the movie, because they couldn't use any of the outdoor shots because it was snowing. So the director, who was also the writer at the time, wrote a scene last minute on set, and they had to shoot that four-pager on set just to make up more minutes of the movie. So it's a lot of that."
Fiona Vroom (Nantucket Noel, Deliver by Christmas, The Wedding Veil Trilogy)
"TV movies, because it's sort of this world of half TV half film, they have to shoot very fast. So it is very similar to the television template of filming. You've got a 112-page movie, and you've got to shoot it in 15 days, usually. So it's working really fast. A lot of actors, I think when they do their first one or first couple, they're like, 'Wow, that was a whirlwind.'
The feature world is very different from TV, you usually have more time. You'll shoot one scene a day, two scenes a day, and you'll shoot it over longer periods of time because it's usually a larger budget, right? Time is always money. That's a totally different way of working on a film when you have so much time to digest the material. It's a very different way of working. In TV, you got to be fast, you've got to digest it fast, memorize fast and you've got to be able to deliver usually in one take two takes."
Matt Hamilton (Campfire Christmas, North to Home, Fashionably Yours)
"That's an interesting question. It also depends on what kind of Hallmark movie. I just finished one shot on Vancouver Island. And it was like a camp one. So it was kind of like an ensemble. There were six main actors. So that makes it fun because there's not one super dominant story arc, there's three or four that kind of match. So that's interesting and it's fun acting with other people, but what that means is there's a lot of people, that means there's a lot of coverage. There are a lot of long days, especially considering when you have these 15 days you gotta get all this done in three weeks.
Whereas when I was doing Turner and Hooch, there were long days but they were different long days. I was working with dogs and only doing three to five pages a day. Whereas for the Hallmark movies, sometimes you're doing like eight to 11 pages a day.
I remember I did this one with this actor, and he hadn't done one of these movies, he'd been a model and then he did a military show on NBC. And so he came into this Christmas movie, I worked the first few days with him and a lot of our scenes were four or five pages long and it was all dialogue and he was floored. I remember he told me 'I'm used to like working a week and one day, I'd say, 'okay, the top chopper's fuelled up let's go' and that's my only line for the day and then I have two the next day.' But his first day with me we had back-to-back dialogue. It's tricky and if you're new to it, it can be an eye-opening experience."
More Meet the Hallmarkies: