Darcy Michael's new stand-up special starts streaming today on CraveTV.
The Ladner actor and comedian says he wanted to make his first one-hour special a celebration of everything.
"It's a combination of some of my favourite bits over the years with some new stories about my silly little life. I'm still very much talking about my life as a gay stoner dad and all that jazz," he explains.
Titled Darcy Michael Goes to Church, the special was filmed at Berkeley Church in Toronto during last fall's Just for Laughs Festival.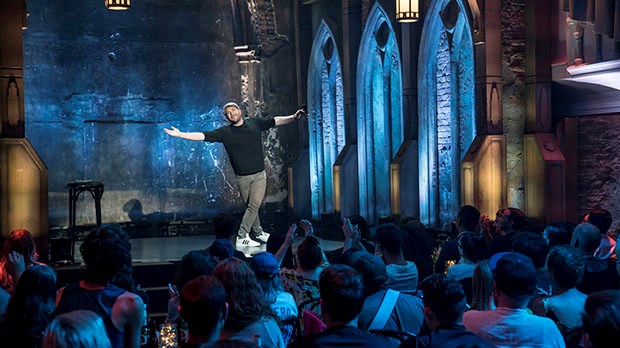 "We're living in some dark times these days so I made a conscious choice to make this material positive - although my mother said I still swear too much, but come on - we were in a church, I had to."
Michael says he tried to treat the show as a normal performance.
"Honestly, I'm just as nervous before a five-minute spot at an open mic night as I am for something like this," he says, adding it was especially stressful as he had only one show to get it right and he had a lot of friends and family in the audience who had come from all over the country.
Twice nominated for a Canadian Comedy Award, Michael is a regular performer at the Just For Laughs Festival. A cast member of CTV comedy series Spun Out, he's also appeared on The Comedy Network's Match Game and CBC Radio's The Debaters.
Darcy Michael Goes to Church is the first of three CraveTV original stand-up specials developed in partnership with Just For Laughs. Specials from Debra DiGiovanni and Graham Chittenden will follow later this spring.
"We're proud to have created the first homegrown comedy specials produced solely for streaming audiences in Canada," says Bell Media content and programming president Mike Cosentino in a press release.
For more on Michael visit darcymichael.com.