The recently-elected Delta council is the latest to take a crack at revitalizing Ladner Village.
Among the newly created civic advisory committees will be the Ladner Village renewal advisory committee, which will feature a couple of councillors and eight community members, including representation from the business and development sectors.
The committee's mandate includes providing council with advice on the best utilization of Delta-owned buildings in Ladner Village, possible streetscape and waterfront design concepts, branding and marketing, as well as strategic incentives to attract development.
First-term councillor Alicia Guichon, a lifelong Ladner resident and local businesses owner, is excited about the new committee and eager to provide her input.
"At a high level, the focus is to have community advice and feedback on the renewal of Ladner Village. This is not a new endeavor but the thought is that a committee may be the best way to move forward and bring everyone together with their ideas and hopes for what the future of the core will look like. Those that live and work in the village will have invaluable input, so I really look forward to hearing from those individuals," she said.
"My goal would be to enhance our already vibrant community and continue to support our local businesses and do right by them throughout this project. My first job was in Ladner Village at the old Uncle Herbert's fish and chips restaurant. I have incredibly fond memories throughout my lifetime as a Ladner resident here in the village and we need guidance on where Ladner is heading. Who knows, maybe my, one day, future sixth generation children can get their first jobs within our lively Ladner Village core just like I did." 
Ladner Business Association president Jill McKnight said she still has to familiarize herself with the city's new committees, but is encouraged.
"With that said, I believe any opportunity for discussion about ways to encourage engagement in Ladner Village and establish it as a destination to eat, shop, play and enjoy can benefit the local business community," McKnight said.
The current endeavour is by no means the first crack at revitalizing the village, but despite several attempts, not much has changed in decades, save for some infill development.
One of the major themes in the South Delta Business Sustainability Strategy, created three years ago to help local businesses adjust to life with the new Tsawwassen First Nation malls, includes the city allowing redevelopment to increase density in places like village as well as a focus on attractive, pedestrian-friendly design.
According to a consultant retained by Delta to help come up with the strategy, the current building height limits are unlikely to provide sufficient economic incentive to trigger redevelopment.
Delta Street underwent streetscape improvements a couple of years ago, a $6 million project that included a new pedestrian street plaza, lighting and other amenities.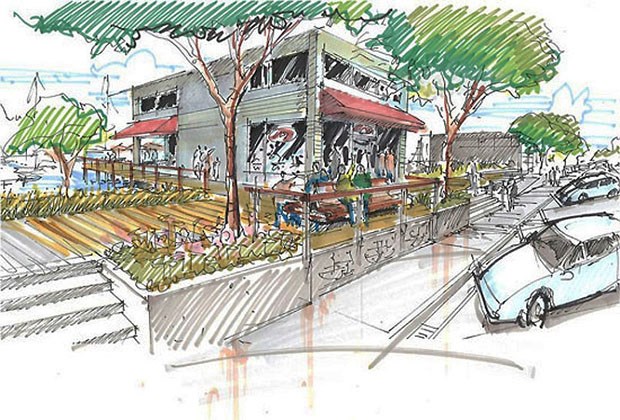 The city earlier approved a waterfront mixed-use zone for the public-owned parcels that would permit a wide range of uses, but a key to spurring such redevelopment is being stymied by the province not offering longer term leases for water lots, which the city maintains is discouraging developers.
Also raised in Ladner and another young, first-time councillor, Dylan Kruger said the city perhaps needs to start thinking outside the box and bypass the province altogether.
"I'd love to take a look at some unique solutions, such as turning Chisholm Street into a one-way or pedestrian-oriented street in order to bring the waterfront property lines up and circumvent the need for water lot leases altogether. These are the types of bold ideas I hope to discuss with this committee," Kruger said.
"I've chatted with several Ladner Village business owners and I know they are really looking forward to finally seeing some action and perhaps even some more density on top of Ladner Village. Businesses really need the extra store traffic that smart density would bring. I know parking is always a concern, but if you're living above Ladner Village, you don't need to be getting in your car – everything is right in front of you. Let's create those housing opportunities that young families and seniors need to stay in our community, and in doing so, create the livable, walkable Ladner Village of the future."
Meanwhile, the Delta Fishing Heritage Society says it already has ideas to give the area a distinctive theme to encourage visitors. John Stevens said his group has talked to Delta in the hopes of partnering with the city on a number of initiatives.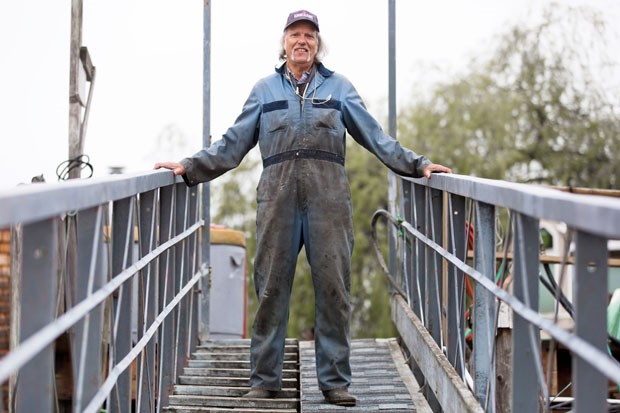 The society has an old fishing boat, the Persian Fisher, which had been in storage in a barn for many years. The boat needs restoration work but could be a great display item, said Stevens.
He said other ideas include interpretative markings for the historic cannery sites as well as a heritage mural project that could really put Delta on the map, much like Chemainus.
In a recent interview, he said the society looked into adding a mural to the historic Ladner Fishermen's Hall, but said it's something that would benefit the entire village.
"We want to show the community that it could be done and what it looks like, and let's get on with it and do the whole town. There's all kinds of places in Ladner that we could display heritage art," Stevens said.
The volunteer group had originally eyed the Seven Seas fish plant building or the old Brackman-Ker building on Chisholm Street as potential locations for historical displays or an interpretive centre. However, the Brackman-Ker building collapsed into the harbour a few years ago, while the city has been hoping to eventually use the Seven Seas site for commercial ventures.
Stevens said Ladner Village, especially the waterfront, could have the same feel as the Gulf of Georgia Cannery and Britannia Shipyard in Steveston or the Fraser River Discovery Centre in New Westminster, complete with boardwalks, displays and an interpretive centre.
"Ladner would light up with tourism," he added.