Surrey RCMP is continuing its investigation into an alleged altercation involving the wife of Delta police Chief Neil Dubord that has set off a firestorm in the community.
The alleged assault occurred on June 6 near the Dubord's property on Centennial Beach in Boundary Bay.
"We will not be releasing details about the individuals involved or details of the allegations at this time," said Cpl. Joanie Sidhu in an email to the Optimist on Monday morning. "We are committed to doing a thorough investigation and while we cannot predict an exact date for our investigative tasks to be complete, our officers will work diligently to complete their work in a timely manner."
The Office of the Police Complaint Commissioner (OPCC) announced on Tuesday afternoon that they have initiated an external investigation into allegations of misconduct related to the Delta Police Department's handling of a case involving the wife of Chief Neil Dubord.
""The OPCC learned of the incident initially in media reports and requested additional information from the Delta Police Department," said the OPCC in the release. "The office subsequently received a misconduct complaint from an affected person. After reviewing the complaint and responses provided by the Delta Police Department, the OPCC deemed the complaint admissible and assigned the Vancouver Police Department to carry out an external disciplinary conduct investigation into the matter."
Kiran Sidhu was at a socially-distanced picnic with friends at Centennial Beach on June 6. A Surrey resident and teacher in the Richmond School District, Sidhu left the gathering before the picnic was over.
Unfamiliar with the beach area, and with the tide coming in, Sidhu said she was forced to climb onto rocks, which according to the City of Delta are on public property, to get to where her car was parked.
As Sidhu walked across the rocks, she said Lorraine Dubord yelled at her over the fence from her back yard to get down, but with the tide coming in, Sidhu said she was unable to do so.
"There was no way to get through with the tide coming in," she told the Optimist. "I started crawling, climbing the rocks and then this woman comes out from the home above me who I now know is Lorraine Dubord and she tells me to get down. I told her I was just trying to get back to my car and that there was no other way to get through."
Sidhu said Dubord told her she should have been better prepared and 'if I was as fat as you, I wouldn't be at the beach.'
"I kept going, and I called her a 'Karen' and asked whether she was going to call the police. She started it and I'm not one to be a victim of abuse from anyone," Sidhu said. "I almost slipped at one point, and she said it would be so funny if you fell. I swore at her again and she said she would spray me with her hose, which I told her would be assault because you would be making contact."
Sidhu said Dubord then returned a minute or so later, allegedly spraying her with a garden hose.
"My face was wet, my hair was wet… it was so shocking," she said. "I didn't expect that to happen. She is an adult woman, I'm an adult woman. That kind of assault is not something you'd expect to happen at the beach by people who live in these big, fancy houses.
"At one point she also told me to go home, to go home and that I didn't belong there. Potentially racist or whatever you might want to call it and made to feel unwelcome in these white spaces, that I'm super aware of already as being as racialized woman who spends a lot of time in these white spaces as a teacher, as an active member of my union, all very white spaces and I work on changing that."
Sidhu said the next day she reported the incident to Delta police, adding she was not interviewed in person and was asked by the department to email her official statement.
She said she was contacted by phone by DPD on June 10 and told the investigation was closed.
"I felt like this happened very quickly… do all cases get solved this quickly?" she asked. "I really felt like something was missing. In that moment, I thought, wait, they didn't even meet with me. That feels wrong."
She said as she continued to think about the case, and share details with friends, she wondered what to do next.
"I didn't specifically know the different avenues of justice I could pursue… no one knows that off the top of their head, so it took me a few days to share my story with people who might know – a cousin who is a lawyer – and then I realized there was a few things I could do, like filing a complaint with the Delta Police Department, who I wasn't sure if that would be fruitful because I didn't know who would be responding to that."
She said she filed her complaint with DPD on June 15 and on June 16 received an email from DPD introducing her to an investigating officer from Surrey RCMP.
"It was a very pleasant email from Surrey RCMP and very transparent. The investigator said she had no knowledge of anyone involved in the case. I felt like that was a very good starting point," said Sidhu, who met with RCMP investigators on Tuesday.
Lorraine Dubord issues apology
A day after the video surfaced, Lorraine Dubord issued a statement exclusively to the Optimist.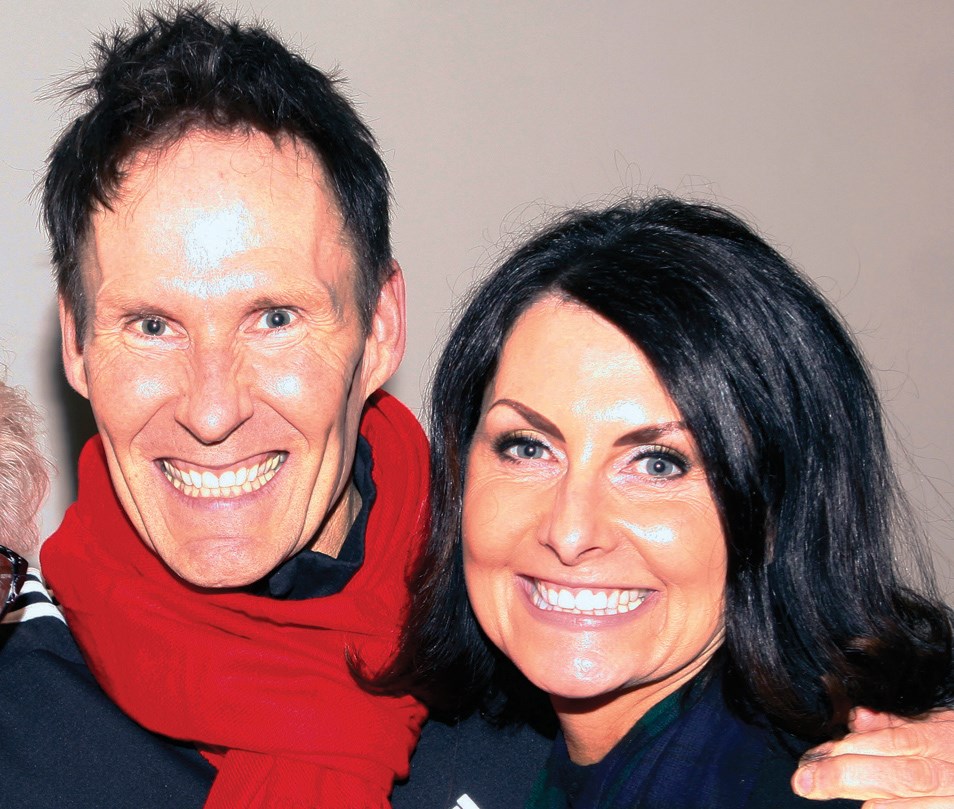 "I would like to apologize to the individual involved in the way the situation was handled at Centennial Beach three weeks ago. Everyone should feel welcomed and supported in our community," stated Dubord. "I trust that all the facts and the complete story surrounding this regrettable incident will be gathered in due course through the ongoing and independent RCMP investigation.
"I would like to reaffirm my ongoing commitment to promoting diversity and fighting racism and hate in our community. I will continue to listen and learn from the discourse occurring in our community on this matter."
Sidhu said she was disappointed in the lack of empathy in Dubord's statement.
"I feel like she didn't take any responsibility. It was not a genuine apology at all. She could have mentioned my name… at that point she knew my name," said Sidhu. "That just further dehumanized me. It was bad enough to go through being sprayed like that… like some animal and she can't use my name. This is part of the problem. We have to name these things, name these incidents, name the people involved to make it an issue that people should care about as we should.
"I think it would be great if she would give a genuine, heartfelt apology publicly with the acknowledgement of what she did, that is was wrong and that she abused her position."
Response from Delta police
On Monday morning, deputy Chief Norm Lipinski issued a statement regarding the incident.
"We take any and all complaints from the community very seriously. This incident is no exception," said Lipinski. "As soon as we were made aware of the complaint, and in accordance with our policies, procedures and established practices, we began our investigation. Given his proximity to this issue, Chief Dubord recused himself from any involvement in the investigation.
"As an additional measure of oversight, the Delta Police Department elevated the investigation to a supervisor. Further, a senior manager was assigned to oversee the investigation and to ensure that all proper procedures were followed. This level of oversight is not standard practice, but I felt it was required given the nature of the matter.
"On completion of that investigation, the outcome was communicated to the complainant. During that discussion, the complainant indicated that she was not satisfied with the conclusions. Per best practices, the department immediately asked the RCMP as an independent authority to conduct a file review and to take any other investigative steps they deem warranted. That investigation is underway; the Delta Police Department will have no involvement in that independent review."
Chief Dubord also issued a statement.
"On June 7, our department received a complaint from the public, alleging an assault by my partner," said Dubord. "I want to say unreservedly that the matter at hand in no way reflects the values and commitment to the community of the officers of the Delta Police Department, nor my own values. Out of respect for our office, I also feel that it is important to note that the complaint does not involve a member of the Delta Police Department.
I want the community to know that I have not been involved in any way with the resulting investigation. I have confidence in the department that no matter who is involved their commitment to integrity and to our community is the first priority. I understand that the investigation has been handed over to an independent police department, I believe that this is important to ensure that the community can remain confident that this matter is investigated thoroughly and acted upon properly.
"Transparency and accountability are essential in maintaining and building trust with the community. Given the recent, meaningful and important discourse taking place around systemic racism, discrimination and violence in North America, I understand that transparency and trust are critically important – especially from those in the police department. That is why I felt it is important for me to issue a public statement.
As we look forward, it is my duty as Chief of Police and, indeed the responsibility of the entire department to continue our efforts to exemplify the excellence in policing that our community expects from us. But I also recognize that I personally, and our department need to continue to listen, learn, and improve.
"Given my personal proximity and out of respect for the complainant and the ongoing investigation, I will not be speaking further on this matter."
Delta police board response
On Thursday, June 25, Delta Mayor George Harvie, who is also chair of the Delta police board, said he was supportive of the decision of the Delta police to refer the matter to an independent agency.
The Police Board issued a further statement on June 27.
"The Delta Police Board is aware of the public's concerns with respect to the ongoing investigation regarding the spouse of the Delta Police Chief and it takes all allegations regarding the Delta Police Department very seriously. Not only are we ensuring that a fair and independent process is followed through the current investigation, but we will also be reviewing our internal policies and practices."
The police board met for its regular June meeting on Tuesday. Members of the public were able to ask questions in advance of the meeting and watch the proceedings of the question period online.
Community response
The community response has been overwhelming on social media as well as through a couple protests.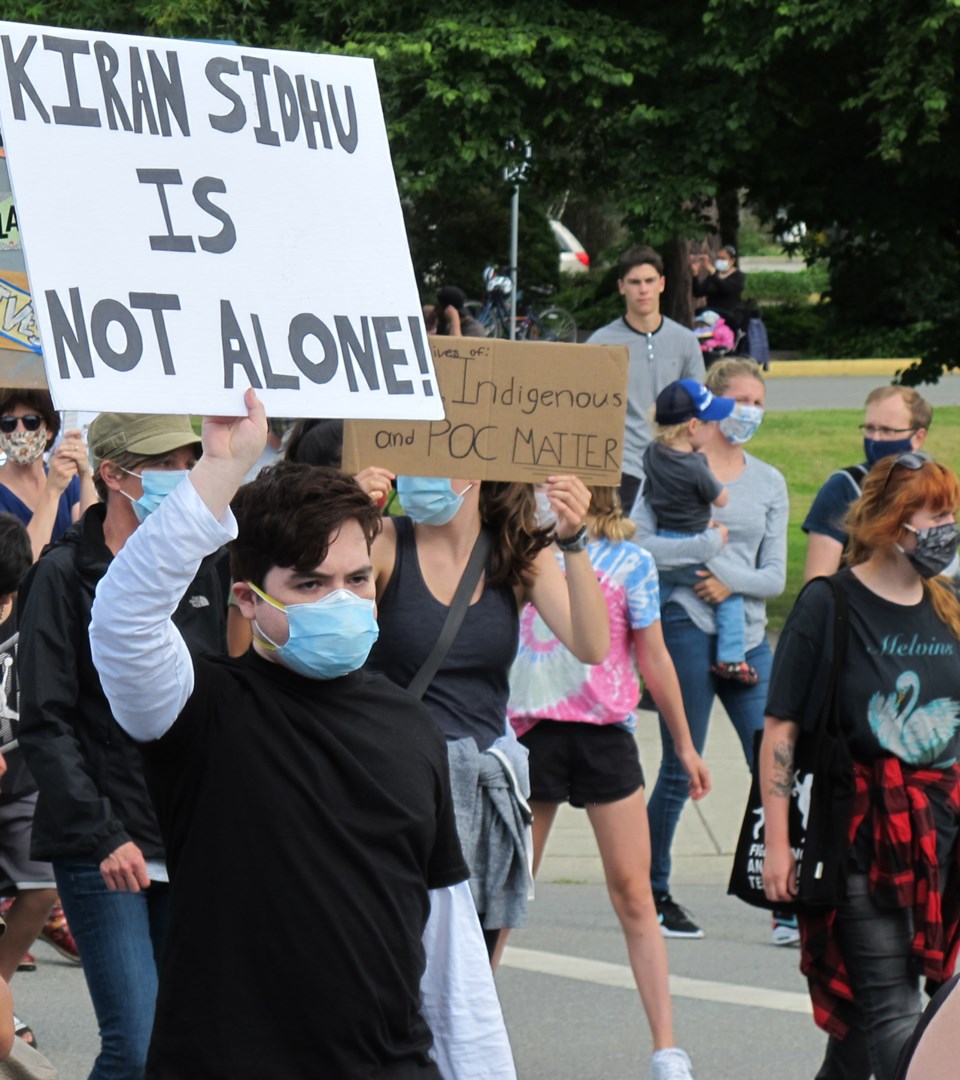 On Friday, a resident reportedly held a solo protest out front of the Dubords' home, while late Sunday afternoon, about 25 residents went to Centennial Beach with signs with anti-racism messages and held what was described on social media as a peaceful protest near the rocks where the alleged encounter took place.
Many residents on social media have also called for Chief Neil Dubord's dismissal.
Sidhu told the Optimist that she doesn't know whether Dubord should be fired.
"I don't know about firing. I think what would really matter more than that, because that would be a Band-Aid solution and people would think we have eradicated racism in Delta now, is for the DPD to really commit to changing what is happening with systemic racism within their organization," said Sidhu. "When I originally called in I asked for a women of colour officer to respond. Were they not able to find one? I dealt with two female officers, but they were both white. Many people have started talking about how they have experienced forms of abuse at the hands of the Delta PD, especially the Punjabi community, which was surprising to me.
"People are very grateful that I'm speaking out about it and I feel very grateful to be able to have the language to do it and the strength to do it and the position as a teacher who is a respected member of society. I understand that everybody doesn't have the same kind of confidence to be able to do that.
"I really want systemic change, otherwise this will be just one news story that will blow over and people are going to forget about it."