Will the vast Agricultural Land Reserve in Delta one day be taken over by those growing recreational and medical marijuana?
That's a concern that's been voiced by many, including the City of Delta, which is hoping the provincial government will restrict where operations can grow pot.
"Delta is concerned about the potential impacts of cannabis cultivation on farmland and the potential for traditional food crops to be displaced by cannabis. There are also concerns about adverse effects on agricultural land values and impacts to the long-term viability of farmland for food production," according to the city's planning department.
Delta has the ability to prohibit marijuana production outside of the ALR but doesn't have the same authority when it comes to the reserve as long as certain conditions are met by growers.
According to a land inventory, the ALR in Delta consists of over 9,400 hectares (23,000 acres), but not all of it is farmed or can be farmed. About 6,700 hectares (71 per cent) of the land in the ALR is farmed actively or inactively.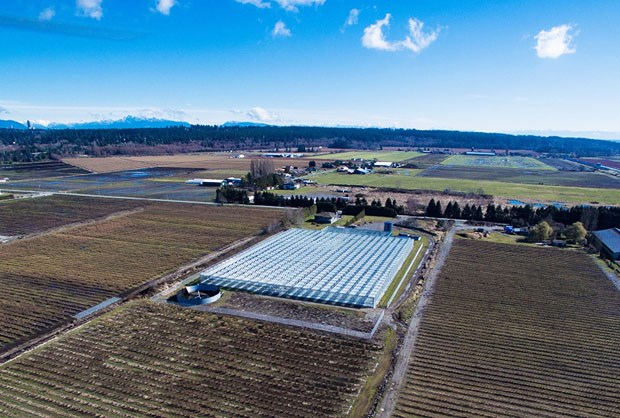 As far greenhouses go, while there are several imposing-looking structures on the landscape, they only cover about 176 hectares (435 acres), which is around two per cent of the ALR land in Delta. There are 16 glass greenhouses in Delta with an average area of 10 hectares (25 acres).
According to the planning department, there are 19 million square feet of growing space in Delta greenhouses, about five million square feet of which will soon be used for growing cannabis.
That number includes a partnership between Agraflora Organics International Inc. and Houweling Nurseries late last year that will see the conversion of the 2.2-million-square-foot East Ladner greenhouse for cannabis production.
The 20-hectare (49-acre) facility on 64th Street will be the second largest cannabis greenhouse in Canada, according to Agraflora.
The other greenhouses in Delta that have made the switch to cannabis include Rubicon Organics on 104th Street as well as two even larger-scale greenhouses -- Canopy Growth in East Delta and Village Farms in East Ladner – following the federal government's legalization of recreational cannabis last fall.
A recent report from Delta community planning director Marcy Sangret notes, "With over 50 per cent of Delta's land base being within the ALR, many more cannabis facilities could establish themselves within city limits with little control from Delta, and cumulatively result in less areas available for local food production."
During a Delta council discussion earlier this year, Coun. Lois Jackson, who raised concern about Delta becoming "the pot growing capital of Canada" while she was still mayor last year, warned the ability to be able to grow food locally should be a big concern for everyone.
"It's quite amazing when the federal government has approved over five million square feet of greenhouses in Delta alone for the production of marijuana. We predicted this a long time ago but, unfortunately, the senior levels of government paid little heed. I remember when we went to the federal government and brought every single statistic to try to see what we could do relative to this matter. Nothing came of it and what a terrible situation, in my opinion, to leave this just the way it is," she complained.
Delta's planning department also notes if applications are made for land within the ALR, staff do not have the ability to deny building permit or business licence issuance to prohibit those facilities if all licensing requirements are met.
Ahead of the federal government's legalization, the province enacted regulations so local governments would be able to prohibit some cannabis production in the ALR, however, they can't prohibit them outright if certain conditions are followed.
The regulatory change gives authority to local governments to "prohibit cement-based, industrial-style, cannabis-production bunkers on ALR land in their communities," but also stipulates that cannabis production cannot be prohibited if grown lawfully in an open field, a structure that has a soil base or a structure that was under construction prior to July 13, 2018.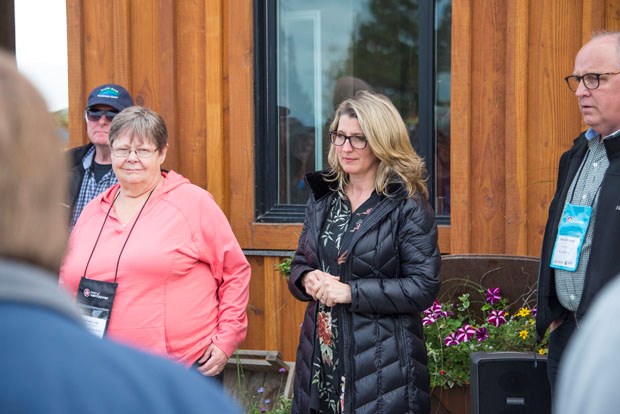 In a recent interview, Agriculture Minster Lana Popham said the regulations were aimed at getting a handle on the situation, but pointed out she can't be part of the policy discussions due to a perceived conflict of interest because her fiancé is a medical practitioner who prescribes cannabis.
However, she said, "It's safe to say this file is ever changing and I can't imagine that we wouldn't make changes or policy around what's happening because it is a big file. We just wanted to give local governments control while we saw where things were landing with the federal regulations. It's a constant assessment."
Delta South MLA Ian Paton, the Liberal co-agriculture critic, told the Optimist he's appalled how the provincial government is dragging its feet on the issue while introducing other questionable legislation for the ALR.
"After all this stuff they're doing to take away the rights of farmers and landowners, they're still saying, 'I guess it's OK for this beautiful Class 1 soil in Delta that in the '90s was covered up with millions of feet of greenhouses to grow marijuana.'
"They're saying they're not allowing any new structures that have a concrete floor in them for marijuana. Well, guess what, none of these cannabis companies are building new facilities. All they're doing is going to existing greenhouses and talking them into switching them over from food to cannabis, convincing them they'll make way more money. Any of the existing greenhouses, even if they have concrete floors in them, are grandfathered, so they can switch to cannabis overnight," Paton said.
"I think it's absolutely ludicrous that this minister of agriculture says we have to protect every square inch of farmland in B.C. but Class 1 farmland in Delta that was growing food can now grow marijuana, which up until a year ago was illegal," he said.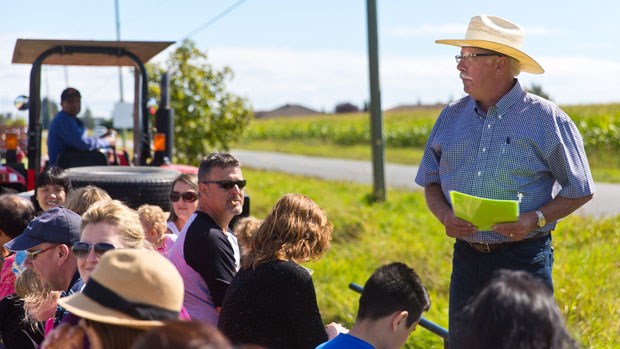 Paton added the product should only be allowed to be grown within industrial zones, where operations would also have to abide by federal regulations, such as odour control, or up north in areas that have poorer quality soils compared to the Lower Mainland.  
Long-time Richmond city councillor and farmland advocate Harold Steves, who as an NDP MLA helped create the ALR back in the early 1970s, agreed a logical solution would be to restrict marijuana operations to ALR areas of the province which have trouble growing traditional crops, noting cannabis is a hearty weed that can grow in more challenging conditions.
"At the time we were producing 86 per cent of our vegetables, mostly in Richmond and Delta, for all of B.C. and now we're down to 40 per cent. The majority of our food now comes from California, even with the ALR. That's partly because we have lost a lot of land, including to golf courses and other uses, which is going to be a big battle in the future," said Steves.
"What they're doing in Delta, and the province has allowed this, they're converting existing greenhouses that grew tomatoes and peppers to growing cannabis. You can always convert them back. As far as I'm concerned, cannabis grows extremely well in Class 6 soils in the Interior. When the railway went through in the 1870s and 1880s, they smoked a lot of marijuana and the seeds were dropped on the railway tracks and it grew just naturally in the gravel. They called it local weed because it grew wherever the locomotives went," he said.
"We don't need to grow it here on the good quality ALR land. I remember how our cattle got out one day and I went looking for them and we found them on the other side of our range in a big marijuana field. The stuff was growing just unbelievable out in the hot sun in the Kamloops range right outdoors," Steves added.
Sean Smukler, a professor at UBC's Faculty of Land and Food Systems, said the question of whether quality ALR land in Delta is truly under threat will be answered by how much of a demand there will be in Canada for legalized pot over the next few years.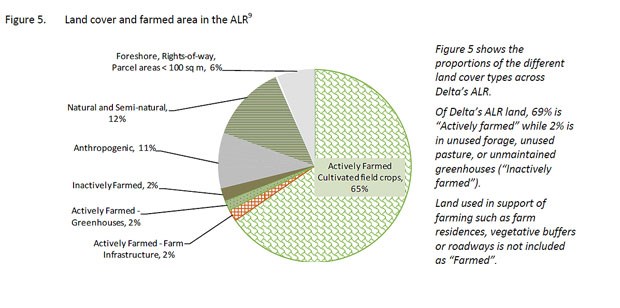 "I don't know what the demand for pot will look like but it should be flagged, for sure. Any changes to our ALR that takes land out of food production is concerning. In terms of how many pot operations are going to spring up over the next 10 years, who knows. There's a high production capacity but who knows what it will be in terms of the demand, and I wonder if anyone really knows that," he said.
As far as the suggestion such operations should be located in areas where the soil quality is lower, Smukler said that might not be a bad idea.
"Everyone is concerned, including in my circle, taking food producing operations and turning them into drug operations. But it's almost like the same thing when you take orchards in the Interior and turn them into vineyards," he said.
"For that matter, you can put weed on top of buildings. There's no reason for it to be on the ALR if it's that lucrative of a product. They have vegetable production on rooftops, so why not make it super local and not take away any ALR?" he asked.
An interim report last summer by a committee looking at revitalizing the ALR raised a number of issues and concerns, including cannabis production.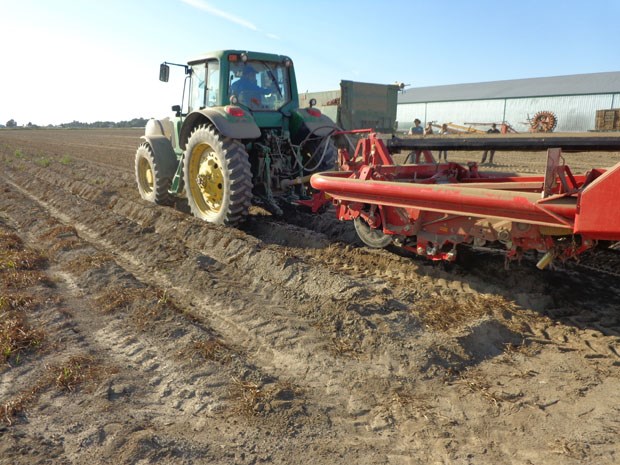 Chaired by former Delta South MLA Vicki Huntington, the committee's final report has been submitted to the Ministry of Agriculture but not yet made public. The province, though, has introduced some legislation stemming from the committee's recommendations, including restricting the size of farm houses, but has not made it known if there could be any additional regulatory changes when it comes to cannabis on the ALR.
When asked how many more production licenses will be needed to fulfill anticipated consumer demand, Health Canada said it does not have that number.
As far as what's been produced so far, according to Health Canada, as of Dec. 31, 2018 there were 143 licence holders, which is more than three times as many as there were at this time two years ago.
There are just two cannabis facilities outside of the ALR in Delta, both having business licences and operating in industrial zones. City staff are working with the greenhouses that switched to have business licenses as well.
Meanwhile, on another front, the city is also concerned there could be circumstances where cannabis retail sales are considered a farm use under ALR regulations.