Delta firefighters, a 9-11 operator, towels, a shoelace and a safety pin all contributed to the safe and healthy birth of a baby girl in a Tsawwassen home late last month.
Matt Pitcairn and his wife Vanessa Tong were binge watching Homeland in their bedroom June 24, when her water broke and contractions set in at two minutes apart.
The couple knew they wouldn't make it to Richmond Hospital in time, so Pitcairn the family's midwives, and 9-1-1 where the operator assisted him with getting the necessary supplies, but baby Hanalei wasn't about to wait.
Within minutes, the head was crowning and with two pushed Hanalei Hei-Yuet Tong Pitcairn was welcomed into the world.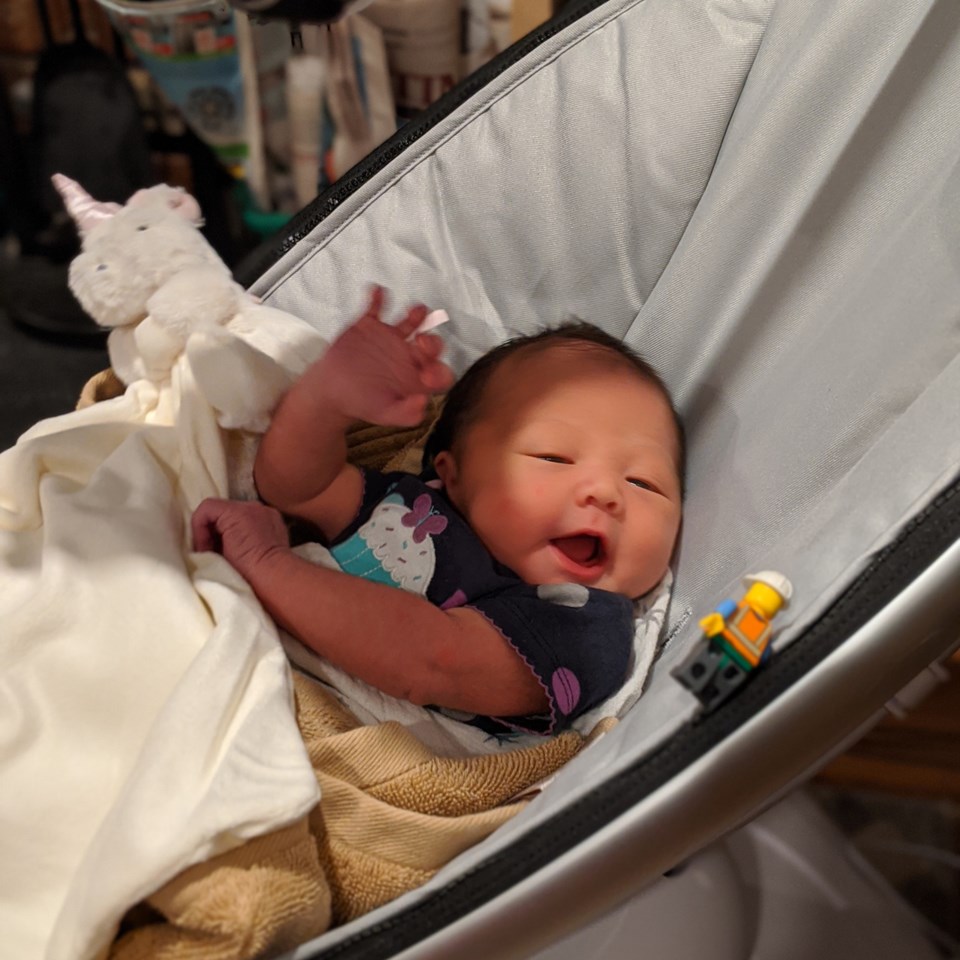 A couple minutes later, Delta firefighters arrived, followed by paramedics and the two midwives.
While the firefighters were initially concerned about her colour, the paramedics and midwives assessed Hanalei's health and the family was able to stay put.
"The best part was we didn't even have to go to the hospital, we were able to stay in our own room - everyone helped and everyone was great," Pitcairn said.
With two older boys, four and seven, Pitcairn said this birth was a "surreal" experience, but recovery has been the best for his wife this time round.
"It was so chaotic, but looking back on our three births, it was the most special," he said.
Tong had wanted to have her own mother and perhaps someone to take pictures at the birth, but because of the COVID-19 pandemic, only one person would have been able to come along.
Having the baby at home, it became a family event, including Tong's parents who live in a suite in the same house.
Even their younger son, Sawyer, four, was offering help, rubbing his mother's back when Pitcairn had to step out for a minute.
"The whole family was there and helping out any way they could," Pitcairn said.
Pitcairn, who is the president of the Richmond Chamber of Commerce, paid a visit on Canada Day to Delta Fire Hall No. 2 to meet up with the crew who responded.
"It was very special. It was so great to be able to see their faces because they were wearing all their PPE gear [when they responded], and it was so fast and furious, so it was really nice to have the opportunity to thank them in person and just have a conversation, hang out for a bit and thank the guys that helped to bring our little one into the world," he said. "This is something we have never experienced before and hopefully never will again, but it has been very special for sure."
When news of the home birth started to spread in the community, former Mayor and current Coun. Lois Jackson sent a thank-you note to the fire department and copied the Optimist.
"This story has brought a lump to my throat and a tear to my eye," said Jackson. "It's been such an honour for me to be associated so closely with our fire personnel over the past 20 years, and they have never let me down. Chief [Paul] Scholfield, could you please pass along my personal thanks to the crew, who will remember that little baby girl for many, many years to come. As I recall, another firefighter who delivered a little baby girl probably 18 or 19 years ago had his picture taken with her as a grown adult a couple of years ago.
"Our emergency services crews, fire, police, ambulance, and even our municipal crews, must be thanked once again for their undying kindness and duty to the people of our community. Congratulations to mom, dad, and new baby girl. May you live in a world of peace, happiness, and goodwill."
-with files from Maria Rantanen/Richmond News