It was a tragic day on the B.C. Ferries on this day 1970.
On Aug. 2, the Queen of Victoria, one of the newest bigger vessels in the fleet, was sailing from Tsawwassen to Schwartz Bay when it was involved in a deadly collision in Active Pass.
Carrying 500 passengers and 150 vehicles, the ferry was rammed on the port side by the Russian freighter Sergey Yesenin, killing three passengers, despite attempts to avoid the collision.
It happened around 11 a.m. and reports from observers indicated visibility was good and the tide was nearly slack.
Sheila Taylor, 17, of Allendale, New Jersey was standing near the ferry's main deck when the Russian freighter knifed through the ferry's superstructure, crushing her to death. On a car deck, Mrs. George Hammond of Victoria had just stepped out of her Volkswagen car, carrying her seven-month-old son Peter, when they were killed.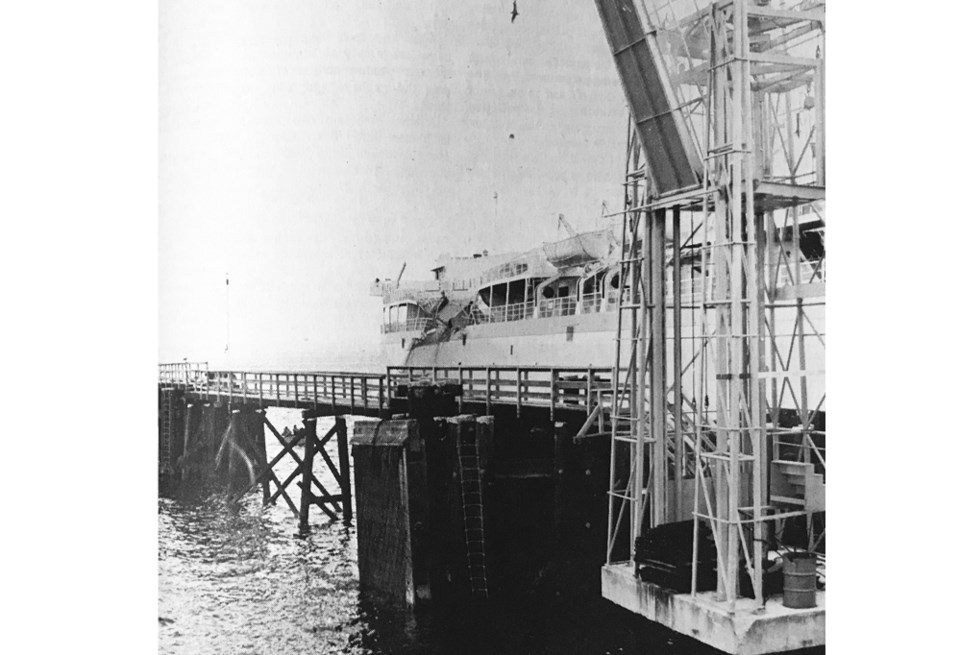 The damaged Queen of Victoria in dry dock in 1970
The Optimist at the time reported that Captain James Pollack, master of the Queen of Victoria, said the two ships could not communicate by radio because they were on different frequencies.
One witness said, "They tried to veer away, you could tell by the smoke. I guess they were in reverse and everybody was trying to stop. But there was no way, they were coming too fast."
A spokesperson for the Department of Transport said pilots took freighters through Active Pass, but only if conditions were favourable.
The 523-foot Yesenin was carrying steel products and cars to Vancouver from Japan. It was virtually undamaged in the crash.
It was the first incident of deaths in a B.C. Ferries accident.
A shocked premier W.A.C. Bennet said, "I am convinced it was not an intentional accident." 
Colour film footage is on the Internet today, showing the Russian ship speeding toward the ferry and slicing through it.