More than 200 traps and 1,200-plus crabs were released back into Boundary Bay following a two-day operation to clear illegal crab traps.
Department of Fisheries and Oceans officers from the Langley and Chilliwack detachments led the operation with the support of CCGS Neocaligus Science Vessel and Canadian Coast Guard crew members.
"It's on days like these we know we're making a difference," said DFO spokesperson Leri Davies. "Our officers seized 204 traps that were actively fishing and released 1,268 crabs back into the water alive.
"Illegal harvesting threatens fishing opportunities for all fishers. If you see suspicious activity on the water, let us know."
The licence rules around harvesting crabs can be found on DFO's website at http://www.pac.dfo-mpo.gc.ca/publications/pdfs/Crab_english.pdf and include the requirements that all traps must be clearly marked, attached to buoys and be secured with a cord that will decompose so captive crabs can escape if the trap is lost.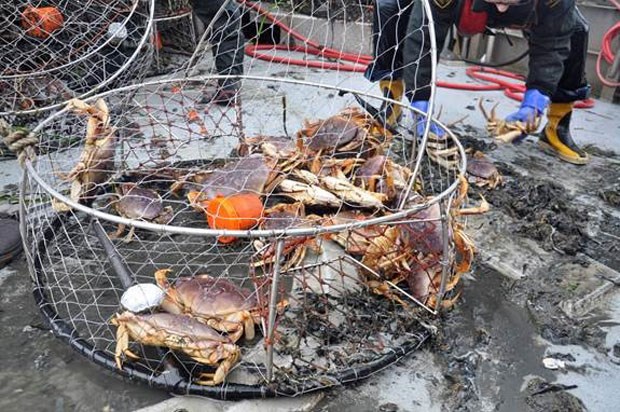 "The majority of traps seized during this operation contained fresh bait, were zap-strapped closed or lacked rot cord, and had no identifying information," said Davies. "Under the Fisheries Act, unmarked seized traps are held for 30 days if ownership cannot be ascertained, after which they are re-cycled."
As part of Fisheries and Oceans Canada's work to end illegal activity, the department asks the public for information on any suspicious or potentially illegal activities, or any contravention of the Fisheries Act. Anyone with information can call the toll-free violation reporting line at 1-800-465-4336.