ASD Autism SK8 Day rolled into Tsawwassen Mills on Sunday providing children with autism a chance to experience the freedom and fun of skateboarding in an inclusive and supportive environment.
The SUPA Society partnered with West49 and sponsors Ultimate Distribution and Newline Skate Parks to host the fourth annual event at the West49 indoor skate park at Tsawwassen Mills.
YM Inc., the action sports company that owns West49, had the 7,000-square-foot indoor park built in order to provide a safe, welcoming environment for kids to learn how to express themselves through skateboarding.
What is unique to ASD SK8 Day is that each child is paired with an autism behaviour interventionist and skateboard coach with a lesson geared towards that child's specific needs. Behaviour consultants were on hand to ensure every child's needs were met and they experienced a successful introduction to the sport.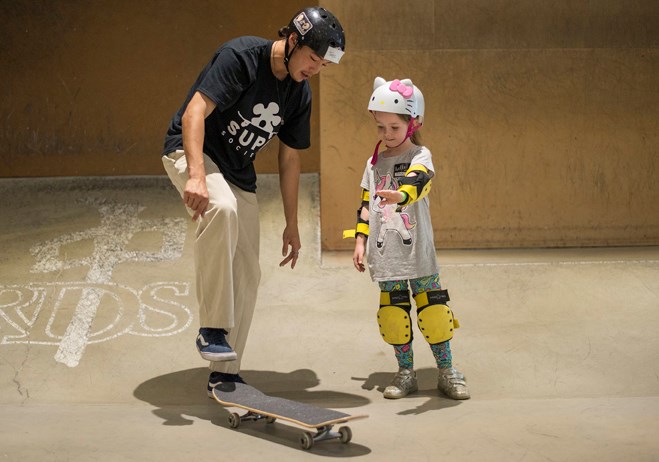 SUPA Society board member Dione Costanzo said the event was a huge success.
"It went really well. We had about 50 kids total including kids with autism and their siblings," said Costanzo. "We ran five heats, so each kid was paired with the instructor and the interventionist while the siblings were paired up with a skateboard coach. They all had 45-minute sessions inside the skate park and we also had an outdoor free skate area staffed with instructors. Once they got the lesson, the kids catch the bug and are on a roll, so we provide the outdoor space to continue to have fun."
There were also resource groups set up in tents, professional skateboarder Kevin Harris did a demo and food and refreshments for everyone.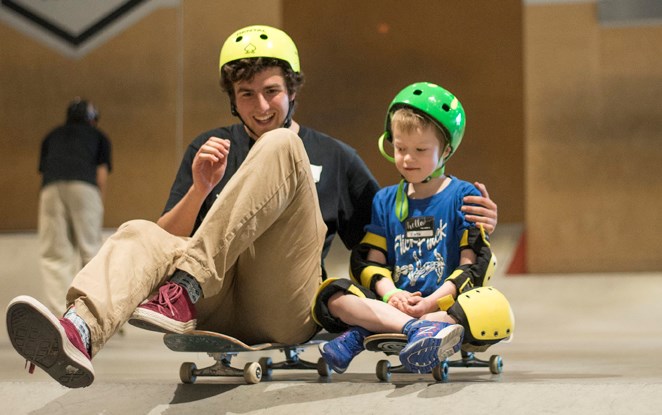 "From a parents' perspective, one of the nice things that SUPA puts on with these events is that they include the siblings. The siblings are the unsung heroes of the family," she said. "It's also a rare chance for me to just step back and watch my son experience the fun and freedom of the sport without me having to intervene because the environment is so supportive to make him successful."
SUPA Society is a grassroots initiative started by Surrey dad Dennis Nerpio, whose son was diagnosed with autism spectrum disorder, or ASD, at age four.
Nerpio, who is a surfer, took his son to the beach one day about eight years ago and discovered something magical - not only did his son enjoy the beach, but surfing with his dad took him out of the context of being an autistic child and provided him a new sense of freedom.
He was inspired by his son and wanted other children with autism to experience the same. Along with sponsors Rip Curl and Canucks Autism Network, SUPA Society now hosts an annual Surf Camp for Children with autism in Tofino, Autism SK8 Day and earlier this year held the first Autism Snowboard Day on Mount Seymour.