It was 30 years ago today that civic politicians quashed a highly contentious housing development in Tsawwassen that had created a grassroots movement unlike any seen in Delta.
On Aug. 8, 1989, Delta council had heard enough opposition to the Tsawwassen Development Lands proposal to build almost 1,900 houses on the Southlands, voting to reject the plan despite the applicant's last-ditch attempt to withdraw it.
Before an overflow crowd at the South Delta Recreation Centre, council members took turns attacking both the development plan and the withdrawal plea.
"I don't think I've sat at the council table more angry than I am tonight," said council member Lois Jackson. "We've all been waiting for this day and I'm not going to let the developers take that away from us."
"I'll see the indignation and raise it some," added fellow council member Bruce McDonald, who made the motion to deny TDL's withdrawal request.
After scaling back an even bigger development proposal submitted a year earlier, TDL was hoping it had a better chance with a new application in the spring of 1989, but it met with instant, overwhelming opposition.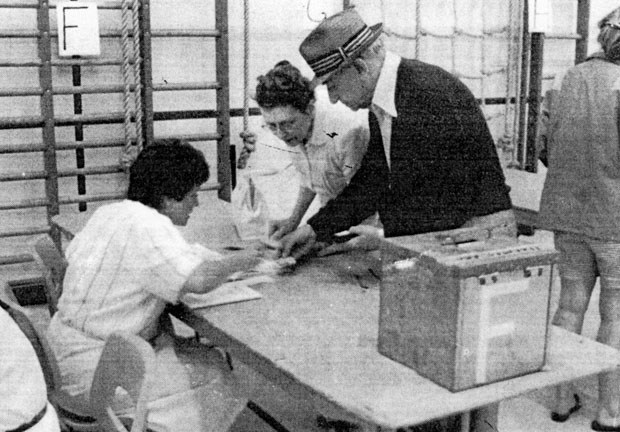 The TDL proposal galvanized the community and resulted in the longest public hearing in Canadian history. During the hearing, the oral portion of which ran for almost two months, more than 400 people voiced their opposition as the proceedings in South Delta quickly gained national attention.
After the oral portion was adjourned, almost 4,000 people sent written submissions before the hearing was finally halted.
The ultimate grassroots movement also included a community-run plebiscite that attracted more than 6,500 Tsawwassen voters, over 90 per cent of whom voted against the proposal.
One night during the public hearing, council thought it might be able to wrap things up by extending that night's session, but when opposing forces got wind of it, people started retuning to council chambers with jeans pulled over their pajamas and slippers on. 
In an interview a decade later, Michael Geller, who was brought in to devise the plan and marshal it through the approval process, called the hearing a watershed in Canadian planning.
"To their credit, the Tsawwassen community waged the most articulate and organized opposition on private property in Canada," he said.
Lifelong Delta resident Doug Husband, who was mayor during that time, said it was a challenge trying to cover all the legal bases and navigate a process that appeared destined to have just one result.
"David Strangway was the president of UBC and he came out to see me before the public hearing took place and he said, 'I just want you to know I have a number of my professors living in Tsawwassen and they are going to make this public hearing the most high-profile public hearing you're ever going to be involved in. It has nothing to do with single-family developments and traffic and density and all those things. It's going to be about the environment and First Nations' issues,'" Husband recently told the Optimist.
"That's what they did, they brought up the Lummi Indian Band to speak about how it was sacred land. They had the minister of environment say there should be no development on this land until such time as there is an environmental study. That was Lucien Bouchard, so they flew him out and had him stand on the banks of the Boundary Bay area. It was absolutely quite phenomenal. It was highly organized and I give them great credit for being able to do that, but we had about 8,000 written submissions during the course of that hearing, even as far away as Germany, about saving the flyway and protecting the birds," he recalled.
Formerly called the Spetifore lands when farmer George Spetifore owned it, the property was removed from the Agricultural Land Reserve in 1981 amid much controversy. The request was put forward at that time by Delta council and the Greater Vancouver Regional District.
Husband contends it was a political move by the city, which was supportive of development, and GVRD in order to have the Spetifore family give back a couple of hundred acres for a park, but it sowed the seeds of public outrage.
"Everyone started to realize a significant protest could have a meaningful result for people," said Husband.
The Social Credit government at the time issued the cabinet decision overruling the Agricultural Land Commission. Out of more than 8,200 acres of land in B.C. pulled out of the ALR during that period, the commission opposed only the removal of the Spetifore property.
After the TDL proposal failed, the Southlands continued to be a hot topic. On the political front, it resulted in Husband's defeat and the newly formed Independent Delta Electors' Association, with Beth Johnson at the helm, taking control of Delta council in 1990. The Tsawwassen Homeowners Association formed during the TDL heyday, having 1,700 members during its height and playing an influential role on council for a number of years. 
In the early 1990s, the NDP government declined the new council's request to put the Southlands back in the ALR.
By then, Century Holdings had bought the mortgage on the Southlands from the Canadian Imperial Bank of Commerce and foreclosed. Then company president George Hodgins floated a 1,000-home proposal that included a golf course that would have been given to the municipality, but that concept was never formally submitted.
The company eventually sold 220 acres east of Boundary Bay Road for more than $7 million in 1995 for expansion of the regional park, while keeping well over 500 acres for an unknown future.
The relationship between Hodgins and council wasn't exactly a rosy one during that time as the municipality, after a new Tsawwassen Area Plan was approved, downzoned a strip of the Southlands fronting 56th Street from duplex to agricultural.
Hodgins informed Johnson and the rest of council (except Ann Claggett) they could be subject to a $500 million lawsuit. The last straw, he said, was the rejection of an application to subdivide an 80-acre parcel into four 20-acre hobby farms. The lawsuit never went to court, though.
It was another decade before the Southlands made news again when Century Group president Sean Hodgins, George's son, held several open houses in conjunction with Smart Growth B.C. in 2006 to gather input on what's needed to enhance the community. He later unveiled a vision for the Southlands that had an agricultural component combined with housing and open space.
It was the start of a lengthy consultation process that eventually led to the unveiling of conceptual plans at a design charrette in 2008. Following the anti-sprawl concepts of new urbanism and agricultural urbanism, Hodgins submitted three design concepts to the municipality, all containing a retail component, urban farming and roughly 1,900 housing units.
Although his development plan was vastly different in many ways from TDL, it still got a rough ride with many residents skeptical of the assertion the land wasn't viable for farming. By this time, however, many had warmed to the concepts put forward by Hodgins.
A public hearing was held in 2011 on Delta's proposal to apply to have the 215-hectare (536-acre) property placed back in the ALR, but that hearing was halted after the community's deep division was apparent.
Hodgins was then sent back to the drawing board, coming back with another proposal for 950 residential units in various forms on the easternmost 20 per cent of the site.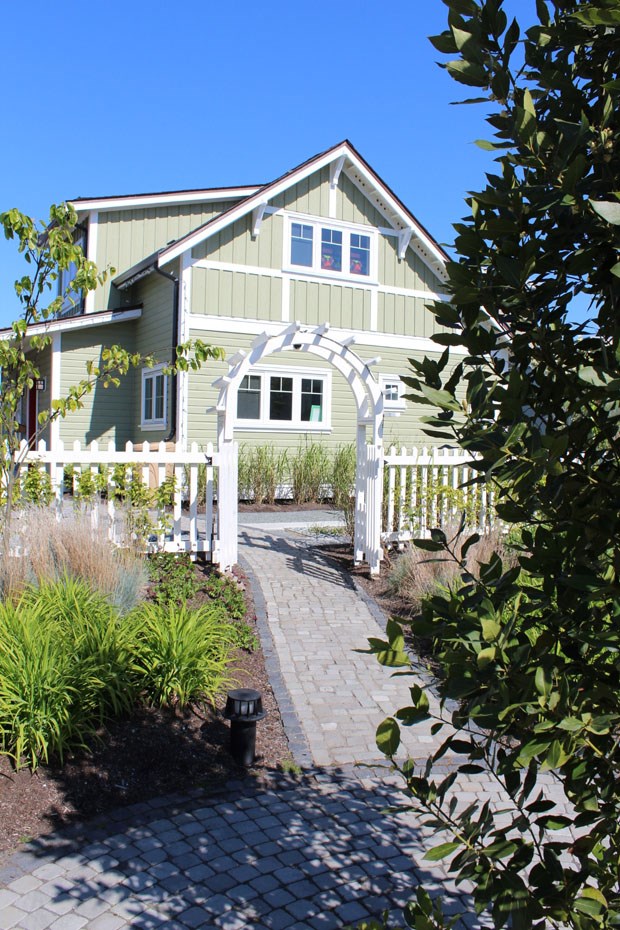 The company proposed to transfer 80 per cent of the site to Delta. That land would be used for agriculture, natural habitat and greenways. The proposal also included a market square. In addition, Century would provide $9 million to improve the land's drainage and irrigation for farming.
The subsequent public hearing continued to demonstrate how the Southlands was deeply divisive, but unlike the TDL proposal, the Century plan had many ardent supporters that came out to speak.
Those in favour said the plan would create much-needed housing variety, a growing concern by then, and boost a stagnating community, as well as improve agricultural land that would be in Delta's hands.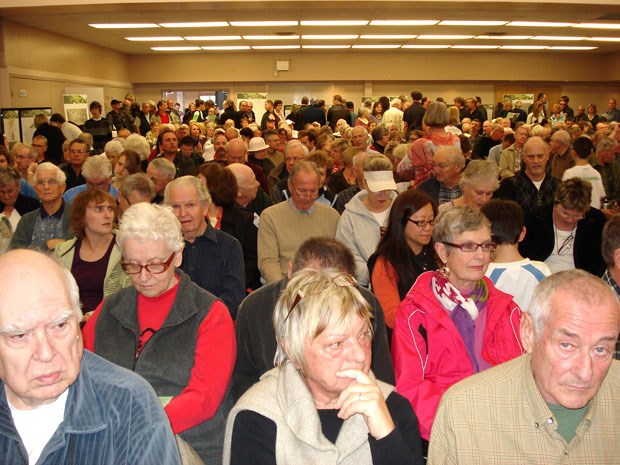 In addition to the farming component, including community gardens, the overall project would have unique designs, amenities and variety of housing stock, including cottage homes with shared backyards. Final approval was given in the summer of 2016.
The site is now a beehive of activity with construction taking place, including extensive works to get the farming component, much of it organic, ready to grow.
During a recent tour, Sean Hodgins and project manager Brad Semke conveyed excitement how things were progressing, noting it will really start looking different once landscaping is mostly added by next summer. They say the new neighbourhood, which is directly tied to farming, is a model for the future. Saying many trees including an orchard have already been plated, Semke noted the site was severely challenged in that it had been prone to constant drainage problems, but those problems are being solved.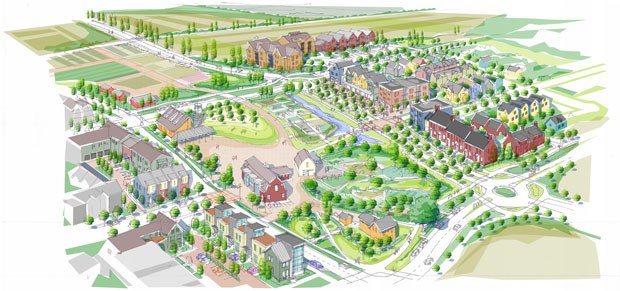 Noting housing sales will likely commence at the end of next summer, Hodgins said the plan is to have roughly an equally number of cottage homes, condos and townhomes.
"I think what's going to be really valued here is how we're creating pathways that didn't exist before, integrating it with a sense of place, including agriculture," added Hodgins. "Everything has been improved in terms of connecting Boundary Bay."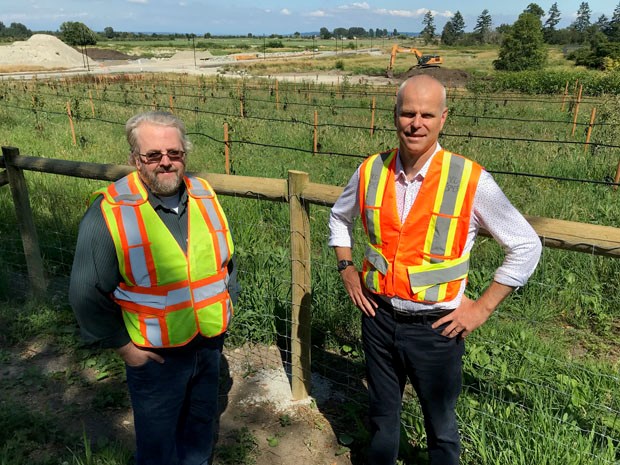 Last fall, Delta received the approval from the ALC to have the agriculturally zoned portion of the Southlands, which has a combined area of 111.5 hectares (276 acres), included in the ALR.
Earlier this year, Delta-based Four Winds Brewing Company's application to build a restaurant and craft brewery was rejected by council, creating some controversy for the development. Despite some ingredients being grown on-site, Mayor George Harvie said an industrial component was not in keeping with the vision of the new Southlands neighbourhood. Although the majority of speakers at the public hearing were opposed, Four Winds has received huge support on social media.
A "Discovery Centre" will be built at the Southlands to give potential homebuyers a chance to learn more about the new community.