It will be much easier to enjoy an outdoor drink or meal in Delta, even though it may be in the street or a parking lot.
Aimed at helping the restaurants which will see reduced indoor capacity once they are allowed to re-open, city council this week voted in favour of a series of recommendations to make it easier to have outdoor seating areas.
In addition to providing a simplified process, the plan also includes a pilot project to provide additional patio and physical distancing opportunities through the temporary closures of certain parking spaces and/or streets.
Council recently endorsed the establishment of a Community Resilience and Economy Recovery Support Team to work with Delta Chamber of Commerce and other stakeholders to support economic recovery efforts of Delta businesses, and at the same time staff were directed to provide information on the potential use of outdoor patios, city sidewalks and roadways.
The Ladner Village Renewal Advisory Committee's final report had already encouraged expanding the ability to have patios, allowing for evening noise associated with restaurant patios and other outdoor uses, as well as creatively using streets.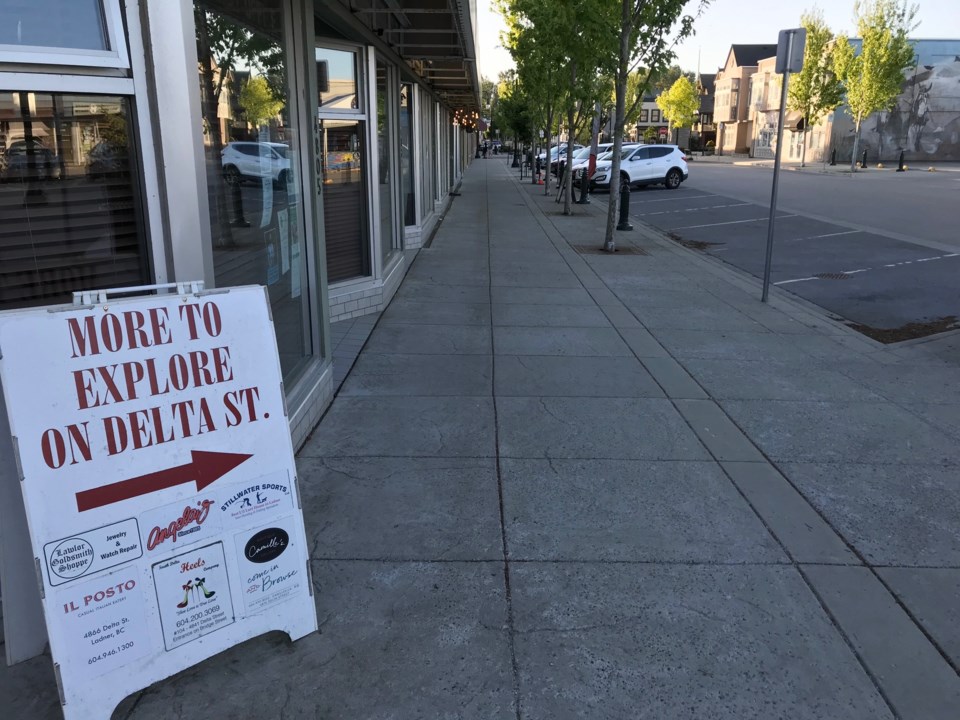 Delta staff noted some of the lost indoor capacity due to physical distancing could be recovered by opening up capacity to the outdoors
"It would be the restaurant owner's responsibility to ensure appropriate physical distancing is maintained in all areas of the restaurant, including outdoor patios. It would also be the restaurant owner's responsibility to obtain any necessary approvals from the Liquor and Cannabis Regulation Branch. Staff would expedite any approvals necessary from Delta in this regard and would also waive any associated application fees..." a report to council explains.
Council is also sending a letter to the province asking that liquor licence amendment requests be expedited and fees waived for this summer, but the province this week announced some good news for restaurants in that they will be able to purchase liquor at wholesale prices and get expedited provincial approval for expanded outdoor service.
As far as new patios on private property, the report notes the city has received several recent inquiries from restaurant owners interested in them, including in parking spaces or other areas of mall lots. Those opportunities are most prevalent in North Delta and Tsawwassen, since many Ladner restaurants front directly onto public sidewalks.
The report also notes retail outlets are also seeing the need to provide queuing space outside of businesses for lineups as the number of customers permitted inside may be limited, so to maintain physical distancing, temporary parking space, lane and road closures can be considered to provide extra space for seating areas, walking and cycling.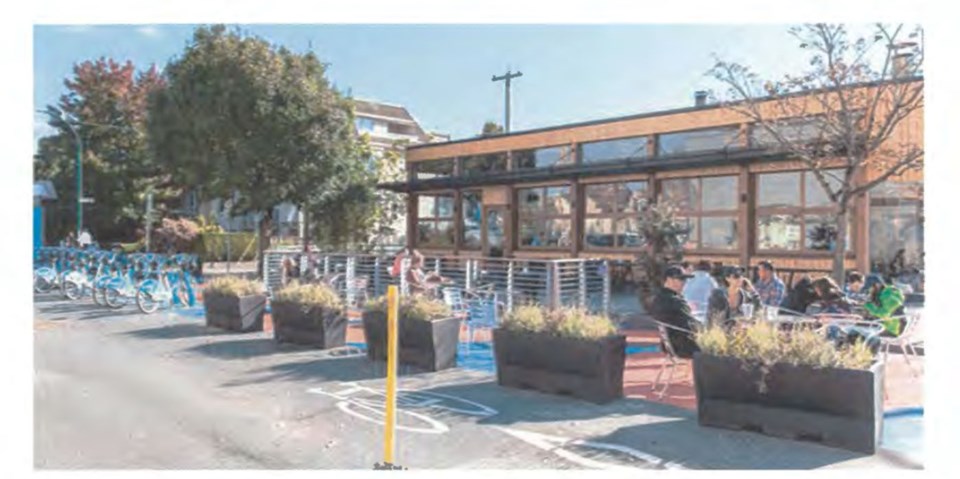 An example from planning staff how outdoor spaces can be utilized to provide patio areas
Staff will also proactively consult with stakeholders such as, property owners, tenants and business associations to develop a Patio and Public Spaces pilot project for the temporary closures of certain parking spaces and/or streets. The consultation will be undertaken in collaboration with the new economic recovery team.
"For this proposal to be successful it must be simple, quick and cost effective for restaurant owners. The ultimate goal is to ensure the financial sustainability of these businesses as they strive to recover from pandemic implications. Staff will report back to the success of the program and options for amendments or permanent adoption. In the short term staff are trying to remove any barriers to business success," the staff report adds.
Staff may also have to take a look at a possible amendments to the noise control bylaw to more specifically allow for evening noise associated with restaurant patios and other outdoor uses.
Restaurants Canada recently published an open letter calling on all levels of government to help food service businesses remain viable as they reopen their doors to diners.
A new survey by the organization found most food service businesses might not have enough cash flow to successfully reopen and as jurisdictions move forward with lifting emergency measures.