This article has been amended to correct the timeline.
Approximately 30,000 litres of sewage poured into Hastings Creek late Friday night following the breach of an underground pipe near Ross and Allan roads.
Raw sewage was bubbling up on the street when district workers arrived on the scene at about 2 a.m. – likely within an hour of the rupture – according to District of North Vancouver utilities manager Shaun Carroll. Given the district's policy of prioritizing people and property, crews directed the surfacing sewage into Hastings Creek.
Four trucks took turns suctioning the wastewater until about 10 a.m. Saturday morning, diverting approximately 60,000 litres of sewage that would have seeped into the creek and putting it back into the sewage system.
"They're just driving it to the end of the block, dumping it, coming back, sucking up a bunch more," Carroll said.
While segments of the river were noticeably grey, no fish were killed, according to Carroll.
That assessment was corroborated by Pacific Streamkeepers Federation co-founder ZoAnn Morten, who surveyed the stream Sunday afternoon. However, while Morten didn't find any signs of dead fish, she was troubled not to see any fish at all.
"I would have expected to see something. I didn't," she said, noting fish populations are generally "quite prolific" along the creek.
The timing of the spill is worrying, according to Morten.
"Right now is the time for the juveniles all to be coming up and taking their first gulp of air," she said. "On Hastings Creek that gulp of air might have included sewage."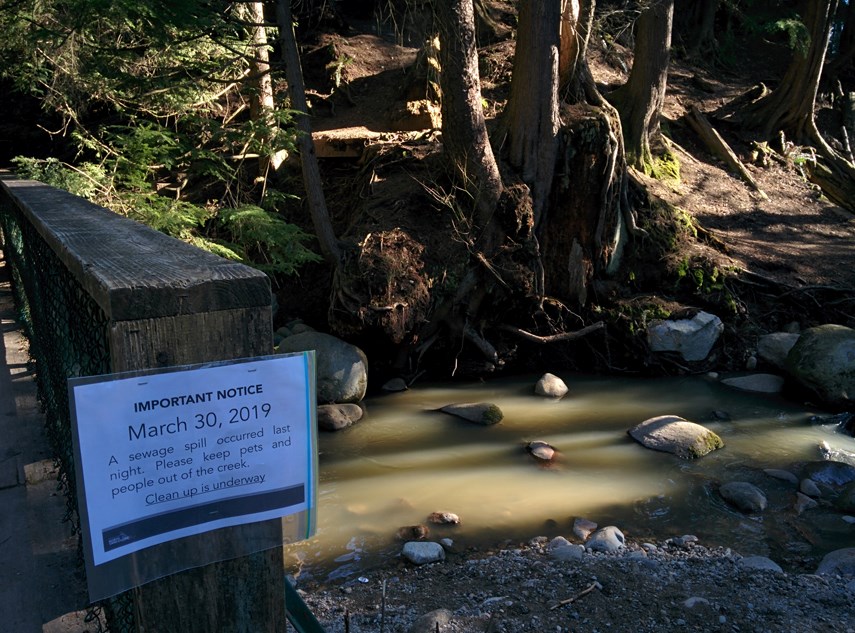 The extent of the breach is hard to quantify, Morten said.
"The first thing we thought of was: 'Ew!'" she recalls. "No one knows what somebody else put down their toilet or down their drain."
However, aside from a few foul-smelling pockets, the creek seemed to be clearing up by Sunday afternoon, Morten said.
"Had I gone there and not known there was a sewage spill . . . I might not have known."
Morten is hopeful the incident will underscore the need to speed up the replacement of old pipes.
"Our infrastructure is aging and failing, and I think that this was a bit of a wake-up call," she said.
The cause of the pipe clamp failure is unknown, according to district staff. The fitting on the 55-year-old pipe was replaced, and the pipe – which was expected to last for another 25 to 40 years – is due for replacement later this year or in 2020 as part of a larger infrastructure project.
Cleanup costs are likely less than $10,000, according to district communications officer Catherine Haboly.