Andrew Scheer is already chalking up the frequent flyer miles.
With visits this week to Kelowna, Whitehorse and Thursday night in Delta, the Conservative party leader is already in election campaign mode.
In front of a standing-room only crowd at the Tsawwassen Springs ballroom, Scheer shared his vision for the country as well as laid out aspects of his election platform as he helped kick off not only Delta candidate Tanya Corbet's campaign, but the party's B.C. campaign.
"People come up to me and say Andrew you have to win this election because we can't afford another four years of Justin Trudeau," said Scheer to raucous applause. "And I get it. The stakes are incredibly high. Every election matters, but perhaps no more so than this coming election because the choices are so stark for Canadians."
Scheer was also joined by seven MP's from across the country including B.C. MPs Ed Fast, Alice Wong and Mark Strahl, as well as 11 candidates from across B.C., including former Delta MP Kerry-Lynne Findlay, who is the candidate in South Surrey-White Rock.
Many of the MP's are in town to attend the celebration of life on Friday for Langley-Aldergrove Conservative MP Mark Warawa who died of pancreatic cancer on June 20.
In introducing Corbet, Scheer spoke of her business and community involvement, her strong family ties and her work and leadership within the Tsawwassen First Nation.
"I want to thank Tanya Corbet for stepping forward and joining our team," he said. "She has been a leader in her community for years. From her work on the board of directors for the Delta Hospital Community Health Foundation to her work with the Reach Child and Youth Development Society, she has always looked at opportunities to give back to her community. The voters of Delta deserve a member of Parliament who will bring that level of commitment and responsibility to government, they deserve a member of Parliament who will be a voice for Delta in Ottawa, not a voice for Ottawa here in Delta."
Corbet said she was thrilled to have Scheer's support.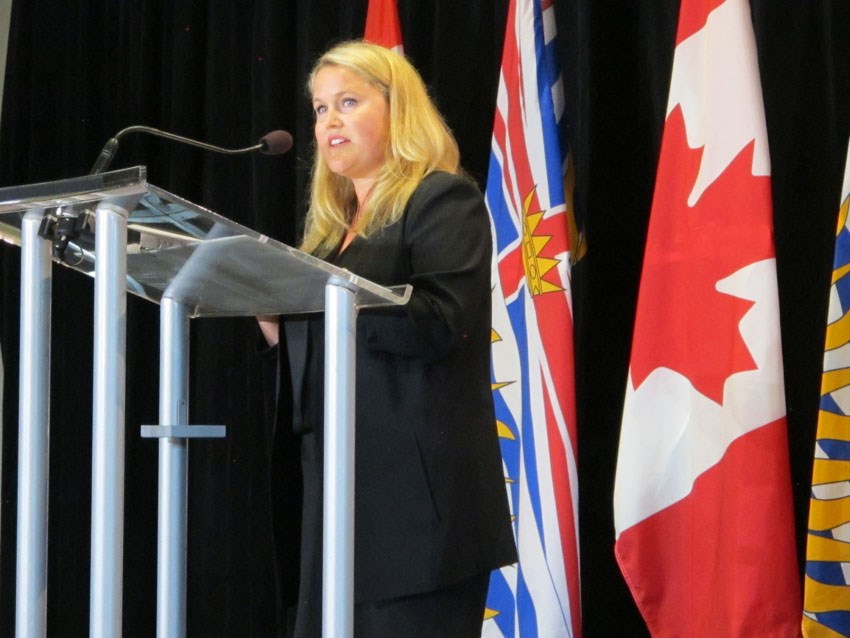 "It is such an honour to have you here to kick off the B.C. campaign. With you leading our team, I know we will see a strong stable majority Conservative government in Ottawa in October," she said. "This means so much to have you all here to support my campaign to be your next MP in Ottawa."
In a short interview with the Optimist after the formal speeches, Scheer said he is thrilled to have Corbet on the team and that they believe the people of Delta deserve an MP that will provide the leadership to help them get ahead, not just get by.
He said with Corbet and the rest of the Conservative team, they will be focused on making life more affordable for not only the people of Delta, but for all Canadians.
When asked if Delta was a key battleground, Scheer answered with a resounding yes.
"This is a riding under its previous interactions that we held in the past. There is a strong history of supporting Conservative candidates here and we have a great candidate with great experience, so I wanted to come to visit to both send a signal that we are going to be paying close attention to this riding and this region and also to support Tanya's launch of her campaign," he said.