The sense of panic amid the coronavirus situation seems to have subsided but that doesn't mean it's that much easier to find a package of toilet paper.
The Delta Optimist checked out a few grocery stores in North Delta and South Delta heading into the weekend to see what shelves were like as well as talk with shoppers.
They were asked whether there's still a high frustration level when it comes to some grocery items getting picked clean.
Outside the Walmart at the Scottsdale mall, several waiting in line to get into the store said they didn't feel there was a sense of panic in the community as there was the previous week-and-a-half when stores were busier with people stocking up.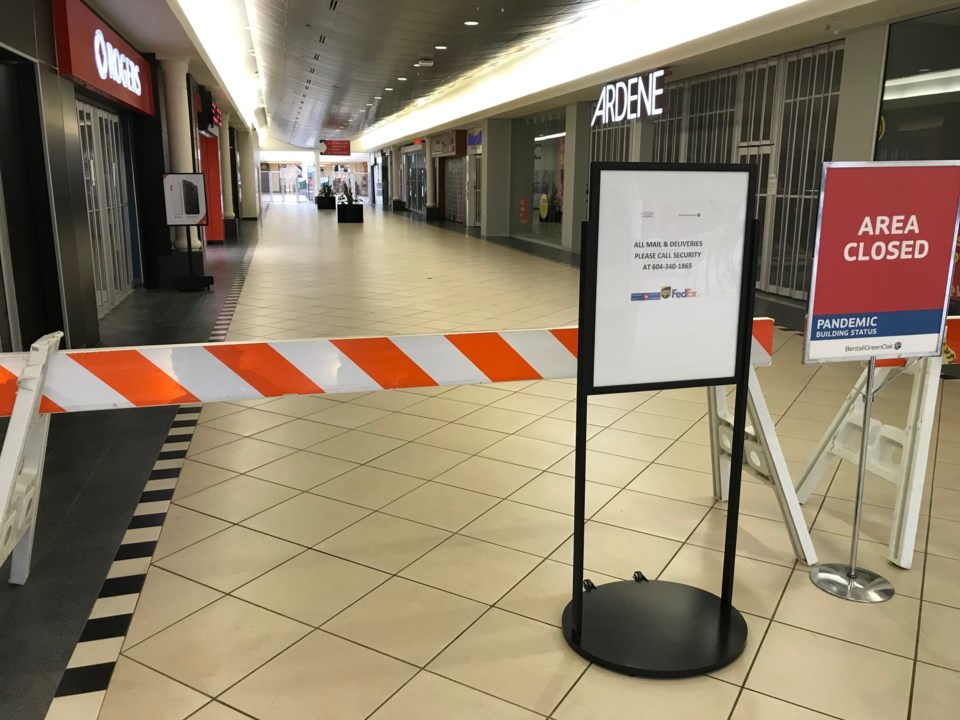 The Walmart, liquor store, Save-On Foods and a couple of others were open at Scottsdale Mall on Friday but most merchants were temporarily closed. The only access to Walmart was from the outside entrance. In South Delta, Tsawassen Mills remained open even though most retailers and food court businesses were also closed
All also agreed the governments of B.C. and Canada are doing a good job in handling the crises and keeping people well informed.
Stores are now imposing limits on some items like meat and toilet paper, and some have limits on even more items such as frozen pizza, which has helped, while seniors at more are getting exclusive shopping hours.
However, several shoppers expressed frustration that while toilet paper, and now paper towels, has become more available depending on when you shop, it's still a hit-or-miss proposition which requires trying multiple stores.
Some said they didn't know whether a lockdown was inevitable while others weren't too concerned if it occurred.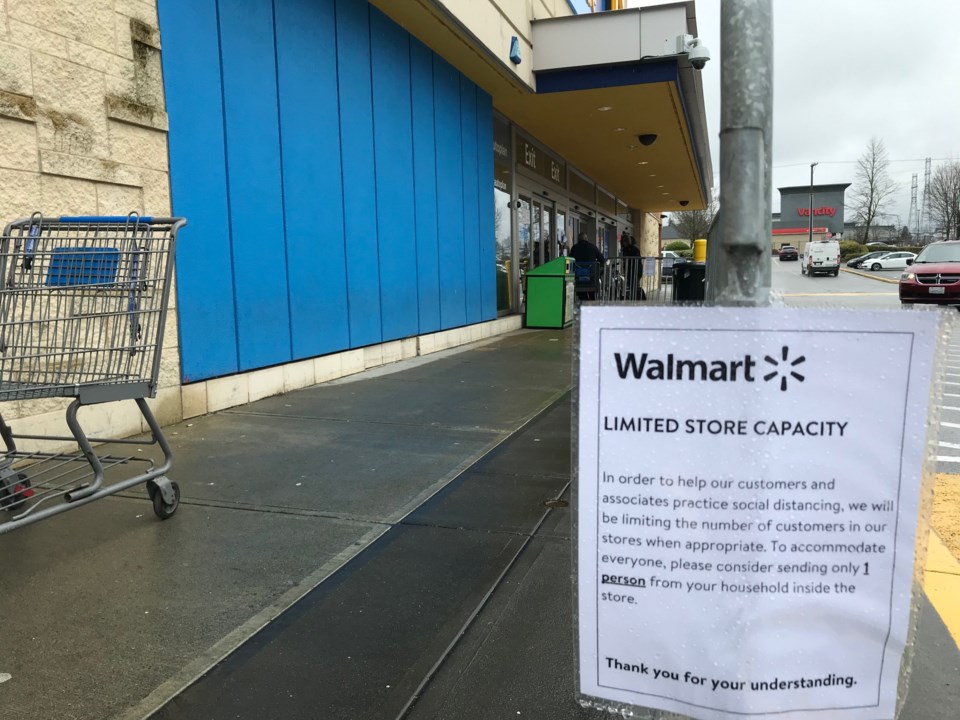 The lineups at the North Delta Walmart weren't too long Friday
Last Sunday, for example, the paper products were to be had at most stores with full shelves, although on Friday nobody seemed to have any that day.
On Facebook this week, people were posting photos of toilet paper being well stocked at some stores including the Tsawwassen Commons Walmart, but a day later that same Walmart was completely barren of product.
Canned food was still available but shelves were still noticeably thin on other items, such as flour, with some stores looking better stocked than others.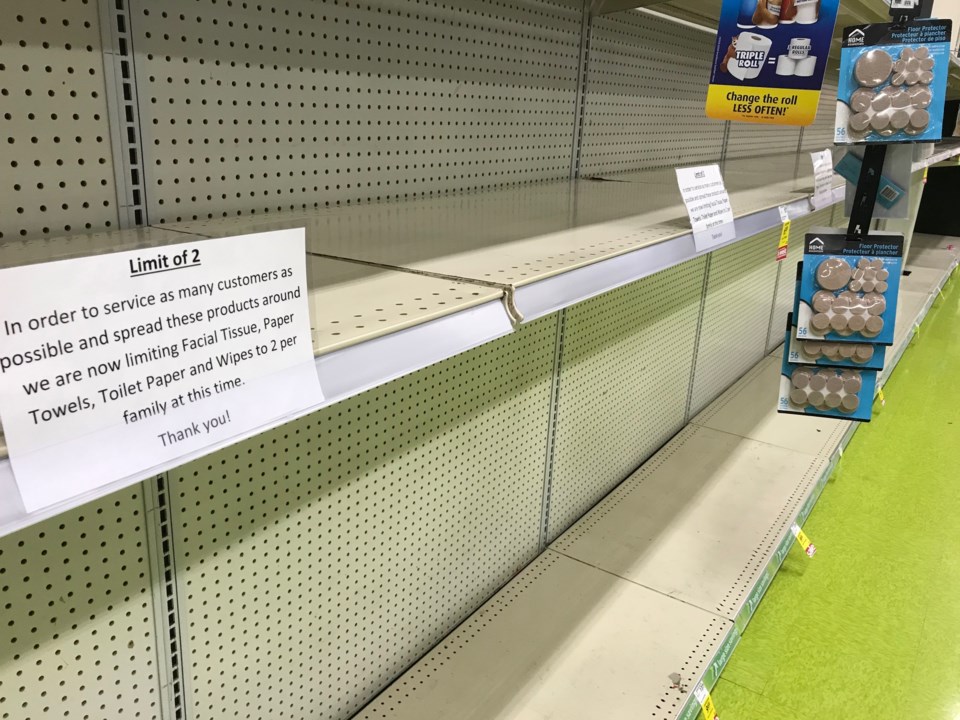 Some days there's plenty and others there's not a square of toilet paper in sight at stores including Save-On in North Delta
Provincial and federal governments have urged people not to hoard grocery items, saying the supply chain is still working well.
"We are dedicated to making sure British Columbians have the essential services they need, like access to groceries. There is no need to stockpile, retailers have assured us there is an abundance of supply and they are restocking regularly," the B.C. government states.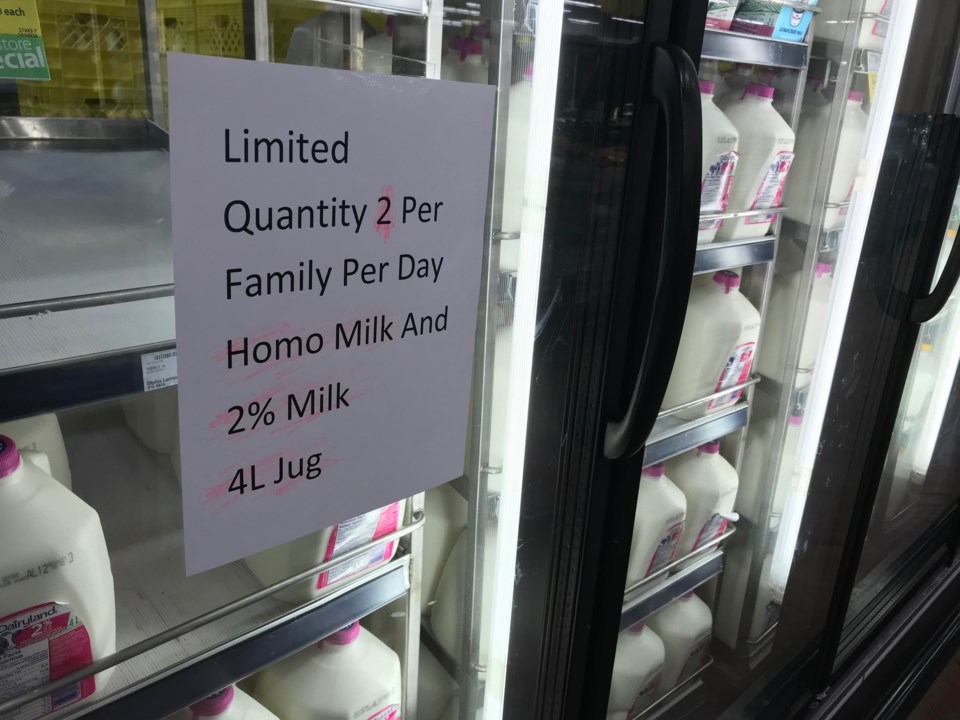 Limits have ensured that at least some grocery staples are available for more people. Various stores have different limits
The provincial government also provided an extensive list of which goods and services are considered essential. Among retail included on the list are grocery stores, pharmacies and convenience stores.
Meanwhile, a new provincial supply chain coordination unit was established to coordinate goods and services distribution.
A provincial order also bans the secondary resale of food, medical supplies, personal protective equipment, cleaning and other essential supplies.
According to provincial health officer Dr. Bonnie Henry on Friday, measures including physical distancing are showing positive signs of keeping infection rates low.