The number of homes for sale across the province are at or near a 12-year low, pushing prices ever upwards, according to the B.C. Real Estate Association's monthly statistical report released April 12.
Sales of homes on the Multiple Listing Service® (MLS®) across the province in March were down 24.6 per cent from the same month last year. The BCREA said this was caused in large part by government measures to cool the housing market such as the strict new mortgage qualification rules launched in January, which typically removes about 20 per cent of home buyers' purchasing power.
"More burdensome mortgage qualifications are having the predictable effect of swiftly curbing housing demand," said Cameron Muir, BCREA chief economist. "You simply cannot pull as much as 20 per cent of the purchasing power away from conventional mortgage borrowers and not create a downturn in consumer demand."
Despite this "downturn in demand" and subsequent slowing of sales, the continued dearth of homes available to purchase has kept the province as a whole in seller's market territory, with a sales-to-active-listings ratio of near 40 per cent. (Analysts say that a balanced market is when the ratio has remained between 12 and 20 per cent for several months.)
A market where sellers have the advantage puts continued upward pressure on prices, resulting in the average B.C. home sale value in March rising 5.3 per cent year over year to $726,930.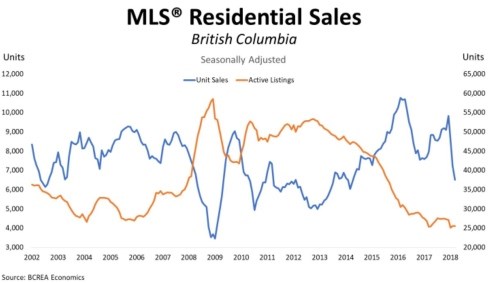 Out of the 12 provincial boards reporting March statistics, only the small Northern Lights region cited a year-over-year average sale price decline. This is despite 10 of the 12 boards reporting fewer sales in March 2018 than in March 2017. Seven of the 12 boards reported fewer available listings for sale than one year previously, with the provincial total remaining virtually flat overall from a year ago.
The region with the strongest seller's market was Victoria, with a sales-to-active-listings ratio across all property types at a whopping 83.4 per cent. Only the Kootenay, Norther Lights and B.C. Northern regions were deemed to be in a balanced market.
The BCREA report concluded, "Home prices are expected to continue an upward trajectory."