Priced higher than any of the MLS listings on Vancouver Island right now is this property on the west side of B.C.'s Stuart Island – and the island doesn't even have a ferry service.
Goose Landing Lodge is marketed at $19,500,000, which is far higher than any other property currently for sale on this small island – several other Stuart Island listings are going for a maximum of $399K.
However, this price includes not only a high-end, West Coast-style home built in 2008, but also a staggering 120 acres of oceanfront, forested property. What's more, it comes with permission for a developer to subdivide the property for commercial and residential use.
The luxurious, cabin-style, waterfront home has 3,660 square feet of living space, a huge great room with vaulted ceilings and beams, and incredible ocean and mountain views from every room. There are three bedrooms in the main house, including a large master suite with walk-in closet and large ensuite, and there's also a separate three-bedroom guest house. Dotted around the property are a caretaker's cottage and various greenhouses and outbuildings to help maintain this self-sustaining, off-the-grid estate.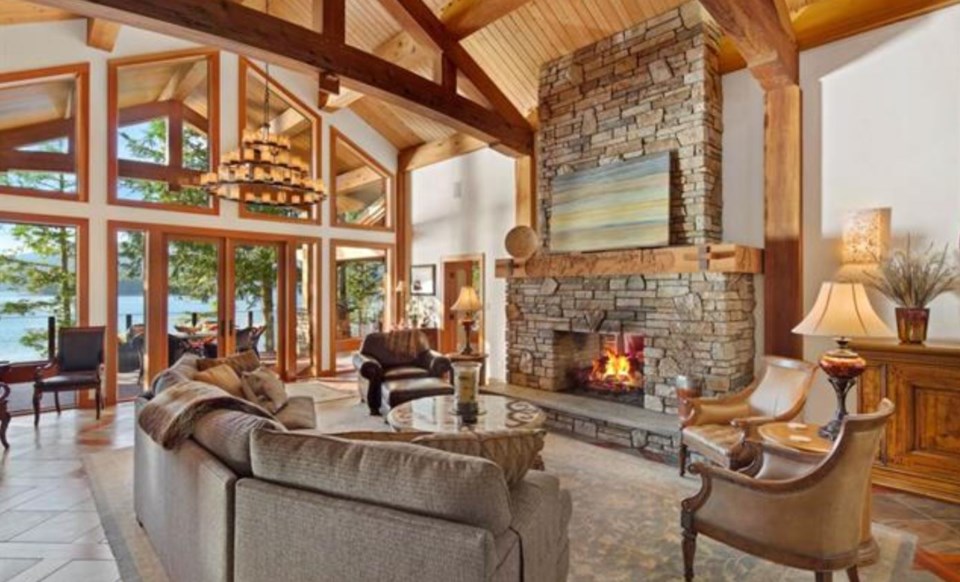 Stuart Island sits in the mouth of Bute Inlet (not far from Michelle Pfeiffer's remote home on the mainland, which is listed for $28.8 million) and is mostly made up of similar private estates and fishing lodges. There's no ferry service, and most residents get to and from the island by helicopter, floatplane or boat. According to Wikipedia, "Nanook Lodge is the only fishing/adventure lodge open to the public on Stuart Island and has scheduled daily seaplane service from Seattle." The property is also across the water from the larger Sonora Island, and has easy boat access to Sonora Resort, a luxury spa resort with fine dining.
The new owner of Goose Landing Lodge will share the small island with some major corporate high-fliers. Wikipedia also says of Stuart Island, "Among the property owners on this island is Dennis Washington, a Montana businessman and owner of the Seaspan Marine Corporation, Dave Ritchie, a Vancouver businessman, and Kris Mailman, owner and CEO of Seymour Pacific Developments and Broadstreet Properties. On his estate, Dennis Washington has blasted out of the granite a nine-hole golf course."
Check out more images of this unusual listing, below.