An enormous property in West Vancouver's prestigious Chartwell neighbourhood has become Canada's highest-priced home currently on the MLS, having been listed on July 3 at $39.9 million.
But those interested in viewing it had better set aside a block of time, as the listing description claims the property takes a full hour to tour.
This 1985-built, 20,279-square-foot house was stripped to the studs and fully renovated in 2017, and sits on 2.82 acres of prime land next to a creek. As well as mind-bogglingly expansive living areas, it has an indoor pool and spa, outdoor tennis court and a huge terrace.
Inside the house, the West Coast Contemporary-style renovations include "top of line appliances, designer lighting and bathroom fixtures, massive marble wall slabs, modern glass fireplaces, state-of-the-art smart control, complex a/c and heating system, security intercom and sound system," according to the listing.
The estate has its own access to the creek and is extremely private, being completely surrounded by trees. However, that does mean that the home doesn't have the sweeping ocean and city views that many high-end West Van properties enjoy, having a tree-lined outlook instead.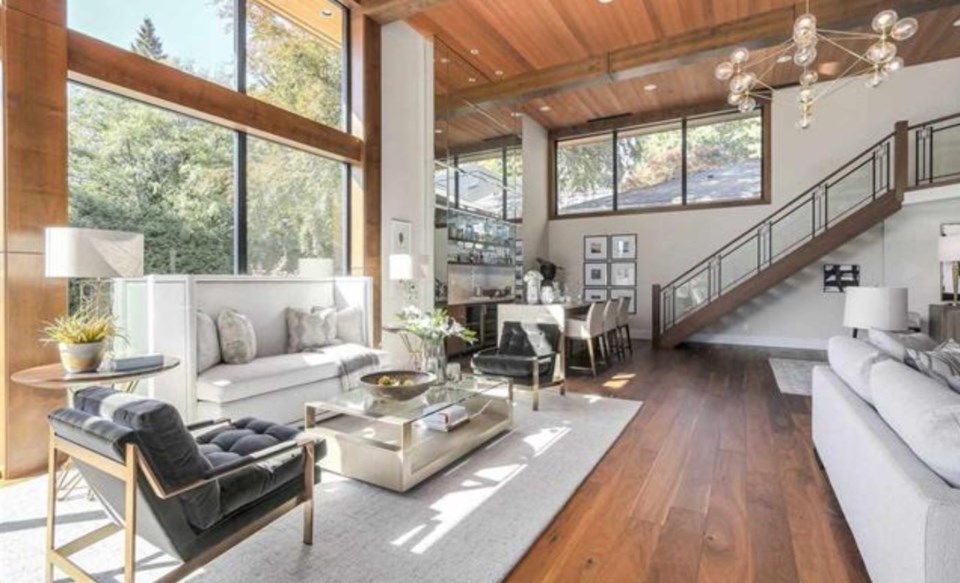 The home topples another off the #1 spot in the previous most-expensive listings in Canada – a Coal Harbour penthouse that was listed at $38 million and has since been reduced to $34,995,000. Excluding two land-parcel listings – one in Surrey and one in Ontario – this Vancouver condo is still the next-priciest home currently on Canada's MLS.
At just under $2,000 per square foot, the Chartwell house is much better value on a per-square-foot basis than the Coal Harbour penthouse and a lot of Canada's other priciest listings – it's just way bigger than most of them. It was valued by B.C. Assessments in July 2017 at $12,458,000, but this does not take into account the extensive renovations and rebuilding completed since then. Property taxes in 2017 totalled $28,600.38 – and we don't even want to imagine the property's maintenance bills…
Check out a select few photos of this extraordinary listing, below.