Moments of joy.
They are the over-arching, guiding principles behind every facet of life at The Village Langley, Canada's first true village designed for those living with dementia located in Greater Vancouver.
Established in 2019, The Village provides people living with dementia the freedom to live a rich and fulfilling life with autonomy and independence in a safe and secure environment.
Imagine a small community, nestled in a quiet neighbourhood, where residents live life their way in cottage-style households spread across five pristine acres. Here, residents are free to explore and enjoy their surroundings within the safety and comfort of a secure setting.
"The vision of The Village is really based on the fact that we create an environment that individuals can relate to, something that's understandable, something that's familiar and something that emotionally relates to who they are," says Kristina Van Der Zwan, The Village's community centre manager and life enrichment leader.
The Village Langley is unlike any other care offering in Canada, thanks in part, to its creation by an interdisciplinary team of experts in seniors' community design, construction, dementia care and management.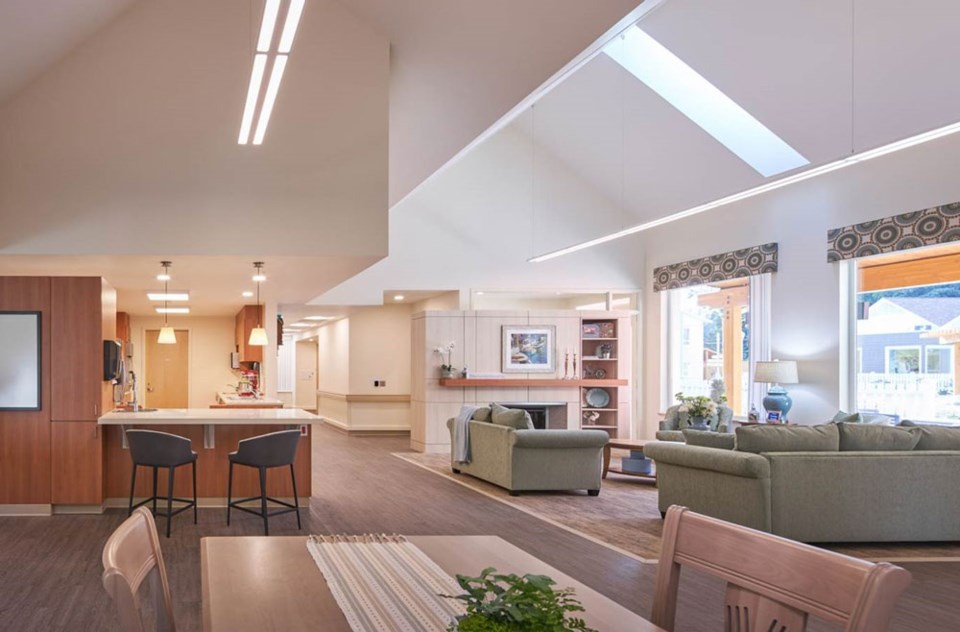 Residents live as part of a small familial group facilitated by a trained household team. Each household has either 12 or 13 private rooms with ensuite bathrooms that surround an open kitchen, dining room, fireside living room with library, sunroom and large activity room.
The Village boasts a general store, cafe and bistro, salon and health clinic. With flexible programming, activity and crafting spaces, the centre is designed as a place to socialize and engage in stimulating activities. In addition to community living, The Village offers a wide range of activities, which include exercise, entertainment, movie nights, craft days and painting classes.
"It's a space that creates purpose, a physical setting for movement that gives you an opportunity to interact with the natural environment and to have social interactions," says Van Der Zwan, who holds a diploma in therapeutic recreation. "These things are really important to living a healthy, full life and they often dispel the visions that some people have of folks sitting and staring at a wall in these types of settings."
The Village approach is person-directed, which means that the Villager decides what they want to do and when. They are free to walk around the five acres of trails, explore the community garden and picnic area, gather in the Oakwood Community Centre and enjoy life-enriching activities that include mental stimulation, art, music, entertainment and movement.
That large expanse of outdoor stimulation is critical to The Village care model. Where other facilities were dealing with isolation and limited socializing due to COVID-19, The Village hosted street parties, dance parades, Christmas parties and all manner of gatherings while maintaining social distancing protocols.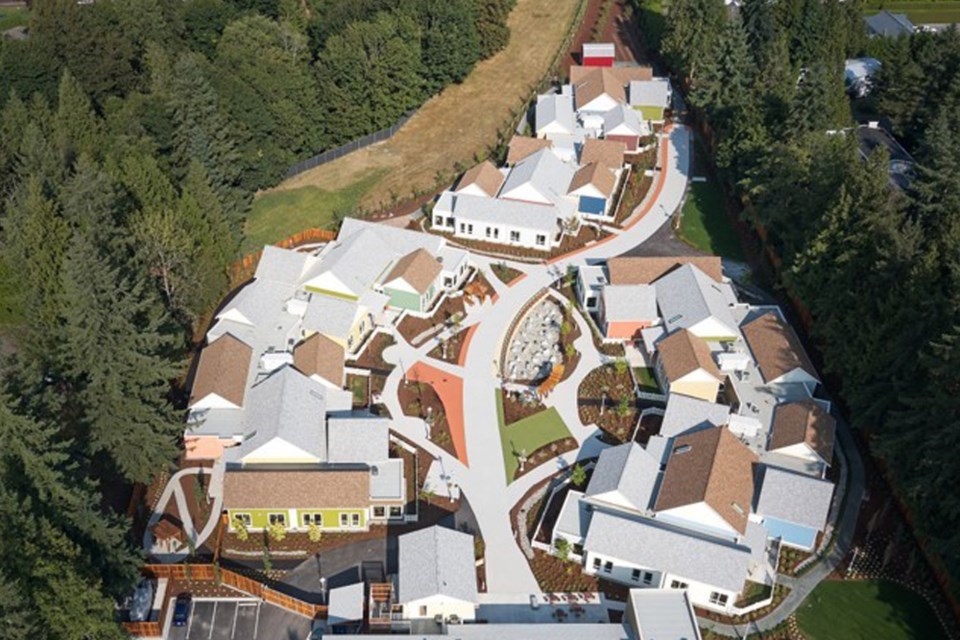 Being outside also affords Villagers a profound sense of freedom, self-determination, choice and purpose. Perhaps they want to go for a walk, need time to themselves or want to burn off some steam; whatever the case, they're able to do so on their own terms while under the watchful eyes of The Village staff.
"That act of being able to self-assert their ability to go outside when they want to is so important – it supports their self-determination and their dignity," Van Der Zwan says. "It also gives that individual access to coping mechanisms that they would have used in their lives previously to manage their emotions. That is really important."
The Village's staffing cohort is made up of dozens of professionals spread across a myriad of fields: registered and licensed practical nurses, dieticians, recreational and music therapists, physiotherapists, enriched living facilitators, care aides and resident attendants, along with trained cooks and hair stylists.
"These are individuals who understand the concept of flexibility because flexibility is critically important when we're working with folks with dementia," Van Der Zwan says. "We need to be able to adapt our environments and our approaches and understand that the approach that we've used today doesn't work tomorrow. We are really able to be present for individuals on an emotional level."
To learn more about The Village Langley, visit www.thevillagelangley.com.