The B.C. craft beer scene continues to reshape communities across the province, with more than 200 breweries and the burgeoning industry will see at least six new operations launch in 2022.
Some credit for the ongoing growth can undeniably be attributed to Kwantlen Polytechnic University (KPU), where the Brewing and Brewery Operations (BBO) program was launched on the Langley campus in 2014.
It's home to a 4,500 square foot, custom-built teaching brewery, complete with state-of-the-art brewing and lab equipment—a top-tier environment to receive specialized training and a comprehensive education for a career in brewing, the beer industry or other potential career paths for which this program prepares its graduates for.
The full-time, two-year program has one intake per year starting each September. Small class sizes ensure that students receive focused attention and direct access to teachers, as well as valuable hands-on experience. The brewing diploma curriculum provides a foundation in all aspects of brewing, with an emphasis on brewing sciences, quality control, and industry best practices.
"Originally, craft brewing was a lot of homebrewers, people just interested in brewing," says Ashley Brooks, quality control manager at Four Winds Brewing and 2016 graduate from the program's first cohort. "But when the KPU program began, it provided all the necessary skills summed up over two years in every aspect, such as science, sales and operations."
"You graduate well-rounded, which helps accelerate your employability. Also, if you have already opened a craft brewery and you want to extend your knowledge, it's a great opportunity."
Coupled with her passion for craft beer and a formal education in brewing and brewery operations, jobs came quickly for Brooks; first with Surrey's Big Ridge Brewing Co. as head brewer and then in her current position at Delta's Four Winds Brewing.
A lot of students work part-time in local breweries while attending the program, and most receive job offers even before they graduate. The program boasts a 95% employment rate.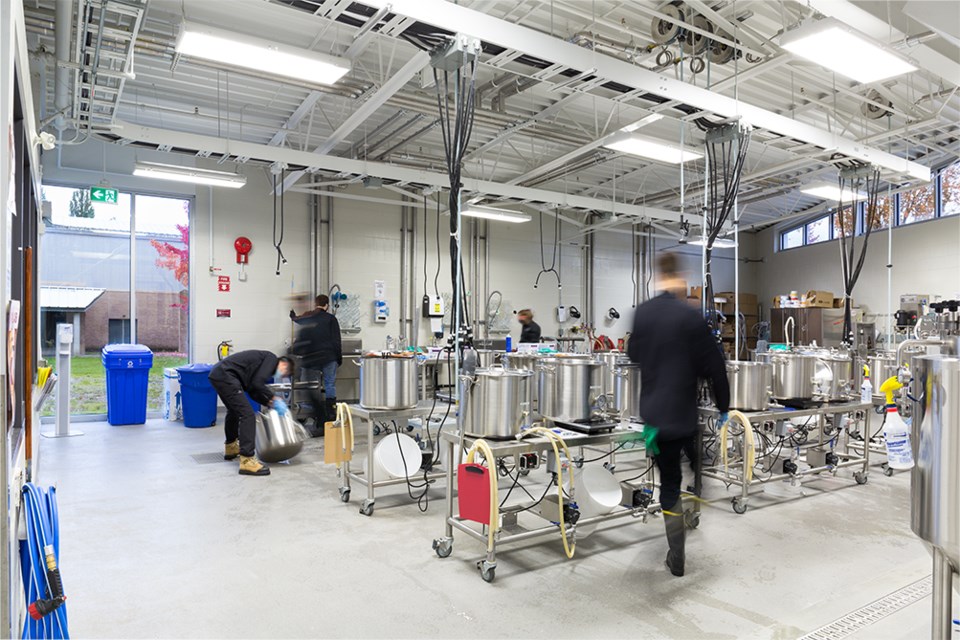 "Grads who want work are having a lot of opportunities," admits Brooks. "It's a great place to search for high-calibre future employees. We (Four Winds) have had great success in hiring KPU grads, four to date, including myself. Word is getting out that students are graduating with a lot of knowledge, which are good prospects for breweries."
Professional program, award-winning instructors
The KPU Brewing program was developed in consultation with industry and the BC Craft Brewers Guild, including input from local brewmasters, brewery owners and industry experts, and is taught by award-winning instructors with decades of brewing and beer industry experience.
"The instructors are excellent! Everybody brings something to the table that's very beneficial," reveals Brooks. "I found them incredibly helpful and resourceful, and great for making industry connections."
Courses are in-depth, with an innovative mix between theoretical and hands-on practical learning. Students develop critical skills and training with brewing equipment and technologies, recipe formulation, sensory evaluation, brewing chemistry and microbiology.
They also learn business best practices: production and packaging, sales and promotion, and management and supervisory skills.
Sense of community
The brewing community is collaborative with a strong sense of comradery, something the program gravitates towards. "We definitely want to meet each other and help one another," says Brooks. "I think it's a very friendly and inclusive industry."
"For women, I want them to know there's nothing to be intimidated about," she says. "I think the numbers are starting to change and more women are getting involved. In my experience at KPU, I found it inclusive, everyone was treated as equals, and everybody received the same amount of attention. I got a big boost of confidence, too."
For more information, visit kpu.ca/brew or email brew@kpu.ca.