Episode 2: Warning: Graphic Content
The following day seems like any other but the party is over. The clones will be clogging the roads on their way to work for a sucker's paycheque. They're all dead, zombies doing the same old thing. Not Leo, he'll drink life out of a full cup, or at least a beer at the Sunstone, his favourite little pub. Maybe he'll make some nice hash brownies and sell them this weekend at the nude beach in Vancouver.
They all love to see the righteous dude and his choice delectable edibles. Yes, he has very high standards when it comes to his yummy merchandise and his loyal customers appreciate that dedication to quality. Anyway, it's time to pack up and close this gong show. That script for a new TV series they were excited to begin writing, the detective series in a world where everyone was left-handed, will have to wait.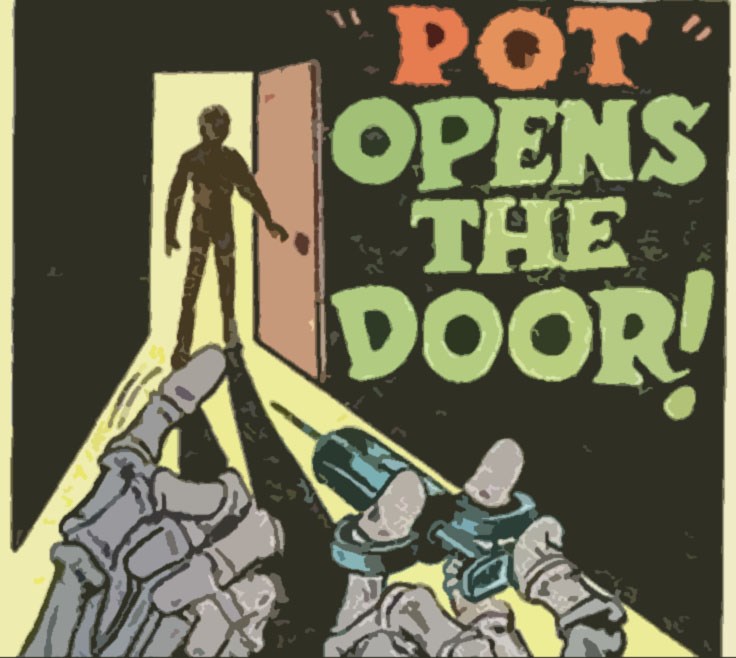 No helicopters today. It's so quiet.
"You hurry up. Put your skates on and get your ass up to the island bro, love ya," says Archie, giving his buddy and smothering hug.
Yes guys hug, but they hate it! Don't you?
"Sure, sure man, just gotta get some stuff done. Gotta check up on my mom. Make some brownies, some cash. I also gotta see Rooster about something. Ya, dunno after that, I want to check it out, really," Leo answers, trying to back away from Archie's sharp, spicy cologne.
The big guy, already sporting two massive underarm sweat stains, seems a little off today. Maybe the conqueror of hangovers bit off more than he could chew yesterday. "I feel, umm, kinda weird, I admit. You know, lately I've been unable to sleep but keep waking up."
Huh? The dude just chalks it up to more of Archie's baffling gibberish.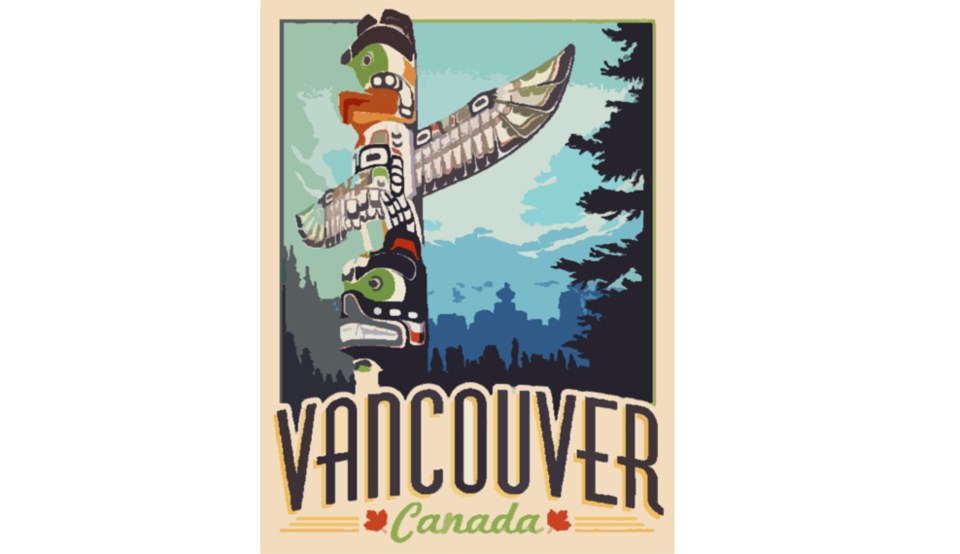 The ultimate bench warmer in a world rife with stagnation, the affable Leo can't help but smile as he heads northward in his dark brown Chrysler Cordoba, Archie leaving the other direction toward the marina in a purple muscle car.
Bye, bye party cabin, it was fun. Leo taps the steering wheel as Pistol Packin Mama, his favourite Bing Crosby tune, is cranked.
"Lay that pistol down, Babe.
Lay that pistol down.
Pistol packin mama Lay that pistol down."
At the border crossing a few minutes away, there's that nervous feeling as Leo hopes he won't have to deal with that one arsehole customs officer, a pint sized peanut that loves hassling him. Hmmm, this he wasn't expecting…nobody here? Nobody here at all?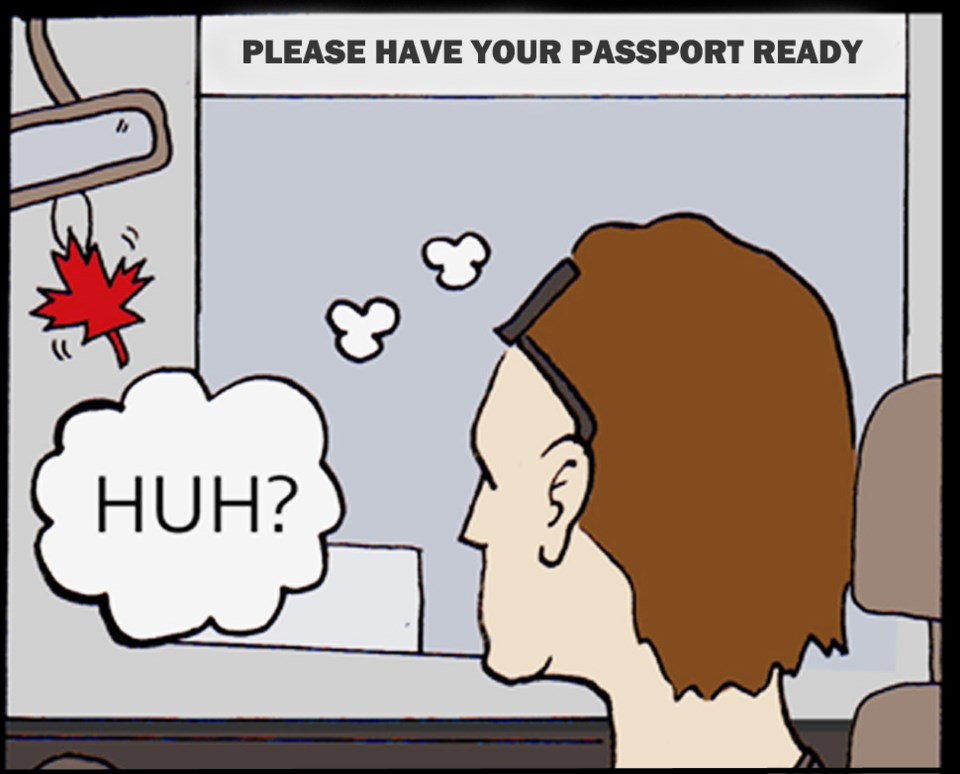 Huh? Leo meekly sticks his head out the window, "Hello? Hello?" What is this, a trick? On holidays?
Where in the hell are the guards, staff? This is kind of messed up but also great! He supposes it's all right has he heads into his native Canada. A red maple leaf air freshener is dangling from the rear view mirror, naturally.
"O Canada!
Our home and native land!
True patriot love in all thy sons command."
As the Cordoba rumbles down 56th Street Leo notices the sky has a gross mustard yellowy tinge, the smell of stale, sickly sweet smoke forcing him to roll up the window. He can see a couple of black plumes in the distance, big fires going good in Vancouver.
Hmm, what did he miss? That's funny, a few cars pulled over to the side of the road but no traffic at all in Delta. Has to see his mom, ever supportive but making it known she's also disappointed in him. Why can't he be more like his brother or sister? Oh well. If she doesn't have him to complain about, she'll have nothing to talk about at all.
Leo makes good time making it to the highway overpass near the tunnel that crosses the river. He'll cut through Richmond and be in Vancouver in no time. Ummm, maybe not. Damn, he hit a traffic jam, and he's way in the back. As he sits there, stuck on the highway, he gets slightly annoyed because NOTHING is moving.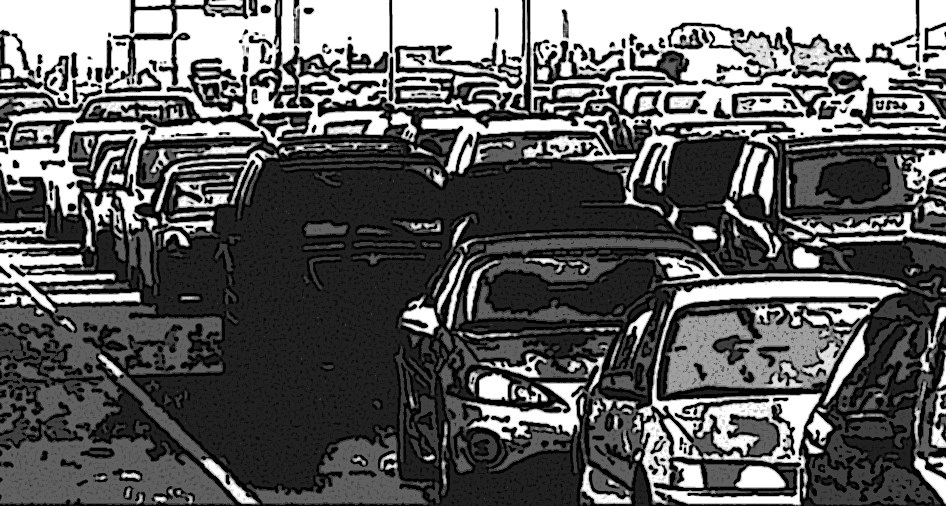 Come on! An accident up there holding things up or what? Oh well, he'll have to put up with it. His back perspiring, Leo can't help but smile as he thinks about all the oddball things that come out of Archie's mouth such as "I always wanted to meet one of those veteran kamikaze pilots" and "I don't feel comfortable eating other people's vegetables." After about fifteen or twenty minutes of wasting his life, not moving one stupid inch, he's forced to flip on the radio. Static, static and more static.
Something wrong with this thing? More static as he searches the dial, but then finally something on station CKWY. It's playing Stuck in the Middle With You, over and over and over again. His buddy works at the station and this sounds like some prank he would pull.
Come on! Hey, wait a minute.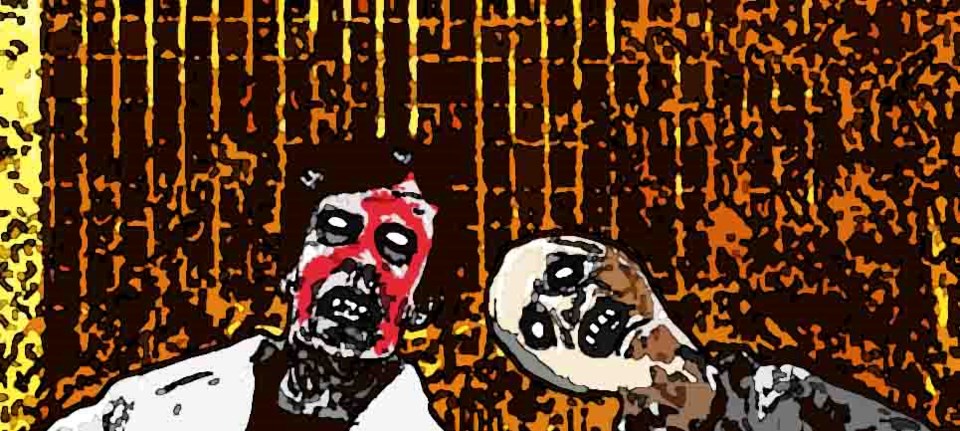 The now fidgety Leo takes notice that a few car doors are open further ahead, while nobody has pulled up behind him. His eyes scanning through his dirty windshield, he finally notices that there doesn't appear to be anyone in these vehicles.
What the f*ck? This is bizarre. He slowly exits his rust bucket and starts walking by car after car, confused and spinning around to make sure he's processing this crap right. Nobody is here! These cars are abandoned, cruelly lined up with a secret. It's like they have all the time in the world. An endless line both ways on the highway.
No way is he going to make it into town from here. All Leo can hear is loud wind, like he's in some spaghetti western. And there's that sickly smell in the air under this piss sky.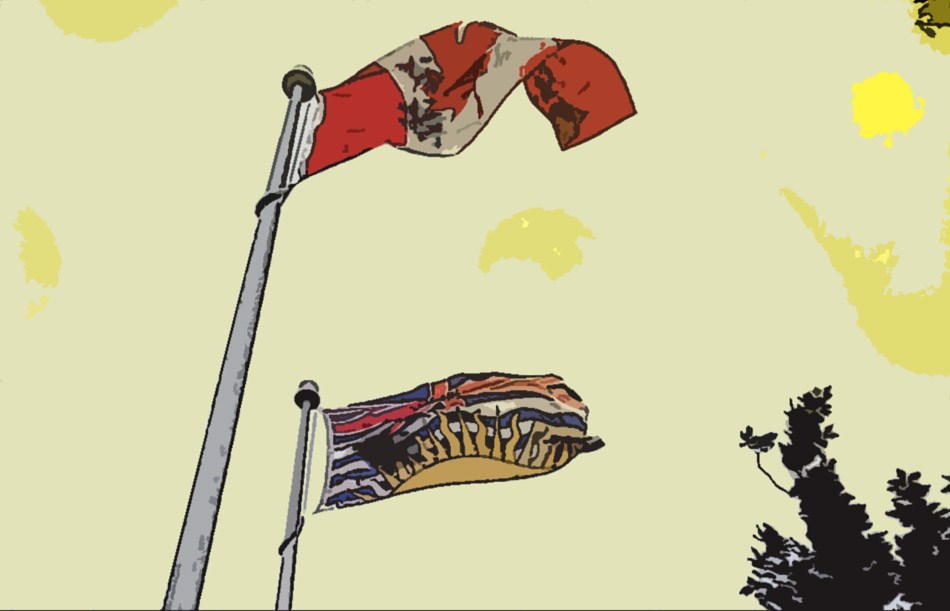 Standing between the vehicles, he recalls he was supposed to call the Rooster, who said he'd have a bunch of oxycodone coming around now at a real good price if Leo was interested. Our cardigan-clad anti-hero hopes he didn't miss out on that wonderful business opportunity.
He tries to call the guy but the cell phone is useless. Where did everyone go?
"Hello? Hello? Hello?"
His usual sly smile wiped off his face, Leo saunters back to lean against his car, arms crossed. Dumbfounded, he giggles for no reason.
Maybe he should go back to the Point for a few days and try this again. Maybe this is just a screwed up dream and he's really back at the cabin nice and high.
Looks like he won't get a hold of the Rooster, let alone make the casino tonight in his lucky cardigan for some pai go poker.
The dude eventually gets his bearings and back into his ride, backing up and taking the River Road route. A few more cars are on the side of the road but at least this stretch is clear.
Once again, no one else is out here. He sees a police car roadside with all its doors and trunk open but no cop in sight. Well…..isn't this just nice, eh? Driving past fenced industrial businesses, he sees the Paradise Cafe and pulls into the parking lot to make a call.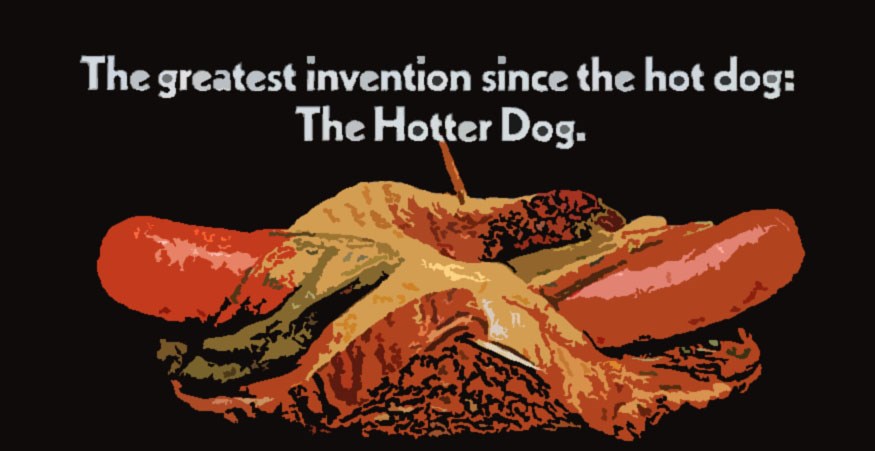 Perhaps he'll grab a bite too, something nice and greasy. After trying without success to make another call on his cell he decides to use the phone inside.
He also needs to use their can.
Darn, it's locked and dark in there, even though the sign is flipped to open. The frustrated dude puts his face right up to the door to see if anyone is inside. Looks like it, a dark figure slowly moving around in the kitchen area.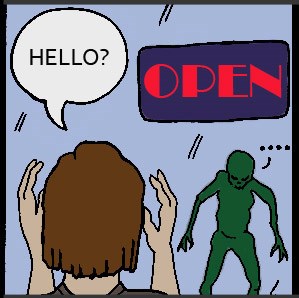 He knocks and knocks but whoever is inside is being a rude bugger and ignoring him. Screw it! A pissed off Leo then burns rubber and gets out of there.
"Oh, drinkin beer in a cabaret
Was I havin fun!
Until one night she caught me right
And now I'm on the run."
Leo speeds around a few abandoned vehicles in the middle of the road but in a few minutes needs to relieve himself. He parks next to a grey industrial building and gets out to take his whiz.
Just as he gets started he hears something strange, a bizarre, angry growling sound.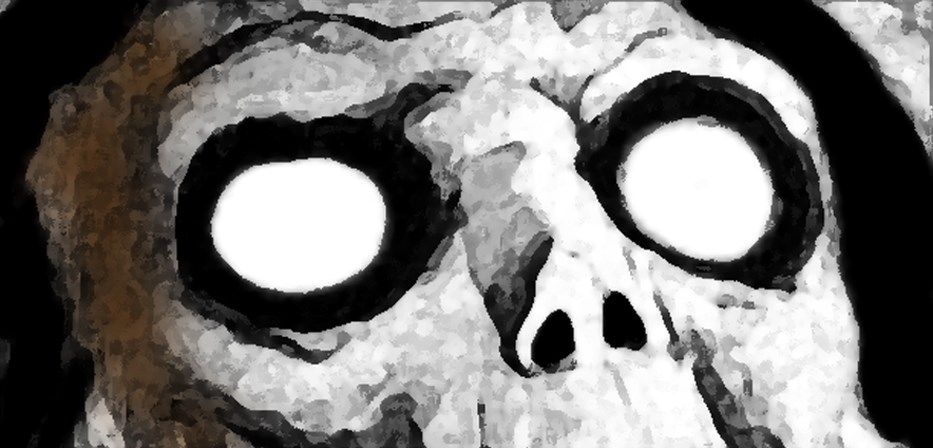 Something, or a bunch of things, are making that weird noise from within the building. Sick dogs maybe? He approaches the locked heavy metal door and sticks his ear next to it to investigate. Kinda disturbing. The acoustics in there echo the frightening shrill and convince Leo to take his pee elsewhere.
This really is all kind of weird, too much, Leo concludes as he drives the Cordoba up a hill, but then he hears a thundering POP by his ear.
The back windshield shatters. Some ass is shooting at him? POP, POP! "Hey the fu..." He floors it. He looks behind the shattered opening in a panic to see a heavyset man with tight curly hair, wearing a clean white dress shirt, running toward the middle of the road while holding a hunting rifle. The culprit shrinks from view as Leo races out of there, what a jerk!
Completely flushed, Leo looks down to make sure his shorts are still dry, then realizes his sister doesn't live too far away. He has no choice but to call a cop from there.
Winding his way into a residential area, he keeps looking back. Unfortunately, he doesn't see the abandoned car in the middle of the street until it's too late. He hammers on the break but the crunching of metal his inevitable. R.I.P Cordoba!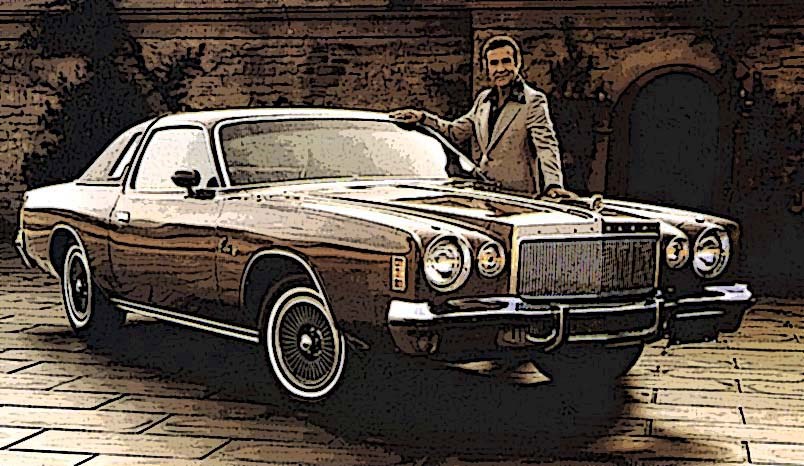 A little sore but not hurt after the rear-ender, Leo knows the insurance company will screw him as he gets out and looks around.
"Oh man!" This has been one of his crappier days. Damn, he peed his pants.
"What the hell is going on, man!"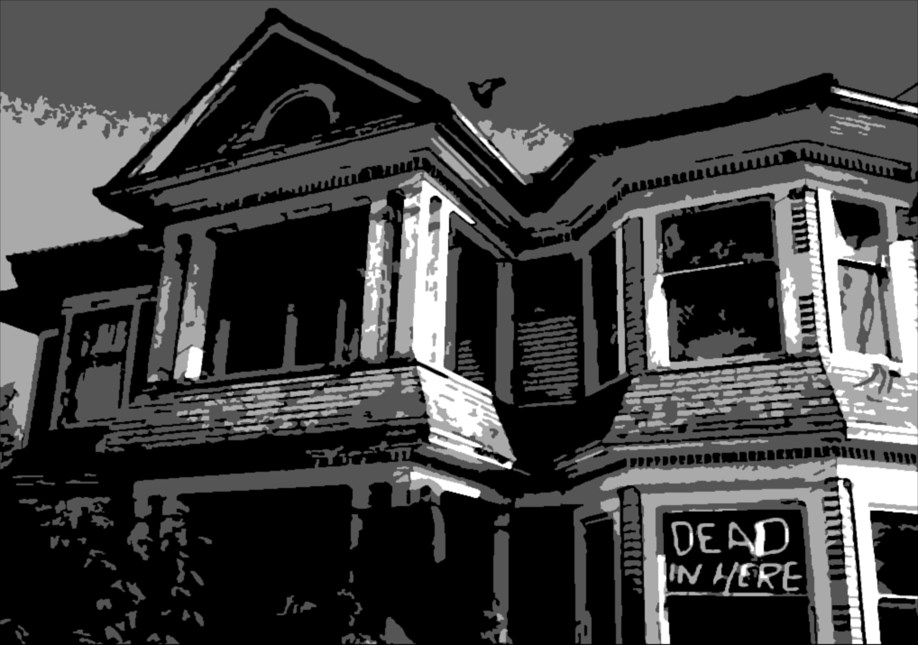 Leo is thoroughly ticked. This day started off so positive and he was in such a good mood. Now he's entered creepyville!
He'll call for a tow from his sister's house. Will the Royal Canadian Mounted Police try to mess around with him? Brandi will have a field day! It's funny how she always puts him down for selling pot but her friends, and even husband, call on a regular basis to stock up. Leo is still disoriented as he looks around to see stuff strewn across all the lawns. It's as if...ahhh….who knows.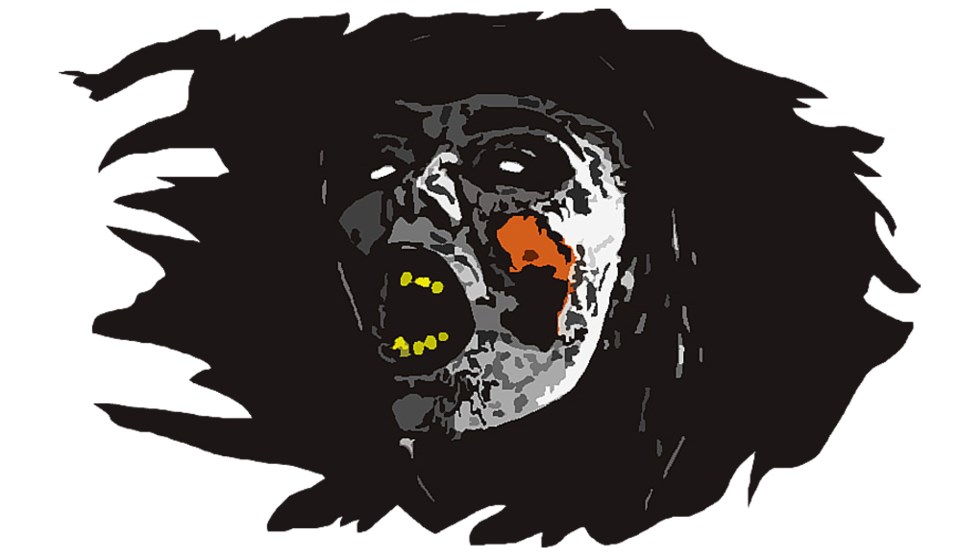 He wonders what Archie would say. He knows his pal wouldn't take umbrage at all this but only because Archie doesn't know what umbrage means. Leo quickly takes out a little bottle of sanitizer from his pocket and slathers his hands. He grabs his guitar and suitcase from the car.
He doesn't know why, but his two boys cross his mind. Just for a second. There….they're gone. Let's resume…..
A couple of blocks into his dreary walk, Leo can see something isn't right here. There's some dude on his knees hunched over something, making ghastly, ripping and chewing sounds. Only seeing the guy's backside, Leo calls out to the weirdo instead of minding his own beeswax!
The freak, wearing soiled sweat pants, turns around and seems enraged by the rude interruption, and immediately gets up and moves toward Leo.
What's wrong with that guy?
Looks sick or something. And the smell, like a garbage dumpster overflowing with a million dirty diapers! His mouth covered in dark red blood, the stranger's skin is grey and eyes glazed over with a grotesque film, black liquid oozing from the sockets.
His yellow neck pustules bursting, and looking hideously upon the new prize, the creep staggers hunched and arms stretched out. He's making gurgling sounds, looking wild and lunging for the righteous dude.
Stupefied, Leo warns him to back off and starts running in circles with that sick creep in chase.
Throwing his suitcase at him doesn't work, prompting Leo to smash his guitar on the side of the diseased punk's head. It shatters but the move works. The stranger falls sideways and hits the ground. What the hell is going on? Leo backs away from the thing, dropping the neck of the busted guitar and leaving the suitcase behind.
Then, he looks at what's on the lawn, what the diseased creep was eating.
He walks slowly toward it, unable to process what he's seeing. Something incomprehensible. At first, it looks like a lump of raw meat, but, sadly it was more. A single crow picks away at some bloody morsels and flies away. SICK!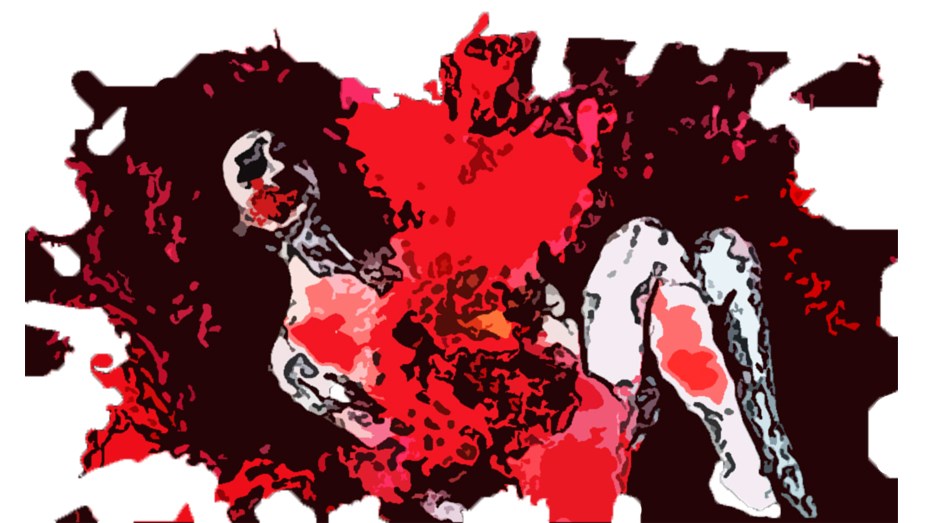 Leo really hates crows, but let's not digress. This is a young woman, perhaps a teen, her body ripped open and gutted like a fish. It's stomach-churning, rocking Leo's core. The victim's cute running shoes sit neatly paired a few feet away. Where's the damn cops?
Leo inadvertently steps on a kidney on the grass as he runs across the street to begin pounding on a front door of a home - no answer.
He tries another house with the same result. He then tries a few more doors before walking onto the front lawn of a neatly maintained bungalow that doesn't feel right. There, even though it's dark inside, he sees an odd figure, an old man who looks all wrong, standing at the window.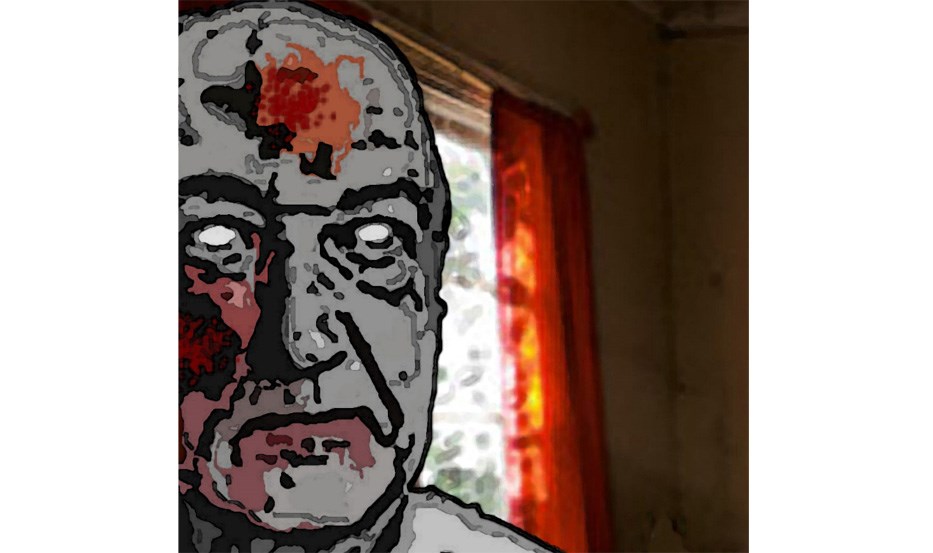 With dead eyes the stranger is just staring at the dude, just standing there with no reaction or emotion at all. Leo is right in figuring he'll just skip this house and put his skates on.  
The dude goes numb but has the sense to run away. That's right, keep running, man.  Where the hell is everyone? Ummm, what happened? Leo soon enough will recall that bible verse "Take heed, keep on alert; for you do not know when the appointed time will come."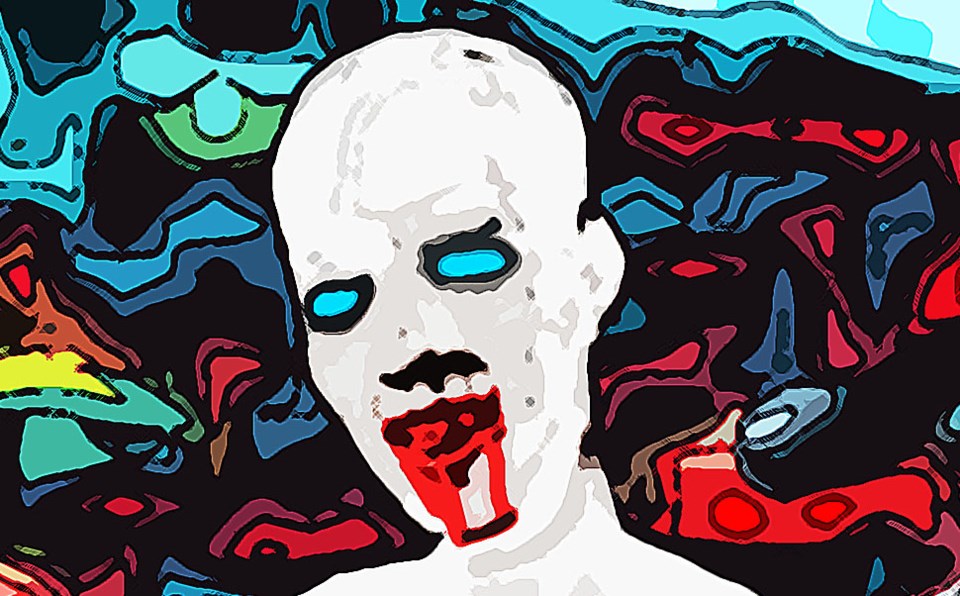 What our dumbass doesn't realize, and has no way of knowing, is that a different oddity, a menace, is also watching him from another darkened house. Having haunting deep blue eyes, it stays in the dark, preferring life in the shadows, allowing the stoner to go on his way.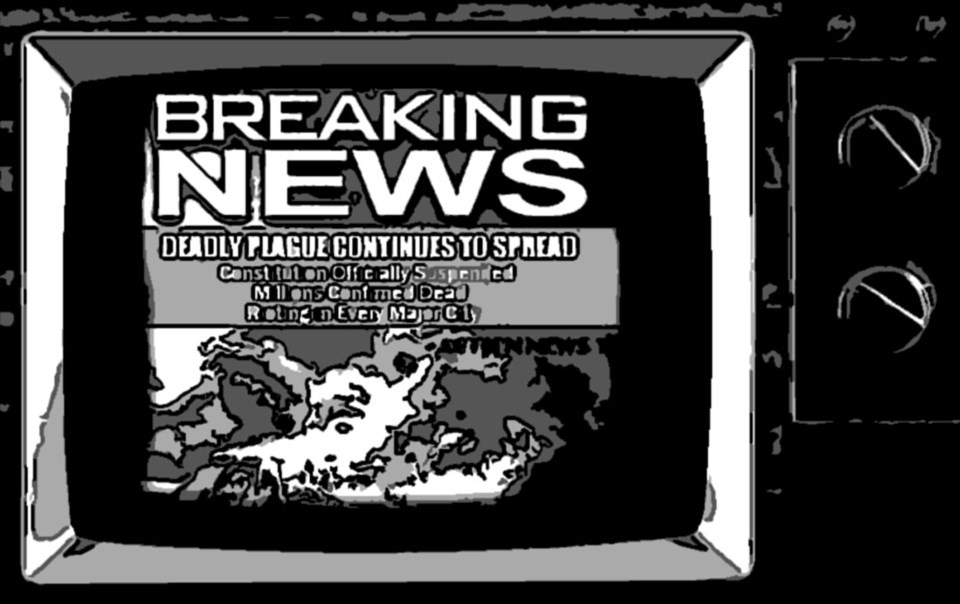 Under that urine sky the disheveled and disheartened Leo McGregor finally makes his way through the quiet streets to Brandi's house, finding clothing and toiletries strewn across her yard.
The cars are gone and nobody is home but the dude has a spare key. Inside, the place looks like it's been turned upside down. Closets and drawers are open and mostly empty. Certainly looks like they left in a hurry, but where and why?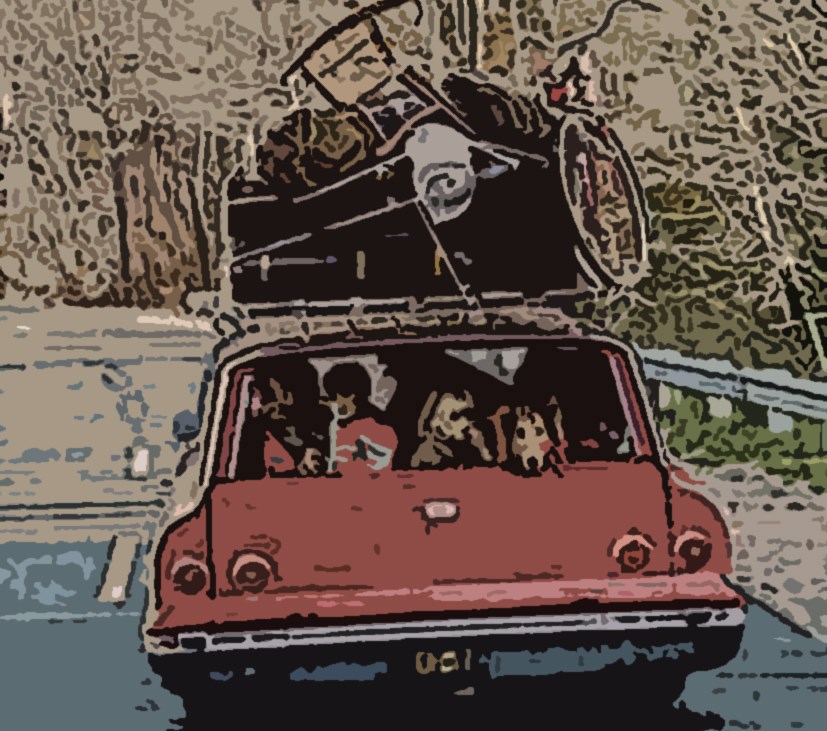 This really sucks! Ain't real! Have to call the cops....no dial tone on the stupid phone and the lights aren't working. He doesn't know what else to do but make his way to the basement and reach behind a shelf for a brick of marijuana. Yes, he's stashing stuff at Brandi's place without her knowledge or consent.
It doesn't take long for the sullen dude to sit on the comfy couch with a nice fatty. After a few tokes things seem less confusing and crappy but it's still too damn quiet. Funny, it's summer and kids should be playing outside making all kinds of annoying noises…but there's nothing. What did he miss?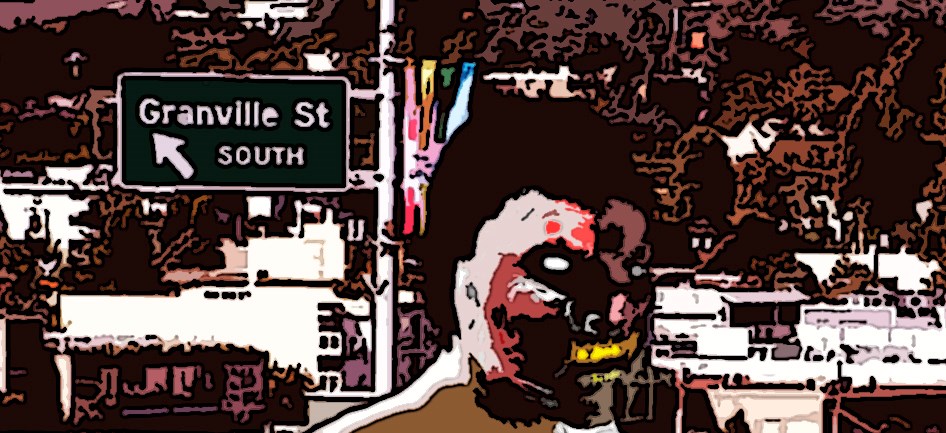 No phone, TV, Internet or power......this isn't funny anymore! Maybe something bad happened.......like duh! If you only knew what was in store for you, Leo, old boy. Things like that sicko who ate the girl will end up being the least of your wretched worries!
Life in a haze has been quite pleasant, so does he dare not doing the weed and take a peek down the proverbial rabbit hole? If he could only transport himself away, anywhere that's not here. The distant past would be preferable, such as those perfect hot summer nights when he was a little kid, sitting on a curb and waiting for the street lights to turn on. Going back shouldn't be a problem. When it comes to existence, Leo wonders if the past, present and future are all simultaneous, occurring constantly in sync. Got to be, right?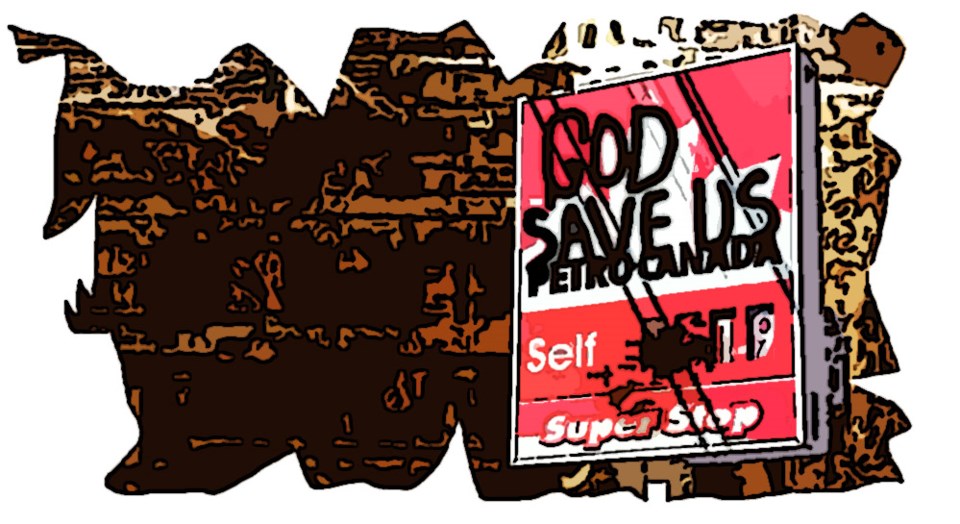 He recalls that a few apathetic weeks ago, maybe longer, he had an off-putting vision. Wearing that favourite cardigan, pajama pants and flip flops, he was doing quite well in the high roller room at his usual casino, where dress codes obviously don't apply, when he decided to take a quick bathroom break.
It was in the can, as Lionel Richie's Easy Like Sunday Morning blared, the dude found himself staring into the mirror, wondering if he'd look more refined with a widow's peak, when suddenly he witnessed one those capricious scenes that were supposed to have been long washed away in a gentle sea of tetrahydrocannabinol.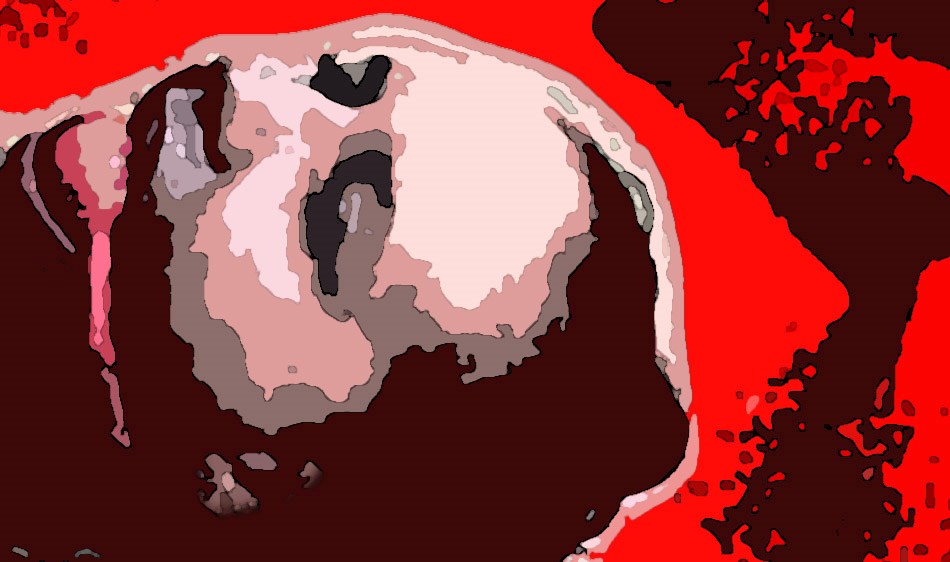 Completely nonsensical, this one was a doozy. It had something to do with a woman in a dark room strapped to a gurney, a gag ball usually reserved for BDSM roleplay stuffed in her mouth, while all kinds of blood donation apparatus was hooked into her.
Sitting in what appeared to be a silk bathrobe in a comfy Barcalounger beside her was a man, or perhaps a hideous mutation, drinking warm red liquid directly from one of the tubes.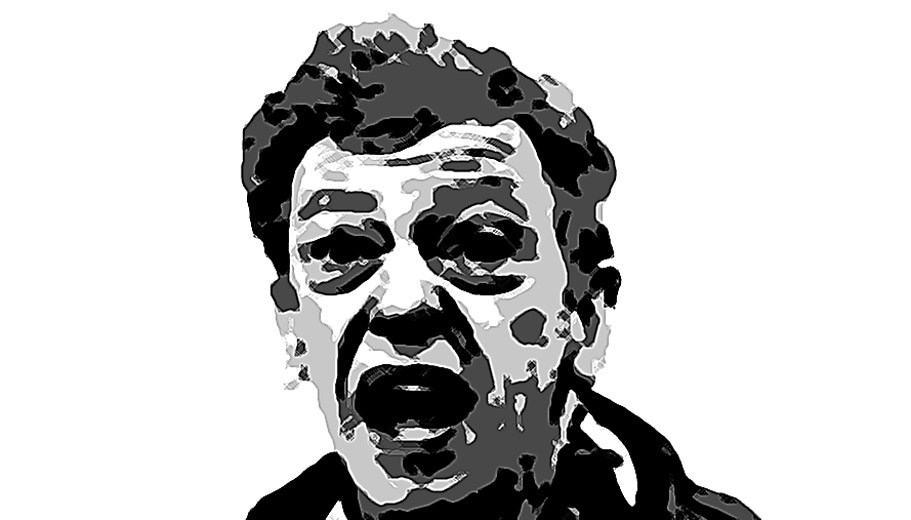 Not meant to die, and being used as an occasional snack, the ill-starred victim seemed resigned to her gloomy fate.
Strange, both were watching an old sitcom on VHS, Three's Company, and with blithe disregard the tormentor was having a good laugh.
Leo couldn't quite make out the woman or the unsparing fiend, only that he had blue balls for eyes. The dude also recalls there was an unpleasant scent of shellac. Yup, weird.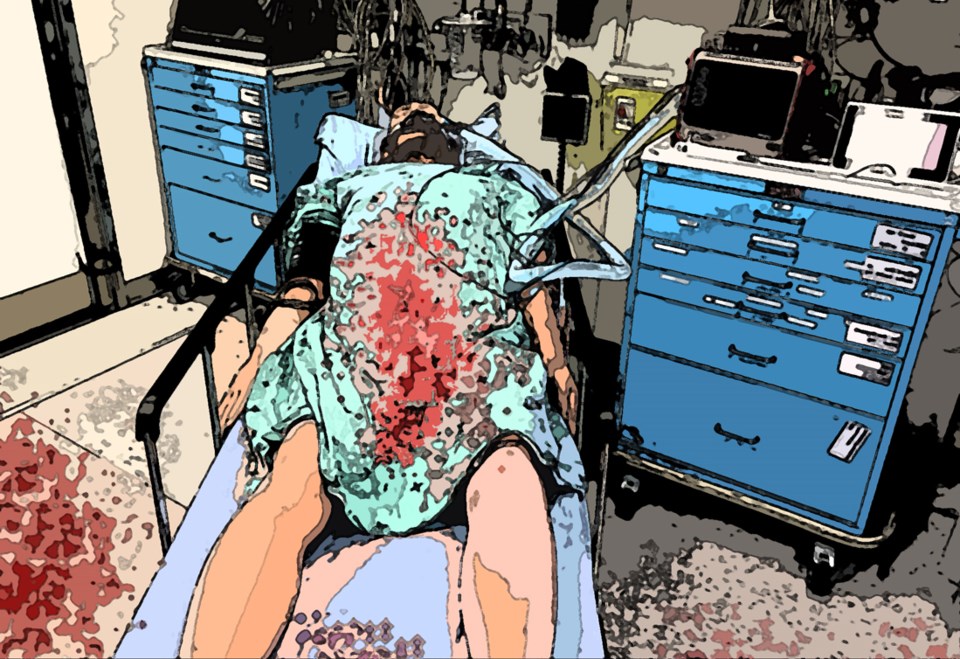 Who was that woman with no respite? Did the dude see this scene in some over-the-top horror movie prior? No point pondering that nonsense, no? Why on earth is he remembering this now? Chalk it up to bad weed, like that time he saw Ronald Reagan merrily riding a unicycle in the nude.
After a few hours and a change of clothes he hears voices next door, frantic, hurried voices that are thankfully familiar. It's Vance and his family. They're packing up their brand new, top-of-the-line ballsy motorhome determined to get the hell out of Dodge.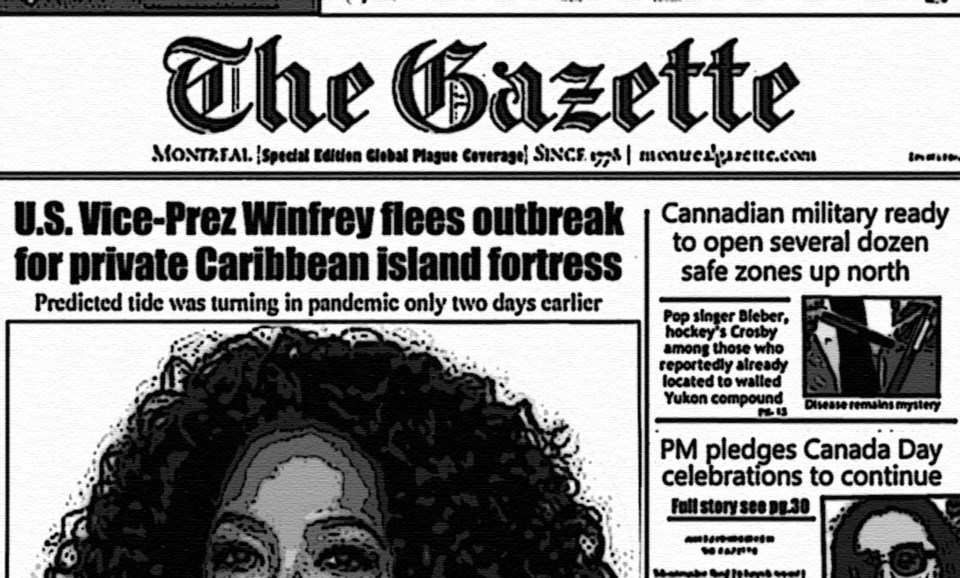 Story by Sandor Gyarmati
Comic art by Jess Soares (HouseofBlackArt.com)
Check out and join our Facebook page too
We're also on Instagram at MapleLeafZombies1 and Twitter @MapleLeaf Zombie where we discuss and share all things zombie, horror & sci fi as well as pop culture stuff