Seven months ago, wildfire tore through Cassandra Melanson house, sending the young woman fleeing the town of Lytton, B.C., as it burned to the ground.
The heat dome that enveloped British Columbia, Washington and Oregon had been building for days, culminating in Melanson's backyard as the town claimed Canada's all-time temperature record of nearly 50 C on June 29.
The next day, a fire ignited next to a rail line, and within an hour, had engulfed nearly the entire village.
Melanson barely escaped, first staying with a boyfriend in Merritt, where unable to sleep, she would obsessively listen to an emergency scanner.
In the months since, their relationship would fall apart and Melanson would bounce between her parents' home in Edmonton and B.C.'s Interior, a place the young teacher was determined to make her home.
"2021 started as the best point of my life emotionally. I had a home in a new community and I felt so at peace and home, I thought I could grow old there. it's crazy how fast that can change," wrote Melanson in a tweet earlier this month.
"Hungover on the amount of tears I've been shedding."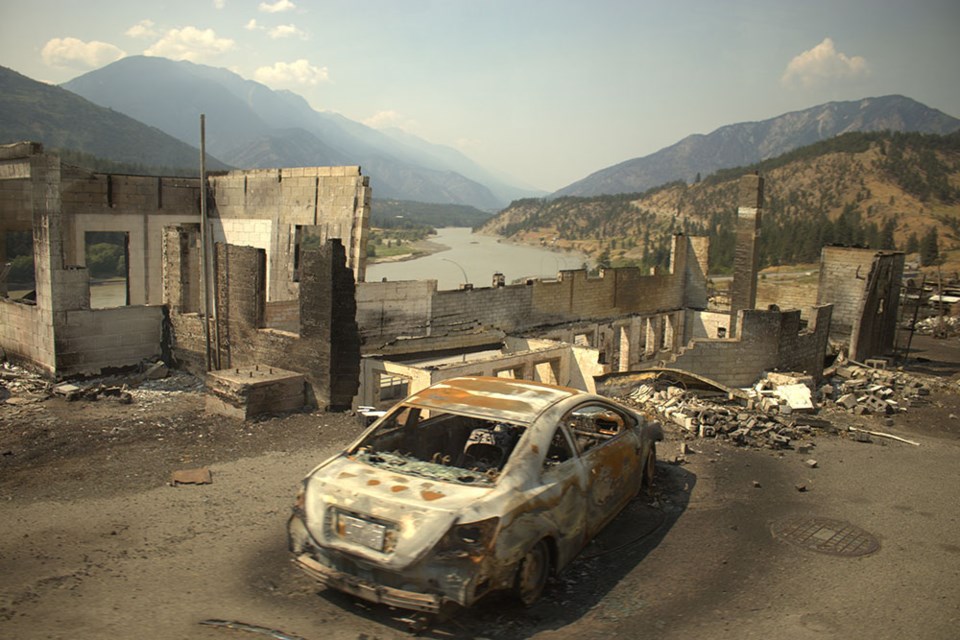 Melanson is not alone. In 2020, a record 55 million people across the planet were uprooted from their lives due to conflict and disaster; of those, roughly 98 per cent fled due to extreme weather, according to the Geneva-based Internal Displacement Monitoring Centre.
In British Columbia last year, climate extremes accelerated into a chain of natural disasters: extreme temperatures, along with ensuing wildfires and floods pushed tens of thousands from their homes.
Death, the destruction of homes and infrastructure can all be calculated in grim tallies. But how climate-driven disasters impact people's mental health often remains invisible — until now.
A new landmark study has found the heat dome that scorched British Columbia in late June 2021 led to a 13 per cent average rise in anxiety over the effects of climate change.
The study, which recruited two groups of nearly 500 participants from Facebook and Instagram, offers a mental health snapshot of a cross-section of B.C.'s population, before and after the heat wave.
To measure how much climate change is impacting the participants' mental health, the researchers used a novel Canadian-developed metric known as the climate change anxiety scale.
Of those surveyed, 60 per cent said the heat dome made them either much or somewhat more worried about climate change. The same proportion said they were greatly or somewhat impacted by the heat dome.
Past studies have found those who experience disaster are sometimes more likely to take the likelihood of a future event more seriously. So perhaps it shouldn't be surprising that the number of British Columbians who thought it was likely their region would be devastated by climate change almost doubled to 30 per cent.
"Some people are facing cognitive and physical impairments," said study co-author Kiffer Card, an epidemiologist studying the effects of climate change on mental health at Simon Fraser University.
"It's influencing whether or not people will have children, where they live and buy houses and what kinds of occupation they go into."
Among extreme weather events, scientists have some of the strongest evidence linking heat waves to climate change. An attribution study released shortly after the June heat dome found climate change made the event 150 times more likely, and that such extreme temperatures would return every five to 10 years as early as 2040.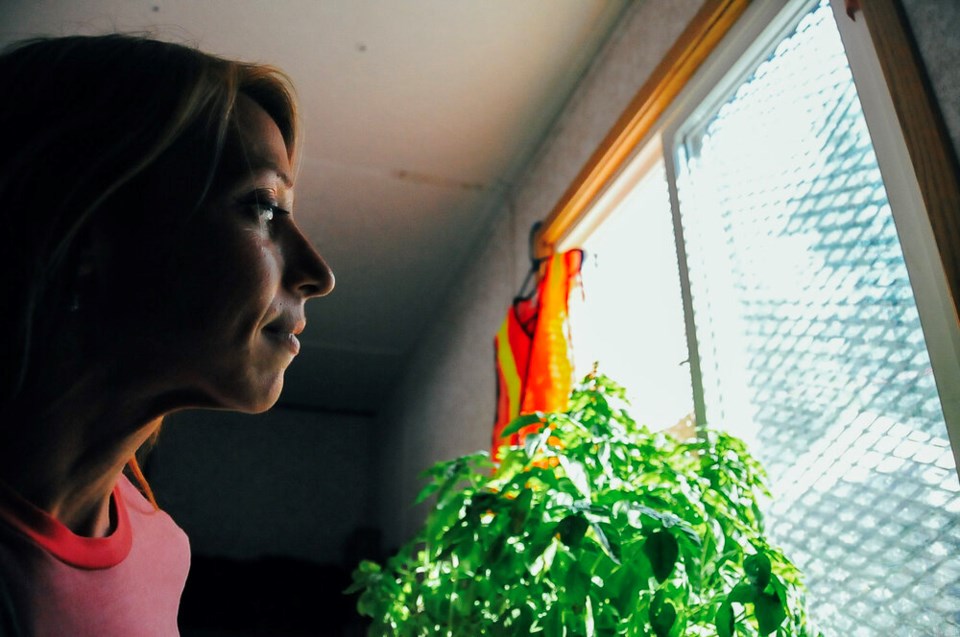 Card, who helped produce the latest study with, among others, researchers from the University of British Columbia and the Mental Health and Climate change Alliance, says the group is also working to understand how November's devastating floods has impacted people's mental health.
While that work has yet to be published, Card says some trends between the two events are emerging: climate change appears to disproportionately increase anxiety in young people, those working in agriculture, or people whose livelihood depends on hunting.
All that is expected to have enormous repercussions on the demographics of the province. Will extreme weather push populations to escape areas increasingly dominated by drought and wildfire, or will people flee the oppressive heat of the city?
"We're currently looking at a number of these effects, including perceived impacts on occupation, whether or not to have kids, and how climate anxiety is affecting how they worry about the neighbourhood they live in… These are the fundamental things that impact how you live your life," said Card.
The latest study will act as a baseline for climate anxiety. The Canadian researchers say their work has provoked interest from around the world.
Not all stress is bad, said Card.
"We feel stress in the form of hunger when we want to eat, we feel stress in the form of thirst when we want a drink, we feel loneliness when we want a hug," he said.
One of the great challenges of our time is figuring out how to push for political action on climate change, without triggering the paralyzing anxiety that can come with a planetary crisis.
The personal decisions of millions of people affected by extreme climate events is a big problem for governments too.
What comes next includes a search for solutions. As Card put it, "What are some of the ways we can help cities and towns manage the demographic rise and fall in the age of climate change?"
COPING WITH CLIMATE ANXIETY
The heat dome that hit B.C. in June 2021 is now estimated to have killed nearly 600 people. At the time, emergency services in Metro Vancouver were pushed to the brink of failure and paramedics reported seeing bodies piling up in hospital corridors.
At Dr. Melissa Lem's outpatient clinic in Vancouver, the family physician said mild to moderate heat illness spiked like she had never seen before.
"I was seeing wicked heat rash to dehydration and headaches that were persisting for days after," she said. "I saw more patients with heat illness than I'd ever seen in my career."
Lem, who advised on the latest climate change anxiety study, said she saw physical ailments soon transform into lasting mental scars, especially for those already coping with mental health problems. Wildfire smoke that later descended on the Lower Mainland — and much of Southern B.C. — triggered a wave of patients suffering worsening depression and anxiety.
In one case, Lem says she couldn't help but empathize with a patient that had reached her breaking point.
"We both started crying in the clinic room when we talked about all the elders that had died," said Lem of the people who died under the heat dome.
But for Lem, who also serves as president-elect of the Canadian Association of Physicians for the Environment, last year's succession of climate-driven disasters pushed her to work harder.
She says some of her physician colleagues took small but significant leaps in their own lives, such as swapping out a natural gas furnace for a heat pump. Others, she said, are advocating for Canada's health care industry to accelerate its decarbonization.
"One of the most effective ways to deal with anxiety is to take action," said Lem, noting the health care industry emits roughly five per cent of the Canada's emissions, on par with aviation.
Elsewhere in the province, a B.C. doctor leading an emergency room in Nelson became likely the first physician in the world to diagnose climate change in a patient suffering from wildfire smoke exposure.
"If we're not looking at the underlying cause, and we're just treating the symptoms, we're just gonna keep falling further and further behind," Dr. Kyle Merritt told Glacier Media last year.
Both Lem and Merritt are part of a growing group of physicians looking to close the gap between environmental health risks brought on by climate change and the clinical response of the health care system.
Where Merritt pioneered diagnosing climate change in a patient's chart, Lem is looking to prescribe a solution.
PRESCRIBING NATURE
Throughout her career as a doctor, Lem has bounced around, from a small town in B.C. to Toronto and back to the west coast.
Along the way, a growing body of research increasingly showed that anxiety and mental health problems, including those triggered by global heating, could be treated by the very thing at risk of disappearing — nature.
"There's this huge body of evidence that nature is good for health," said Lem.
In 2020, Lem says she had a patient who had recently immigrated from Europe suffering debilitating anxiety and depression. She was stuck at home, anxious all the time and not functioning in her personal or professional life.
When Lem asked how she coped back home, the patient said she liked to hike. So together with some medication, Lem counselled her to get outside more.
Research has shown that access to nature can reduce chronic disease, improve birth outcomes and even help children succeed in life.
"I followed up a couple of months later. I was shocked," said Lem. "She had made such gains."
The experience was among many that pushed the doctor to launch PaRx, A Prescription for Nature. Together with the BC Parks Foundation, PaRx offers practical resources for health care providers to prescribe nature.
Lem says, according to research, a minimum prescription should include twenty-minute sessions adding up to at least two hours a week.
"You write it down in an email or on a piece of paper and hand it to them," said Lem, noting people are more likely to do something if it's written down.
Who writes it down appears to be important as well, and polls have shown doctors, nurses and scientists are among Canada's most trusted professionals.
In many urban or suburban environments, what qualifies as nature is subjective, says Lem. A patient's backyard garden, a nearby park or a rugged backcountry route can all count (though studies have shown increased biodiversity, as well as sweeping views of green space and water, are best).
What's most important, says Lem, is that the patient believes they immersed themselves in nature.
"I think it should be the fourth pillar of health," she said. "It's just as important as sleep, exercise and diet."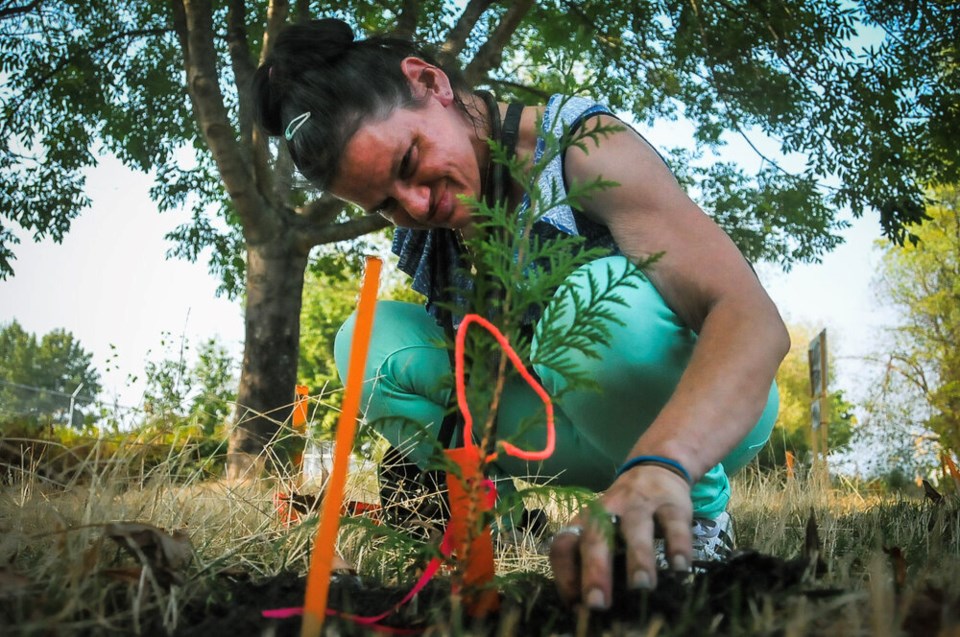 So far, Canada's first national nature prescription program is available to doctors in British Columbia, Ontario Saskatchewan and Manitoba. Lem says they have plans to expand further once other physician colleges partner with the program.
For Canadians looking to cope with climate change anxiety and take action, immersing themselves in nature offers a virtuous circle: studies have found the more people are connected to nature, the more likely they are to protect it.
Lem says the idea of prescribing nature is winning over more people every day. In one example near her clinic in Vancouver, she said the University British Columbia will be opening up its botanical and Japanese gardens free of charge to people with nature prescriptions.
But for many other British Columbians who don't have a family doctor and never had a break from climate disaster in 2021, you don't need a prescription to explore a mountain trail or plunge your hands into a garden.
For Melanson, returning to B.C. after losing almost everything has been challenging. She has struggled with landlords and getting settled in a new town.
To cope, she has turned to her two dogs and repairing a few keepsakes recovered from her destroyed home.
In one recent project, she summoned the old view from her house — the Fraser River, where she used to swim, snaking among barren mountains — and burned it into a block of wood.
As Melanson put it: "My old front yard view."
Stefan Labbé is a solutions journalist. That means he covers how people are responding to problems linked to climate change — from housing to energy and everything in between. Have a story idea? Get in touch. Email slabbe@glaciermedia.ca.
Correction: A past version of this story noted health care professionals in Alberta had joined the nature prescription program. In fact, the province is still in the process of approving the program.