The number of critical care patients airlifted from Northern B.C. continues to grow, with 67 now having been flown for care elsewhere in the province.
Health Minister Adrian Dix said Tuesday the majority, but not all, are fighting COVID-19. Others, Dix said, have been moved due to pressure on hospitals across the region, including Fort St. John, where the ICU has been closed for more than a year.
Most of the patients have been flown to Vancouver Island, and some have recently been taken to the Interior Health region.
"Every single case you're talking about someone who probably can't breathe on their own, who requires significant staffing around them to get them down from one place to another, and when they get there," Dix said.
"It is an immense thing. I can't tell you the work being done by our air ambulance teams, by our nurses, all those involved in patient travel. This step that has been taken is unprecedented and shows the commitment we have to one another."
An update on the number of patients airlifted from the northeast wasn't immediately available, however, at least 25 patients have been transported to date, and families across the region have continued to be affected over the last week.
Over the weekend, an emergency C-section was performed on a pregnant mother from Fort St. John who was airlifted for treatment on Thanksgiving, first to Victoria General Hospital, according to CTV News, then to Royal Columbian Hospital in New Westminster.
Krystal St. Pierre remains in a coma and on a specialized life-support machine, according to CBC News. Her husband Dwayne Binette is urging residents to get vaccinated if they haven't been.
"[T]his is a life-saving measure. If you see a speeding truck about to hit one of your family members, you would jump into action and save their life," Binette told CBC. "You won't end up in such a serious condition as my wife is in. So, if I could go back in months, I would have our whole family vaccinated and her life would be saved right now. I am sure of it."
Meanwhile, Cory Lizotte, a pastor from Dawson Creek and Pouce Coupe, has been flown to Penticton for care due to complications with COVID, according to friends and family.
"I need prayer I have covid, my lungs are in trouble. I need a miracle," reads a message posted to Lizotte's Facebook page on Oct. 24, adding later that day: "Worst day of my life. Try to stay off life support. Was on my stomach for about 6 hours in order to stabilize my breathing."
According to Northern Health, 72% of Fort St. John residents had a first dose of vaccine as of Oct. 19, while 62% were fully vaccinated with two doses. In Dawson Creek, 68% of residents had their first dose, and 57% their second.
"I have nothing but compassion for people who are sick, ever, regardless of the circumstances," said Dix. "But we have to understand what a massive thing that our health-care workers and health-care professionals are doing here, in addition to all the others we are doing, and the immunization campaign that's going on in B.C."
Across the province, health-care workers had until Tuesday to be vaccinated or put on unpaid leave.
The immediate impacts to hospitals in the northeast was not immediately clear. However, according to provincial data, there were 7,280 workers in Northern Health, or 92%, who were fully vaccinated as of Oct. 24. There were 331 workers who had not been vaccinated, while 263 workers were partially vaccinated.
Premier John Horgan says he's hopeful that a small number of B.C. health-care workers who are still resistant to getting vaccinated against COVID-19 will get the information they need to make the choice for vaccination.
The vaccine mandate will apply to everyone who works in health-care settings, including students, doctors, contractors and volunteers.
Those who don't have their first dose by the deadline can't work unless they have a recognized medical exemption.
Workers who get their first shot before Nov. 15 can resume working seven days after the first dose, but they must wear personal protective equipment and take other precautions until they have their second dose, which must be no more than 35 days after the initial dose.
---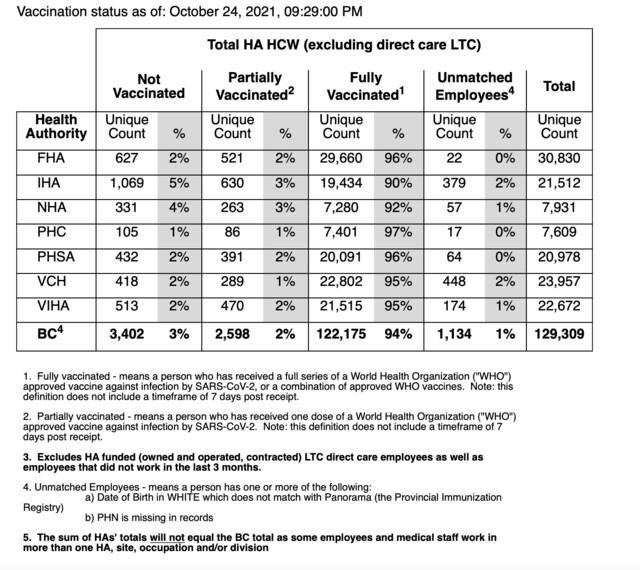 — with files from The Canadian Press
---
Email Managing Editor Matt Preprost at editor@ahnfsj.ca.