The City of Vancouver has put forward a motion to hit high-emitting, gas-powered vehicles with an annual pollution charge of up to $1,000 and roll out a citywide residential parking fee.
The two-part initiative, dubbed the "Climate Emergency Parking Program," is expected to curb between seven and 14 per cent of the city's greenhouse gas emissions and affect up to 150,000 residents.
Emissions from internal combustion engine vehicles currently make up just under 40 per cent of the city's carbon output — city staff said the plan will put Vancouver on track to follow measures rolled out in cities like Montreal and Sydney, Australia.
ANNUAL POLLUTION CHARGE
The first part of the program would charge an annual pollution fee on high-emitting vehicles — such as luxury sedans and pickup trucks — manufactured in 2023 and beyond. Vehicles emitting 225 grams of CO2 per kilometre or more would pay $1,000 every year.
New moderately polluting vehicles, like sporty sedans and more efficient SUVs, would pay $500 per year; new low-polluting vehicles, like hybrids and "most economy vehicles" that produce less than 200 grams of CO2 per kilometre, will not pay.
Any specialized vehicles for wheelchairs as well as those built in 2022 or earlier would be exempt from the fee.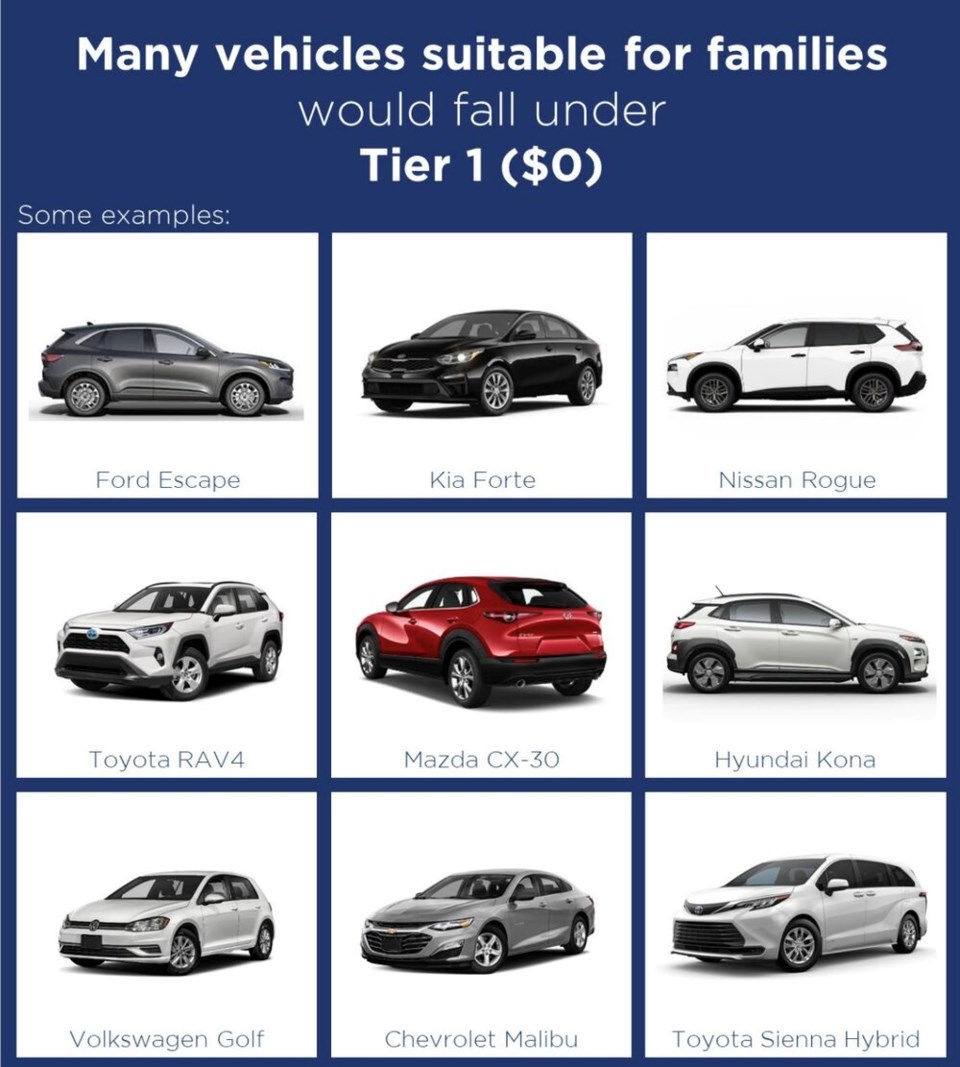 BLANKET RESIDENTIAL PARKING PERMIT
About 10 per cent of the city's residential streets already require parking permits of up to $500 every year.
The second part of the new parking plan would regulate neighbourhoods not currently under such a residential parking scheme. Any resident who wants to park on the street in a currently unregulated neighbourhood would be charged a $45 annual fee.
Overnight visitors, meanwhile, would pay a $3-a-night fee that can be paid through the PayByPhone app or at a nearby meter. After consulting the public, staff pushed forward the start of overnight parking by two hours so that it runs from midnight to 7 a.m. The motion proposes that daytime parking doesn't change.
There are some exceptions. Low-income households will be offered a discounted $5 rate, and any care workers providing overnight services would be eligible to purchase an annual pass, even if they don't live in Vancouver.
Residential overnight parking permits would be available for purchase online, on the phone by calling 311, or in person.
Staff recommends those caught without a permit be fined $100 per infraction, the same fine handed out in neighbourhoods that already regulate parking.
WHAT WILL IT COST?
According to a staff motion submitted to council Wednesday, the parking scheme would have a startup cost of $1.7 million and an annual operating budget of $1 million.
That money is expected to be easily recouped with revenue generated from the two-part plan.
WHAT WILL IT ACHIEVE?
Like a national or provincial price on carbon, the Climate Emergency Parking Program is designed to push residents to choose low- or zero-emitting vehicles.
Based on modelling, staff say it is expected to have a "significant impact on carbon pollution in Vancouver."
In addition to reducing air and carbon pollution by up to 14 per cent, the two-part plan is expected to generate between $44 million and $72 million between 2022 and 2025.
That money could be used to fund roughly a quarter of the goals adopted under the city's Climate Emergency Action Plan, so that by 2030:
the city would cut carbon emission in half from 2007 levels;
electric vehicles would account for half of the kilometres driven;
and two-thirds of all trips would be by foot, by bicycle or on public transit.
The motion put forward by staff recommends the city consult the public on how the money is spent.
City staff say $60 million could help with a number of priorities, from developing priority bus lanes and pedestrian signals, to planting over 1,000 trees, to constructing over four kilometres of green infrastructure and installing hundreds of electric vehicle charging stations.
The parking plan is also meant to "set the stage for a more responsive parking system as the city densifies and demand for on-street parking increases," note staff in their motion to council.
For example, city staff are currently working on recommendations to eliminate minimum parking requirements in new buildings. As parking spots are eliminated, the proposed citywide permit system would help to manage any increased pressure put on on-street parking.
WHAT DOES THE PUBLIC SAY?
In the lead up to the motion to council, the parking scheme went through a final stage of public consultation.
Of the nearly 19,000 people who took part in a public survey — one of the biggest turnouts in the city's history — a strong majority were opposed to both parts of the parking plan. Over 70 per cent disagreed with the pollution charge and 80 per cent disagreed with the plan to roll out a citywide overnight permit plan.
Staff also contracted a polling firm to survey a demographically representative slice of the city. In the first round of polling, 55 per cent supported the pollution charge and 31 per cent supported overnight parking.
But in a follow-up survey, where staff said they clarified which vehicles would be exempt, support for the pollution charge rose to 63 per cent, whereas 45 per cent of respondents favoured the overnight permit plan.
A majority of renters, however, largely supported the overnight permit plan, with 63 per cent in support of the annual fee.
Nine out of 10 respondents said they were concerned about climate change and 59 per cent said they like that the program would support climate action.
In addition to the new parking plan, Vancouver is considering a fee on drivers going to and from downtown.
Council is expected to vote on the motion Oct. 5. If it passes, staff say the two-part parking plan could launch in January 2022.