British Columbians hoping to celebrate over the holidays will not be able to attend indoor organized gatherings of any size this year.
The new rule is one of several new public health orders included in sweeping new changes to B.C.'s Public Health Act announced on Tuesday (Dec. 21) in the wake of surging cases of coronavirus in the province.
From couples hoping to tie the knot with a large reception to companies hosting large celebratory events, the order states that no indoor organized gatherings will be permitted. Additionally, bars, nightclubs, fitness centres, and dance studios will be closed.
Seated events will be reduced to 50 per cent of their capacity regardless of their venue size, which marks a departure from Friday's (Dec. 17) announcement that only venues for over 1000 people would see their capacity limited.
Restaurants, pubs, and cafes are permitted to stay open but only a maximum of six guests may be seated per table (plus physical distancing or barriers). Guests cannot mingle between tables.
The new orders come into effect on Dec. 22 at 11:59 p.m. and last until Jan. 18.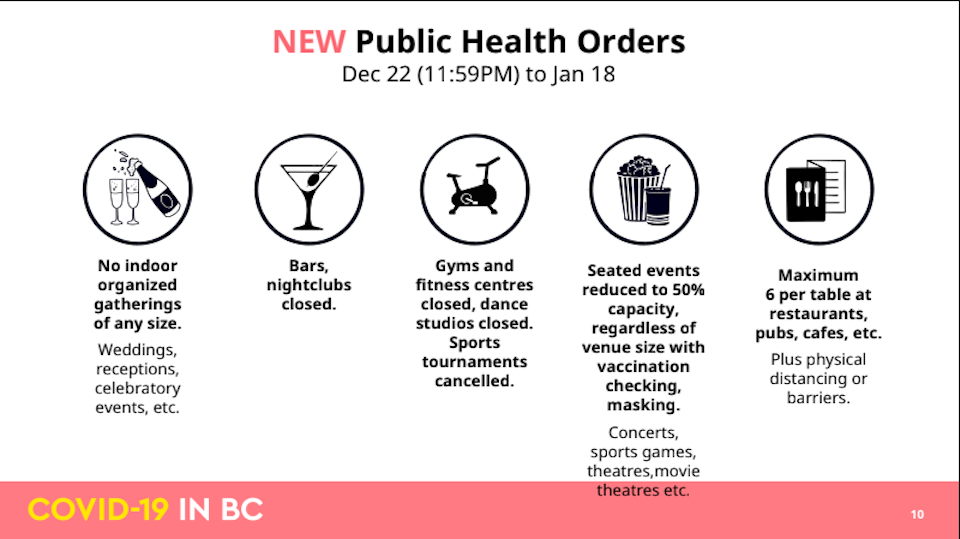 Overview of Public Health orders in B.C.
The new guidance follows several changes to the Public Health Act announced on Dec. 17 that include restrictions on gatherings and events.
The BC Vaccine Card Program was extended to cover events of all sizes, regardless of the number of people attending. Provincial Health Officer Dr. Bonnie Henry told reporters in a previous briefing that the order "no longer starts with events of 50 or more people, which has been the case in the last few months."
Indoor gatherings continue to be limited to one household plus 10 other individuals or one other household. Everyone who attends a gathering must be vaccinated; no unvaccinated people may attend parties or social gatherings.
All sports tournaments are also cancelled until the orders are lifted.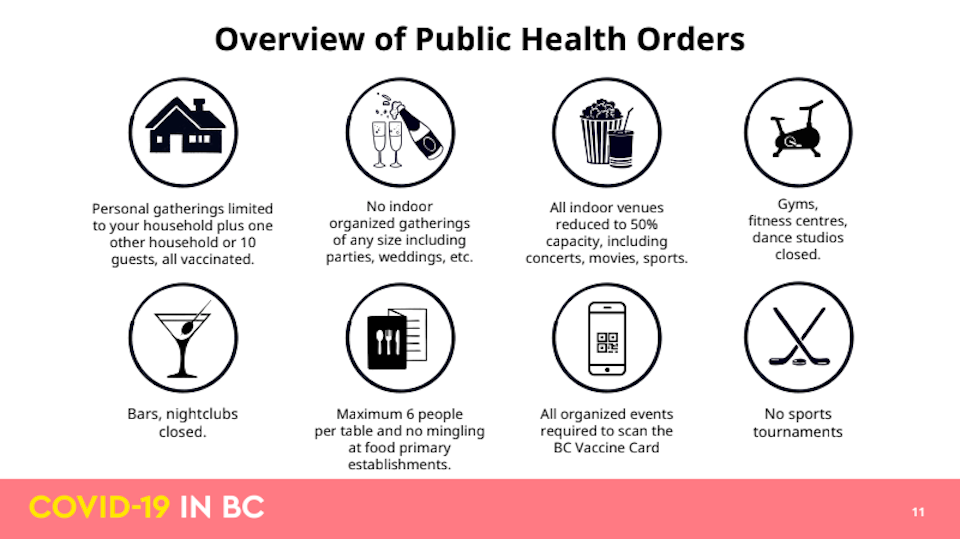 B.C. health officials say the recently-discovered Omicron variant will become the dominant strain in the province—and it appears to be spreading rapidly in the Vancouver Coastal Health region.