Global emissions from the generation of electricity are thought to have hit a historic turning point in 2022, and this year, are expected to level off and begin a long decline amid staggering growth rates from wind and solar power, a new global report has found.
The latest data, from the U.K.-based energy think tank Ember, found global electricity production from wind and the sun hit a record in 2022, climbing to 12 per cent of the total. If energy forecasts hold steady, experts say 2023 could mark the beginning of the end for oil, gas and coal as a source of electricity.
"Hitting peak emissions is a crucial milestone," said lead author and Ember senior electricity analyst Małgorzata Wiatros-Motyka. "This will drive emissions down in other sectors like transport [and] for electrification of the heating industry."
"It is clear it is the end of the fossil fuel age."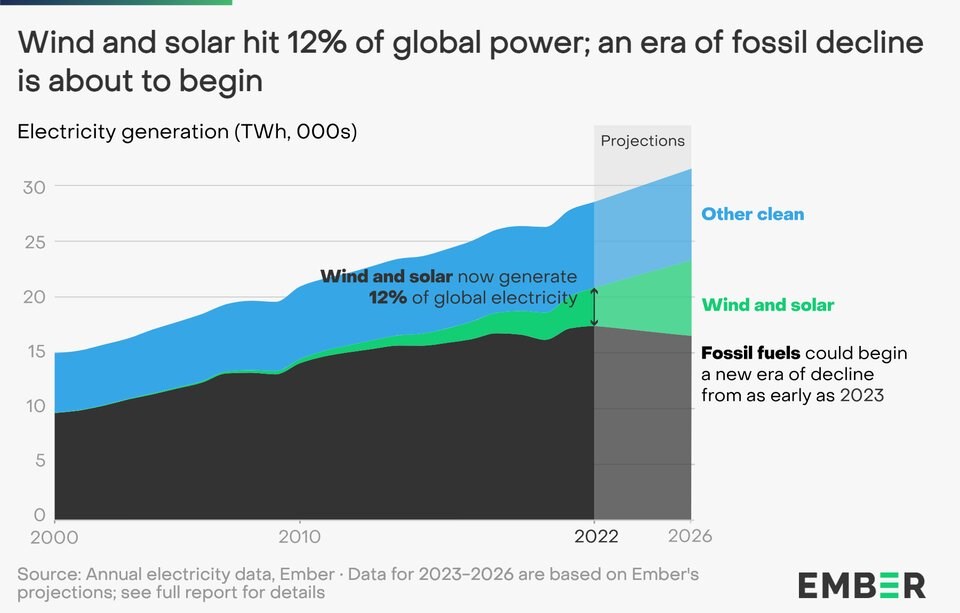 In 2022, carbon pollution from electricity and heat generation accounted for nearly half of global emissions, according to the International Energy Agency (IAE) and a recent analysis from the Carbon Monitor project.
The scale of the problem means the power sector needs to decarbonize by 2040 in order for the rest of the world to achieve net-zero emissions by mid-century — the threshold climate scientists say must be hit in order to avoid catastrophic fallout from more than two degrees Celsius of global warming. That path would require wind and solar to generate 41 per cent of the global electricity supply within 17 years, nearly 3.5 times more than in 2022.
There are some positive signs the world is moving in the right direction. Generating electricity from the sun was the fastest growing source of energy production across the world last year, rising 24 per cent from the previous year. Wind-generated electricity, meanwhile, climbed 17 per cent, according to the Ember report.
"Everyone is now building wind and solar in some way. It's just the degree to which they're building it," said co-author and Ember's head of global insights Dave Jones.
Unlike emissions from other sectors that are often reported with a two-year lag, emissions from electricity generation can be calculated on a monthly basis as demand goes up and down. The Ember researchers looked at 2022 data from 78 countries and then extrapolated from 2021 data from other nations where current government data sources were less reliable.
Altogether, the analysis claims to account for 93 per cent of the world's energy production — the sector overwhelmingly responsible for heating the planet's atmosphere with fossil fuels.
Some big gaps as most of the world embraces wind and solar energy
Sixty per cent of Denmark's electricity came from wind and solar sources, making the country the global leader in 2022, the Ember report found. Elsewhere in Europe, Spain received over a third of its electricity requirements from wind and solar, whereas Germany and the U.K. fell only slightly behind.
Jones said even larger countries with spread-out populations have made big strides in 2022. Australia's wind and solar sector has "boomed" in recent years, with the two renewable sources now generating nearly a quarter of the country's energy.
But those global gains also masked vast gaps between countries who have vaulted ahead in their ability to generate clean electricity and those who remain heavily reliant on fossil fuels to meet their energy needs.
Wiatros-Motyka says the African continent is facing a huge lack of investment, leading to a situation where only 4.65 per cent of its grid was powered by wind and solar in 2022. And in the Middle East, power generated from wind turbines and solar panels dropped to 1.64 per cent of the region's energy mix, a fraction of the 12 per cent global average, the report found.
In a statement, Damilola Ogunbiyi, CEO and Special Representative of the UN Secretary-General for Sustainable Energy for All, said the global progress, while encouraging, shows more needs to be done to ensure developing countries don't get left behind.
"Furthermore, coal power remained the single largest source of electricity worldwide, producing 36 per cent of global electricity in 2022, which means that the power sector remains off-track in meeting net-zero targets globally by mid-century," Ogunbiyi said.
She added: "the deployment of wind and solar needs to be massively and urgently accelerated."
Canada falling behind on wind and solar
Emerging nations in Africa and the Middle East aren't the only countries lagging behind the wind and solar construction boom.
In Canada, wind and solar made up only 6.9 per cent of the total electricity production in 2022. That puts the country behind more than 70 other nations, as well as the averages of the G7, G20 and OECD groups of nations, Ember data shows.
Lead author Wiatros-Motyka described Canada's progress as "really quite minimal."
"We've had a lot to brag about with the high amount of zero-emission electricity in Canada from mostly hydro electricity," said Stephen Thomas, clean energy manager at the David Suzuki Foundation, who wasn't involved in the Ember research.
"But we are being leapfrogged by many other jurisdictions when it comes to building new renewable electricity."
Since 2000, data compiled by Ember shows hydro electricity production has consistently powered about 60 per cent of Canada's energy grid. Emissions from coal power plants have declined, leading to an 37 per cent decline in emissions from Canada's domestic power sector.
But as gas replaces coal, Ember notes that the share of electricity generated by fossil fuels dropped "very slowly" between 2015 and 2021, from 20 to 17 per cent.
Thomas says building out a vast network of wind turbines and solar panels is required to both clean the grid of remaining fossil fuels and increase the grid's overall capacity to handle a growing demand from electric vehicles and transitioning gas-heated buildings to electric.
"We have a lot of work to do in Canada," said the clean energy expert.
Canada needs to build wind and solar five times faster to meet zero-emission electricity by 2035
Thomas was the lead author of a sweeping report released last year looking at how Canada could build a net-zero grid by adding wind and solar power.
Thomas's modelling suggests Canada needs to build wind and solar infrastructure five times faster than it is now in order to meet a domestic plan to have a carbon net-zero grid by 2035.
He says provinces are sitting on their hands waiting for the federal government to release a proposed framework for clean energy regulations, which would create a path to net-zero electricity production by 2035.
Besides ramping up wind and solar projects, Thomas's modelling calls for provinces to upgrade and connect their grids to make them more resilient to seasonal swings in climate or shocks during extreme weather.
If B.C. and Alberta's grids are integrated, the thinking goes, the Prairie province's vast wind and solar potential could top up B.C.'s hydro-based grid in the summer when water levels are low. And B.C.'s reservoirs could generate electricity and send it in the other direction when there's a surplus. Thomas says he anticipates the Pan-Canadian Grid Council will meet later this year to study how sharing electricity across provincial borders can be achieved.
Wind and solar investment would see spike in jobs, decline in energy costs
From 2025 to 2034, the upfront capital costs to build the required new wind turbines, solar farms and transmission infrastructure would add up to three to four per cent more than the cost of the country's current energy mix, according to Thomas's modelling, which excluded new large-scale hydroelectric dams or nuclear energy.
But by 2035, when Canada could theoretically produce 100 per cent zero-emissions electricity, costs drop off and become cheaper even as electricity demand soars.
"We all benefit when we move to clean electricity in terms of avoiding the worst climate impacts. But we also benefit in terms of affordability, in terms of energy security, in terms of job opportunities, and certainly in terms of our health," he said.
On the ground, many communities could have control of their own local energy supply through community-based wind and solar farms. In the event of an outage, a fully electric grid and transportation system would offer residents the ability to power their homes with their electric vehicles, a possibility already realized by owners of some of the latest electric trucks.
And in a report last month, Clean Energy Canada estimated moving to a zero-emissions grid with electric vehicles will bring an additional 700,000 jobs to Canada, even after losses in the oil and gas sector.
"They're proven technologies. Wind and solar are now the cheapest electricity in history. These things are scalable; we have the skills, we have the tools," said Thomas. "We just need to help the fossil fuel industry get out of the way and get to work building this clean electricity infrastructure."
"We just need to be moving a lot quicker."