Several low-lying areas of Metro Vancouver could be underwater in the next 80 years as heavy rain and snowmelt driven by climate change reshape the region's floodplains.
That's according to new flood maps published this week by Western University flood-control expert Slobodan Simonovic. The engineer collected nearly 150,000 documents tracing local topography, historical rainfall and snowmelt data, as well as hydrodynamic modelling and urbanization patterns.
On top of that, he layered 17 "very new" climate models using the latest science from the UN's International Panel on Climate Change. What resulted is a national mapping project that allows users to analyze flood risk down to one-by-one kilometre tracts of land.
"It's kind of clear: among these hot areas, Vancouver in B.C. is definitely there," says Simonovic.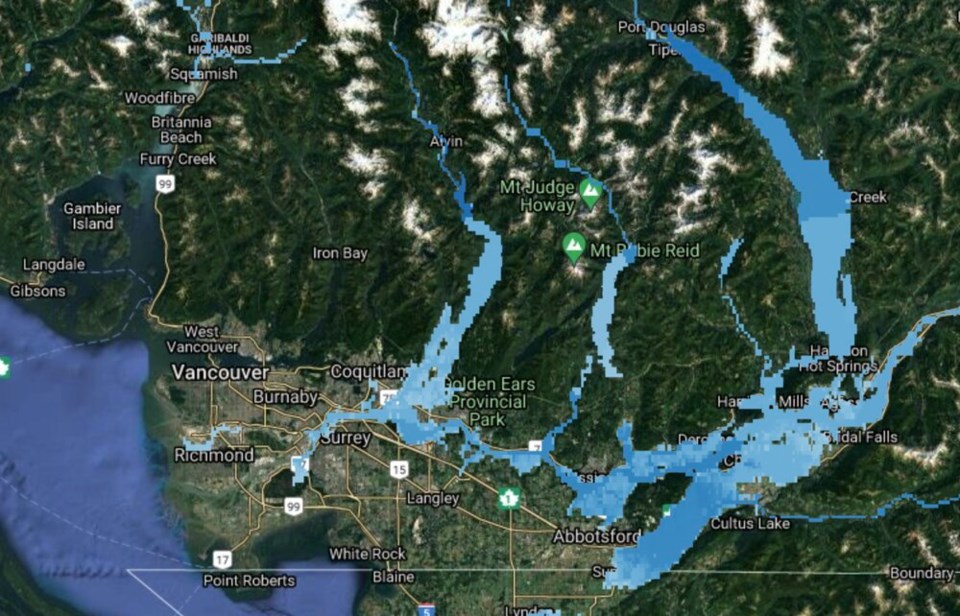 By the end of the century, up to 30 per cent more of Canada may be under water, with flood depth increasing by up to 60 per cent, says the researcher. Other cities at high risk of flooding in Canada include Calgary, Ottawa and Montreal. Simonovic says he built the maps to help inform policymakers — from the federal and provincial levels, all the way down to municipalities — around what parts of the country need to come up with solutions.
So far, the maps are limited to the flooding of lakes and rivers, and do not take into consideration the effect of sea-level rise.
"Coastal areas of Surrey and everything else will be seriously, seriously affected. The question is, how you can deal with that kind of potentially combined impact?" he says, adding his team is working on updating the maps to include sea-level rise.
Federal flood maps used to assess everything from insurance rates to property value are now 25 years out of date. The Insurance Bureau of Canada estimates at least 500,000 homes across Canada are at high risk of flooding in the coming years but do not appear on current maps.
Of the federal flood maps currently available, "virtually none of them show how climate change may affect the future risk of flooding," notes an October report from the Canadian Institute for Climate Choices (CICC).
At the same time, only a fraction of Canadian property owners understand the risk they are facing. A 2016 survey showed that roughly 45 per cent of Canadian homeowners have insurance that will pay for flood damage, when in fact, only 10 to 15 per cent are actually covered.
The CICC report warns that between 2070 and 2100, Metro Vancouver's annual flood damages are expected to climb to $510 million annually, a 17-fold increase, under a low-emissions scenario; and up to $820 million annually, 27 times the current value, under a high-emissions scenario.
That's all expected to filter down to individual homeowners. Fifty years from now, average individual property damage is projected to hit $4,400 per year in Metro Vancouver, more than seven times today's cost.
"In hot real estate markets such as Vancouver and Toronto, this means that property buyers — from individual homeowners to commercial real estate investors — are likely paying too much for homes and buildings whose value will drop when their flood risk becomes apparent," warns the report.
Simonovic says that since the maps were published Wednesday, he has had a number of calls from government officials, and ordinary homeowners wondering if their house will get flooded over the coming decades.
But the scale of Simonovic's mapping means risk is averaged over areas too large to calculate the specific risk to a building. That, says Simonovic, is a job left for a federal government.
On Friday, Simonovic says he is meeting with a team from Natural Resources Canada after they expressed interest in joining forces to update national flood maps. Ottawa committed $63.8 million in its 2021 budget toward mapping areas vulnerable to flooding.
Simonovic says the mapping project was funded by the Natural Sciences and Engineering Research Council of Canada and several re-insurance companies.