A piece of the community's past will be on permanent display in Delta in the future.
Members of the Delta Heritage Society and others involved a major fundraising effort to purchase a striking oil painting by acclaimed local marine artist John Horton, a work called Arrival at Port Guichon, were on hand at city hall Monday to present the artwork as a gift to the city.
The painting will be on permanent display at the Delta Cultural Centre when that facility opens next year.
Former mayor Doug Husband and former Citizen of the Year Mike Owen spearheaded the campaign to purchase the work inspired by a 1903 photograph in the Delta Archives.
Bringing to life Delta's early industrial marine history, Horton captures Port Guichon in its heyday by featuring the Vancouver Island ferry Victorian, the British sailing ship Forteviot, the Victoria Terminal rail line and several buildings constructed by prominent citizen Laurent Guichon.
The campaign's goal was $50,000, with Horton donating $20,000 to the Delta Heritage Society.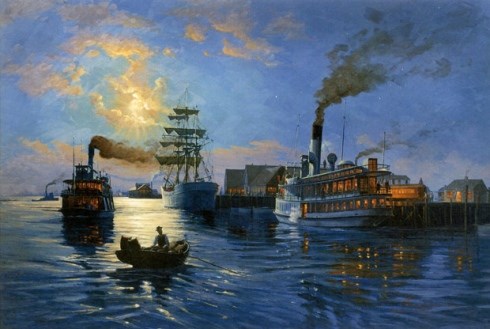 The fundraising hit its target this summer when civic-minded people interested in art and local history attended to An Evening of Enchantment on the grounds of the estate of Harlow and Mary Ann Burrows.
At Monday's presentation, Husband said it had been a four-year journey that wasn't having a lot of success until the fundraiser at the estate.
Horton, who presented Mayor George Harvie with a cheque for $20,000, said he hoped to do a work that would be on permanent display in a Delta public space. He said he hopes this is just the beginning of a major art collection for the city, noting every city should have its own art gallery with significant works.
Horton's original paintings are in private, corporate and government collections world-wide.