It's a new children's book series with a message – we all need to treat animals of the world with love and respect.
Roxi the Rescue Dog: Helps the Chickens was the first in a planned series of three children's books written by first-time South Delta author Carolyn Drew. The colourful picture book features the illustration of her cousin Debi Pirie and tells the tale of Roxi (based on Drew's family dog), who is off on a new adventure.
Roxi wants all the animals in the world to have a nice life and in this story she helps the chickens. The age range for the book is three to five years.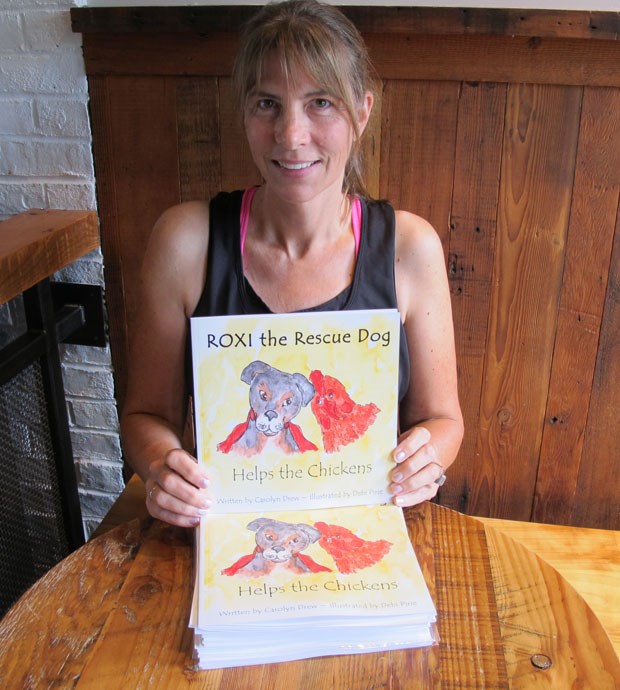 The second book in her Helping Animals series, due to launch on Oct. 4, is Roxi the Rescue Dog: Helps the Elephants and the third in the series due to launch in January is Roxi the Rescue Dog: Helps the Bunnies.
The book series is published by Drew and her husband's independent publishing company, Drew North Publishing.
"I wanted to figure out a way to help animals," said Drew on why she came up with the book series. "With my background as an education assistant and my own tutoring company and working with kids, I thought I would write a children's book. I researched various animal rights issues to start. The books are to entertain the kids and has that underlying message of animal welfare as well."
Drew had a soft launch of Roxi the Rescue Dog: Helps the Chickens in the summer as well as a pop-up launch in early September at Nat's Coffeehouse in Tsawwassen Springs where 35 of her Jazzercise Tsawwassen/Richmond class supported her with a book signing event.
She will officially launch Roxi the Rescue Dog: Helps the Chickens on Friday, Oct. 4 recognizing World Animal Day with signings at various coffee shops in South Delta as well as a launch event called An Evening of Kindness, Love & Bananas at the Tsawwassen Arts Centre.
Doors open at 6:30 p.m. with a reception (cash bar) and a screening at 7:30 p.m. of the documentary film Love & Bananas: An Elephant Story. Tickets are $10 and can be purchased via email: carolyndrew101@gmail.com.
After that launch, Drew is planning a month-long campaign where proceeds from the book sales will go to a pair of animal welfare organizations in Thailand.
"I had written children's books in my head many times, but got stuck on the illustration part," Drew recalled. "In May my family from England and Scotland came out for my mom's 80th birthday and my cousin from Scotland was there and we chatted and she said she would take a crack at it.
"I love the chickens and the elephants. Debi did a great job with the illustrations. I've learned a lot during this process, so I think each book will get a little bit better as we go along."
Roxi the Rescue Dog: Helps the Chickens is available online at Amazon or at www.RoxiTheRescueDog.com.