Fresh off the launch of her new Roxi the Rescue Dog children's book series, Tsawwassen author Carolyn Drew and husband Graeme are heading to Thailand next week with plans to visit, volunteer and deliver a ton of bananas to elephant sanctuaries.
Drew's Roxi the Rescue Dog Helps the Elephants (available on Amazon) raises awareness of animals used for entertainment, specifically elephants used for riding, trekking and performing in the tourism industry. One dollar from every book sold will go towards their Bucks for Bananas campaign.
"Elephants eat a lot of bananas," said Drew. "Our Bucks for Bananas campaign is to raise enough money for a ton (907 kilograms) of bananas that we will personally deliver to ethical elephant sanctuaries in Thailand. The goal of the books, along with raising awareness, we will be choosing certain organizations and causes every year, so sales from the books will always be going to something."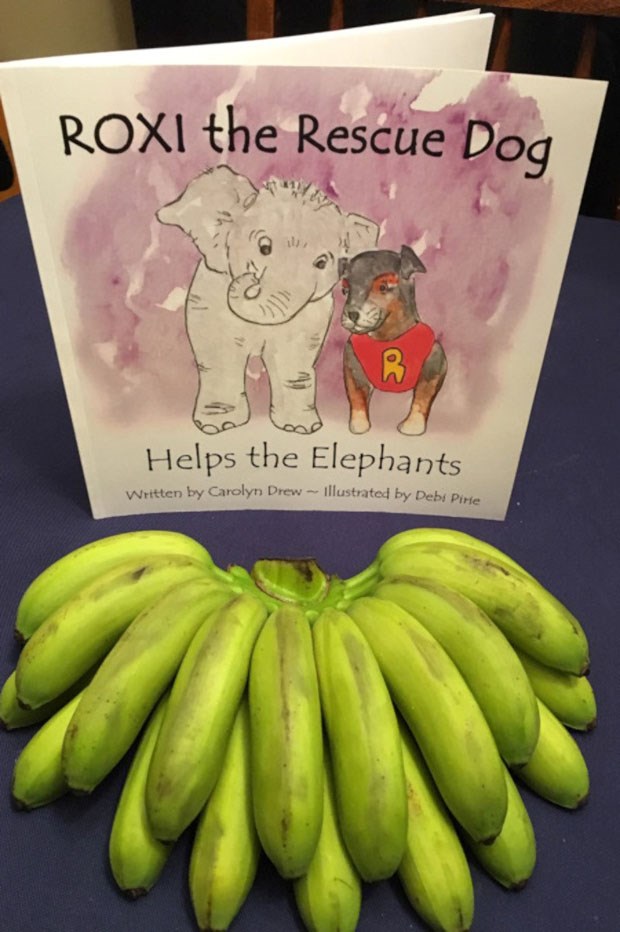 Drew and her husband leave for Thailand on Nov. 12 and will take money from book sales as well as any private donations to purchase bananas. They will then visit several elephant sanctuaries as well as Chiang Mai where the film Love & Bananas: An Elephant Story was filmed.
Drew held a screening of the film when she launched her books last month in Tsawwassen.
"The reaction, especially to the launch, where we showed the film, has been great. Quite a few people didn't know what was going on in areas where elephants are used for riding and for tourism," she said. "The chicken book, which was the first book released, I had someone come up to me who said that now when I go buy eggs I take a double look at the label, so I'm like, great. Even if one person takes a look and pauses a bit to think about the issue, then that is really amazing. The reaction so far has been great in buying the books as well as the support for the issue."
For more information about the book series, visit: www.RoxiTheRescueDog.com/proceeds. To contribute or donate directly, email or e-transfer Drew at: RoxiBooks@gmail.com.