An eight-year-old Ladner girl got a very special honour earlier this month thanks to a group of Star Wars super fans.
Gemma Bostik, who was born with a rare, undiagnosed neuromuscular condition, received a special award, a Hero of the Galactic Empire medal and was inducted as a member of the 501st Legion, at an event held at Toy Traders in Langley.
"This event was very special to Gemma, she was very excited and proud," said Gemma's mom Amanda Bostik.
Members of the local division of the 501st Legion, known as the Outer Rim Garrison, express their Star Wars fandom through the use of costumes for charity, according to the group's website.
Bostik said the family is absolutely blown away by how much the group has done for Gemma, from appearing at birthday parties to spending months organizing the recent event, which included custom coins and patches with Gemma's name and image on them that she helped design.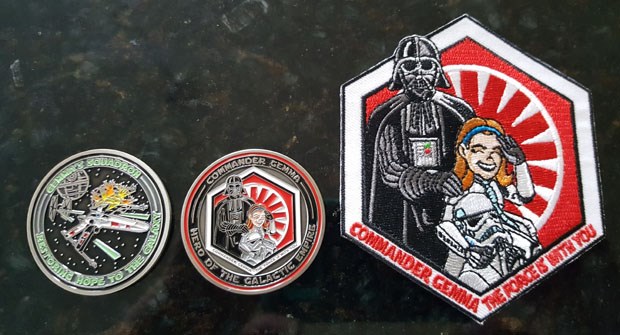 She said 501st Legion member Nicholas Harrison spearheaded the event.
"There aren't enough words to express our gratitude… Harrison and the 501st Legion are truly some of the most incredible, selfless, gracious people we have ever met," she said. 
The event raised over $2,400 for Muscular Dystrophy Canada.
Bostik said Gemma developed a strong interest in Star Wars at the age of three.
"Most little girls her age were playing with dolls, Gemma liked Star Wars action figures and books.  She was pointing to Star Wars characters in books and learning their names."
She has an extensive Star Wars collection, with dozens of books and encyclopedias, and knows all the characters, Bostik explained, adding that most of Gemma's clothes, and even her bedding at home, are Star Wars themed.  
Gemma spent the first 10 months of her life in the neonatal intensive care unit at BC Women's Hospital and was not expected to be "compatible with life" or have purposeful movement.
"She also had a severe brain bleed at birth which caused her to have a condition called Hydrocephalus that was preventing normal brain development, and she needed to have a permanent shunt inserted," Bostik explained.
Gemma, who has exceeded all doctor and hospital expectations, attends Grade 2 at Ladner Elementary.