Cops for Cancer Tour de Valley paid a visit to Delta Wednesday afternoon on day seven of a nine-day ride in support of Camp Goodtimes and childhood cancer.
This year's ride brought together law enforcement officers, paramedics, corrections officers and support staff to pedal more than 800 kilometres.
Joining for the Wednesday ride through Delta was Delta police Chief Neil Dubord and Const. Kevin Boyce.
The riders departed North Delta bright and early with their first stop at Sunshine Hills Elementary. The tour then paid a visit to Delta police headquarters in Ladner for a short ceremony, followed by a barbecue lunch put on by the Tsawwassen Rotary Club. Following lunch, riders headed to South Park Elementary, a few businesses and, finally, Southpointe Academy.
During the visit to DPD headquarters, Dubord thanked the riders and the community for supporting such a great cause.
"You all take days away from your family – it's a significant commitment – although it's a lot of fun, but it's amazing to see that and the energy that goes into making this such a success," said Dubord.
"Then there is the inspiration from all of the children that are sick. It's just amazing to me to see kids and their ability to overcome and survive and actually they teach us lessons in how they thrive in our communities. Delta has a strong tradition for this ride and we are so proud to be able to put on this barbecue with the support of the Rotary Club."
Dubord then made several presentations to Ladner's Morgan Levins, their junior rider, who proudly announced to the crowd that this week she found out she is now 21 months cancer free.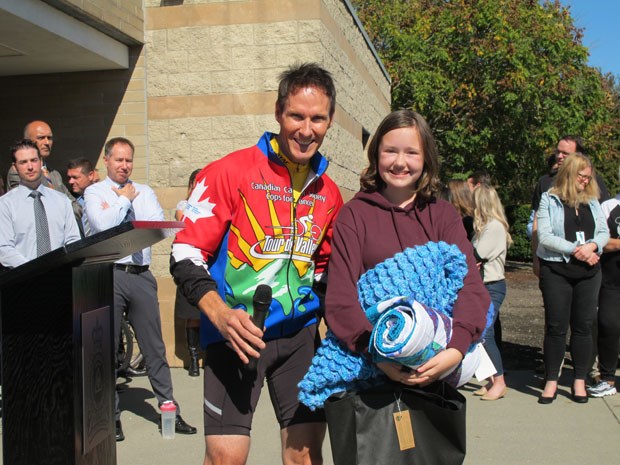 Dubord gave her a beautiful quilt made by the Quilters' Guild, a Mermaid Blanket donated by an anonymous community member and a DPD swag bag.
Ride captain Nick Bruce also thanked Delta for the support, including the DPD for "policing a fairly flat community."
"This has been an exceptional year for Cops for Cancer. As of Wednesday morning, we were at $527,000 raised. Delta has always been a massive supporter of Cops for Cancer. Thank you for your support," said Bruce.