The City of Delta was acknowledged for its key role in helping the regional district achieve corporate carbon neutrality for 2019 and potentially through 2022.
Media were invited to the announcement within the bog Monday morning where several elected officials congratulated Metro Vancouver for its milestone, which is to put the region in a strong position to advance important climate actions as part of Climate 2050 and achieve its ambitious climate change and environmental goals.
"Metro Vancouver's carbon neutrality is thanks to tangible initiatives whose benefits resonate throughout our communities. Today, we call on the region's businesses, institutions and residents to accelerate their own actions to reduce greenhouse gas emissions," said Metro Chair Sav Dhaliwal.
The regional district notes its carbon neutrality is attributable to projects such as the ecological restoration of the bog, which sequesters large amounts of carbon and improves the ecology of North America's largest urban bog known as "The Lungs of the Lower Mainland."
Other projects include parkland acquisitions at Widgeon Marsh in Coquitlam and Codd Wetland in Pitt Meadows and trenchless tunnel construction methods for major liquid waste infrastructure projects, which cut down on heavy trucking and cause fewer community disruptions.
The projects also include installation of energy-efficient boilers and appliances in Metro Vancouver Housing sites and increasing the share of electric and hybrid vehicles in Metro's vehicle fleet.
"The COVID-19 pandemic has led to reevaluation of many of society's priorities, but the importance of climate and environmental actions remains unchanged. In fact, we have seen around the globe that large-scale action by government, businesses and residents can have significant effects. The task before us is to learn from this experience so that we reopen our economies and our lives and transition to a new and better normal," added Dhaliwal.
The district's carbon neutral achievement applies to the corporate organization of Metro Vancouver and not the region's population as a whole, as the larger target is still 30 years away.
B.C. Environment Minister George Heyman said Climate 2050 aligns fully with CleanBC and the actions underway to strengthen communities, support business opportunity and reduce pollution.
He said his government is working with all levels of government, Indigenous nations and partners on a series of initiatives to deliver on the ground benefits to all the residents of Metro Vancouver.
Adriane Carr, Chair of the Metro Vancouver Climate Action Committee, said local governments have been taking action on climate change for nearly 20 years, and many have declared climate emergencies and also signed the provincial Climate Action Charter, committing to pursue carbon neutrality.
She also noted that through Climate 2050, Metro Vancouver aims to ensure regional infrastructure, ecosystems and communities are resilient to the impacts of climate change, and has set a commitment to becoming a carbon-neutral region by that year.
Participating in the announcement via zoom, federal Minister of Environment and Climate Change Jonathan Wilkinson and Delta MP Carla Qualtrough congratulated Metro on its milestone, saying local governments also play an essential role in the fight against climate change.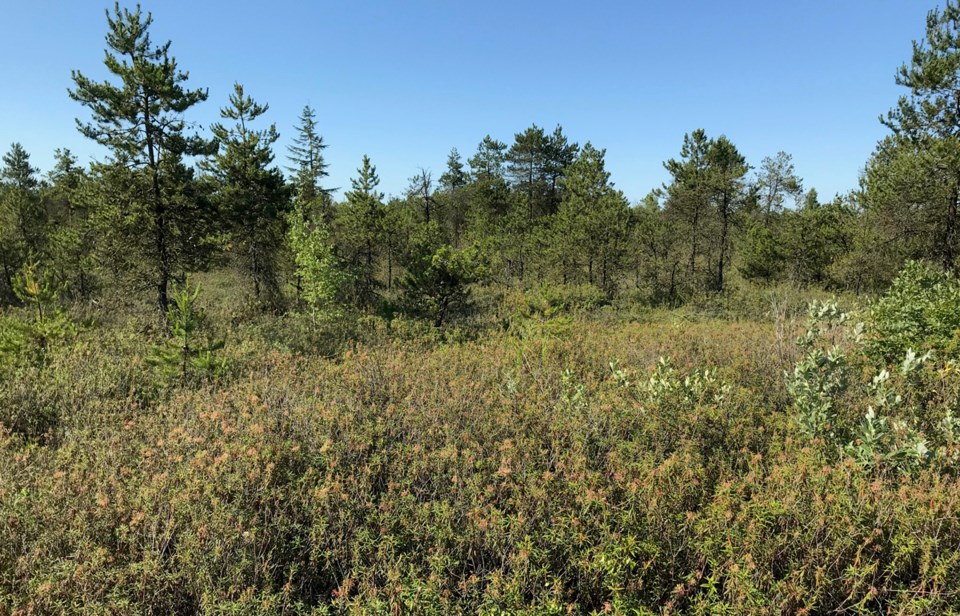 Burns Bog covers approximately 3,000 hectares and is the largest undeveloped urban landmass in North America
Delta has a key role in maintaining and improving the water levels in the bog, which is fed entirely from perception and does not get any water from rivers, so that the wetland doesn't dry up.
It's part of a bog management plan involving Delta and Metro Vancouver.
In 2018 alone, Delta built 139 new dams in ditches to help restore the water table.
To ensure that ditch blocking is effective and the bog is recovering, a water level monitoring program has been in place since 2005.
Also on hand at Monday's announcement, Delta Coun. Dylan Kruger, a member of Metro's Climate Action Committee, noted the city has completed about 500 dams so far.
He also outlined the city's ongoing ambition climate action policies.
"Here in Delta, I also chair our city's newly formed Climate Action and Community Livability Committee where I am excited to further advance Delta's own efforts to reduce carbon emissions. Through continued efforts, Delta has been carbon neutral in our own corporate emissions since 2012. Through a unanimous motion of our council last year, Delta has also aligned itself with Metro Vancouver's target of achieving zero net emissions by 2050," said Kruger.
"In addition, we're moving forward with new initiatives including a climate action revolving fund and an urban forestry action plan," he added.
Noting the bog is usually closed to public access, John McEwen, chair of the Metro Vancouver Regional Parks Committee, also acknowledged the city's role in maintaining the bog's water table.
"These efforts have significantly enhanced the bog's ability to sequester, or remove, carbon from the atmosphere, playing an important role in achieving Metro Vancouver's climate change objectives. We are committed to securing and protecting the region's sensitive ecosystems and expanding our network of regional parks," he said.
In 2004, four levels of government -- federal, provincial, regional and municipal -- jointly purchased thousands of acres of Burns Bog for $73 million.
Even before that historic purchase, concern was raised about the bog potentially drying up and becoming even more prone to devastating wildfires.
The Burns Bog Ecosystem Review noted the bog receives enough rain to sustain itself, but a lengthy system of drainage ditches at the time made the area more prone to drought and fire.
Metro Vancouver says while it has implemented innovative actions to reach carbon neutrality as an organization, it is seeking feedback on innovative and transformative "big ideas" that are needed at the regional level.
Implementation of Climate 2050 is underway and is structured around 10 different issue areas, each with its own roadmap for climate action, Metro explained, adding that public and stakeholder engagement is currently ongoing on the individual roadmaps and the Clean Air Plan.