The supply chain is still functioning but, despite government leaders urging people not to hoard, it's still frustrating at grocery stores.
A quick tour of North Delta and South Delta outlets heading into this weekend found most grocery stores didn't seem as busy with panic buyers, but shelves on many items were thin or completely empty for a lot of products.
The selection of pasta and sauce, for example, was a little better at some stores, while flour was not available at a few, but there is plenty of canned food on sale.
Thanks to limits on many items at stores, milk was available while the meat selection at stores varied heading into this weekend, but getting eggs was more hit-and-miss.
Frozen vegetables in the box are also in high demand.
When it came to disinfectant wipes and hand sanitizer, meanwhile, you're out of luck most of the time.
And then there's toilet paper and paper towels, which seem to have suddenly become much tougher to buy once again.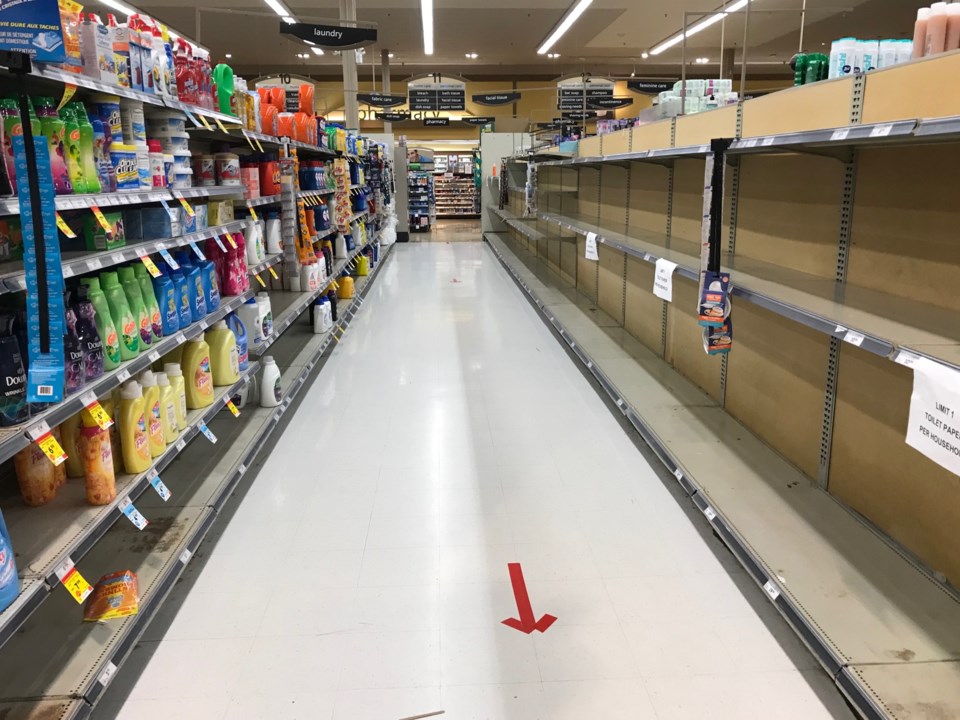 For a short while the North Delta Safeway had plenty of toilet paper and paper towels
Just over a week ago many stores, for a while, seemed to have them back on shelves after the initial wave of panic buyers and lack of limits, but now shelves are empty once more at most places.
Looking at the barren paper product section, one angry shopper at the Tsawwassen Commons Walmart used expletives and describe it as ridiculous, and that he was tired of having to drive around looking for it. Another said when it does return, he'll buy some whether he needs it or not because of the uncertainty.
Shoppers who stay tuned to social media are managing to find out when products like toilet paper and hand sanitizer are available at certain places thanks to someone posting on local Facebook groups.  
Saying the lineup to get in didn't take too long, one shopper told the Optimist the Richmond Costco is much better stocked and, while disinfectant wipes and sanitizer were not available, people can still buy large packages of toilet paper which is limited to one per member.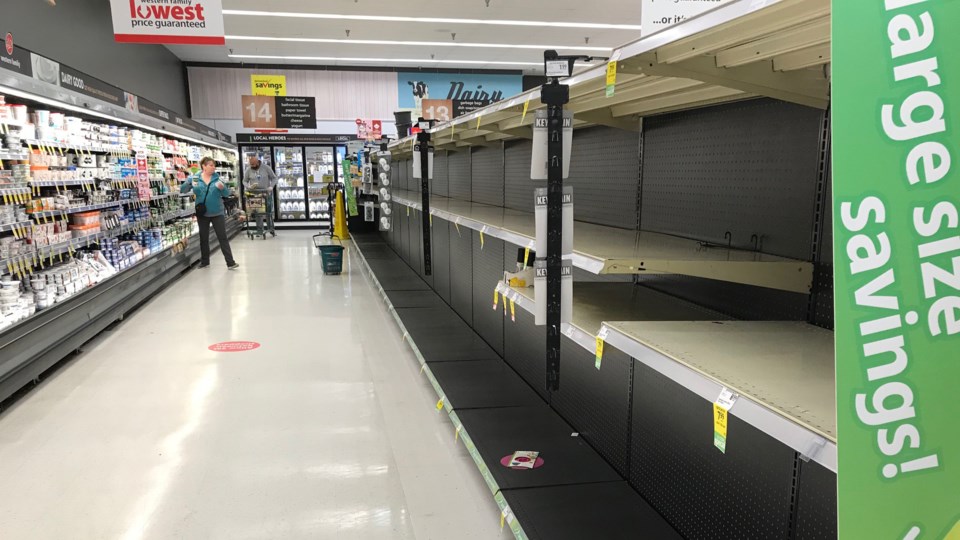 Nope, the Ladner Save-On didn't even have a square of toilet paper, while the Save-On at Scottsdale Mall at the same time had some but that didn't last long
According to a survey released this week by Food and Consumer Products of Canada, an industry group representing food, beverage and consumer products companies, food and consumer goods manufacturers experienced up to 500 per cent increased demand in the last two weeks of March, an all-time high.
Eighty per cent of surveyed manufacturers increased production, particularly for their most in-demand food, cleaning, household, and health products.
The association conducted the survey to get insight into business impacts and responses related to the ongoing COVID-19 pandemic.
"Food and consumer goods manufacturers' extraordinary engagement has been integral to the initial phases of Canada's COVID-19 outbreak and reaction," commented FCPC president and CEO Michael Graydon in a news release.
"It appears likely the COVID-19 pandemic will entail a prolonged period of uncertainty for Canadian businesses and consumers. Quantifying the profound impacts of COVID-19 on our production, supplies, and workplaces is critical to making smart preparations for continuing the smoothest possible operations to make the food, cleaning, household and health products Canadians need."
The most in-demand products include paper products, water, canned goods, rice, pasta, baby food, disinfectants/household cleaning, baking supplies, milk and eggs, and over-the-counter medicine.
The Retail Council of Canada has said supply chains continue to function normally.