It may be a while before Metro Vancouver comes up with regulations on the odours coming from cannabis greenhouses and processing facilities.
Delta city councillor Dylan Kruger, a member of the region's Climate Action Committee, recently provided the Optimist an update on what's been happing on that front, saying Metro staff were supposed to report back to the committee on the results of engagement during the second quarter of 2020, but now it looks like it will be delayed until the fall due to the impacts of COVID-19.
In addition, early consultation efforts indicated that additional discussions with the agricultural sector and the Ministry of Agriculture were needed, he said.
Kruger noted Metro staff believe that after reporting back to the committee on what was heard during the consultation phase, a second phase of consultation may be required.
He also said the issue is that there are many in the farming community who believe new odour restrictions placed on the cannabis industry could inadvertently lead to more restrictions on other agricultural practices.
"For me, there is a big difference between bona fide local farmers like the Guichon, Harris, or Kelly families and large, industrial scale marijuana operations that are traded on the New York Stock Exchange. Now, more than ever, our local Delta farmland should be preserved for food production. The place to cultivate and process marijuana should be in industrial areas or on poor, class 6 or 7 soil," Kruger said.
"I attended the Scentroid Air and Odor Management conference on behalf of the Climate Action Committee last year where industry experts demonstrated that it is nearly impossible to eliminate all odours from marijuana production in greenhouses. Delta has had medical marijuana companies operating out of properly ventilated facilities in our industrial areas for years, and we have never had a problem. That's exactly where these sorts of operations belong," he added.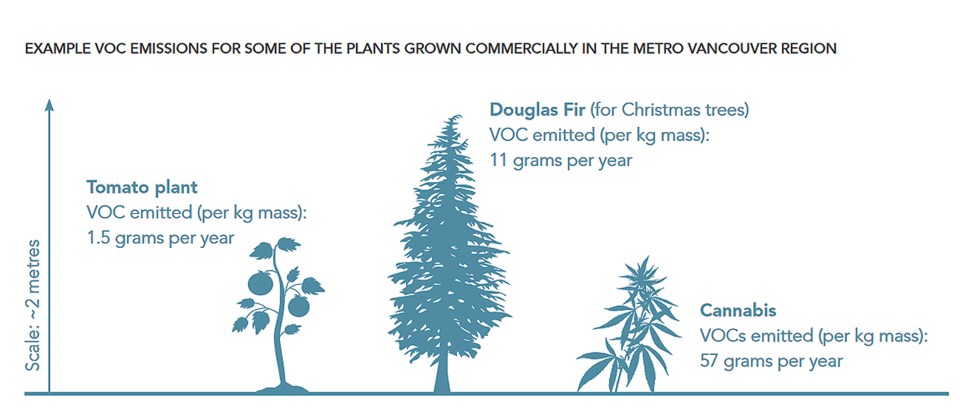 A Metro discussion paper on regulating emissions from cannabis facilities notes odour masking agents introduce an alternative fragrance to reduce the ability of the human nose to detect air contaminants, but they contain volatile organic compounds (VOC) and may also create particulate matter. A number of technologies are available to control VOC in general but these may not all be suitable for cannabis production operations in the Metro Vancouver region.
It was last summer that the first phase of consultation on the regional district's proposed Emission Regulation for Cannabis Production and Processing Operations Discussion Paper was held.
That discussion paper pointed out a number of greenhouses formerly used for vegetable production have been retrofitted for cannabis production, yet were not designed or constructed to collect and treat air contaminants.
"Metro Vancouver as well as member municipalities have received complaints about odorous emissions from cannabis production operations. Information from other jurisdictions in which cannabis is produced suggests that potential environmental impacts related to air quality, solid waste management, water consumption and wastewater discharges could occur," the report stated.
"Cannabis production has the potential to cause negative air quality impacts if emissions are not adequately controlled."
The discussion paper notes the proposed regulation could require that a comprehensive odour and volatile organic compounds emission management plan, certified by an appropriately qualified professional, be submitted for each facility producing or processing cannabis and be approved by Metro Vancouver.
A Delta staff response last year to letter to city council complaining about the odour from the now closed Canopy Growth greenhouse East Ladner explained cannabis growing facilities are regulated by Health Canada but Delta has been actively petitioning for enforcement to prevent the escape of odours.
At a meeting Delta's community livability advisory committee at the time, it was noted Metro's proposed regulations would apply to facilities smaller than 50,000 square metres, but because several Delta greenhouses are larger than that, staff recommend the regulations should apply to all cannabis production facilities regardless of size.
Just prior to the COVID-19 outbreak this year, in a letter to Mayor George Harvie, regional district chair Sav Dhaliwal explained Metro staff had been working on regulations and the board was to consider recommendations early this year.
Metro Vancouver staff continued to advise cannabis production facilities of the requirements of the GVRD Air Quality Management Bylaw and have directed known existing facilities to seek authorization for the discharge of air contaminants from crops, equipment, and other sources, explained Dhaliwal.