The past meets the present at the new Southlands development in Tsawwassen.
An ambitious project, years in the making, Southlands is the first project of its kind in North America — a master planned beach community rooted in farming and food — re-establishing the culture of agriculture in a new sense of place.
Century Group president Sean Hodgins said a Discovery Centre to showcase the project is scheduled to open by mid-September with the first townhomes and cottages on sale.
"It will be like pre-sales, but basically you'll be seeing finished product ready to move into," said Hodgins who met with the Optimistlast week to tour the construction site. "We really wanted to showcase the quality of the housing that we're building and we knew we couldn't do that just showing a plan on a piece of paper.
Phase one will consist of 75 townhomes and cottages with traditional farmstead design, complete with a collection of agrarian outbuildings, natural open space, and a network of trails that connect people to the beach at Boundary Bay Park.
The project will eventually include 950 housing units and approximately 80,000 square feet of commercial space.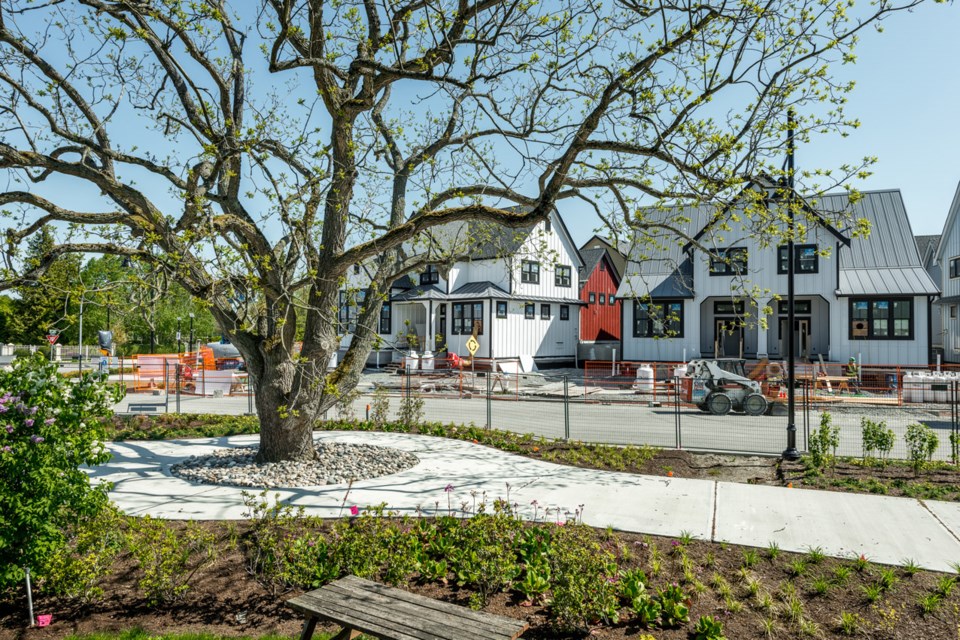 The heart of Southlands is its vibrant Market District — with craft-style businesses, including restaurants, artisan shops, a Market Square for fresh produce, open-air performance space, and allotment gardens.
"Farming and food is the ethos of the community overall and discovering what that will look like is going to be an on-going effort and challenge," added Hodgins. "We want to see people on their porches, having a cup of coffee, waving at people who are walking by - really connecting as a community. We tried to find something that would be at home in Tsawwassen and something that evokes a farm feeling and I think we have accomplished that."
Hodgins said what they have tried to do throughout the development is fulfill the promise of connecting food and agriculture.
"We have a lot of work to do to make that a reality, but we have a great group of people involved. The farming part will really blossom next spring," he said. "Many of us grew up with the experience of growing food—a farm owned by grandparents or a kitchen garden and fruit tree in your backyard. We understood and appreciated food well before we ate it, as we pulled potatoes from the garden or watched mom or dad make jam.
"But most of us have lost touch with farms and growing food. The global economics of food and agriculture mean there are fewer family farms and fewer connections to agriculture in our society. In a world with plentiful food we often lack the sense of connection we once had to how food comes to the table.
"If we could create a place where farming and food could energize a neighbourhood then, in a modern sense, we could re-establish something we lost. That is the promise of Southlands— that we try to make those connections and re-establish the culture of agriculture."
At the Aug. 10 Delta council meeting, Hodgins provided an update on the project to civic politicians.
Coun. Dylan Kruger said he is very impressed with the development.
"Just seeing where the site is coming – even in the last few months and the beautiful colour pallet that has come on, the design of these fantastic homes is very exciting," he said. "This is a great model for what we are trying to achieve with liveable communities."
Coun. Lois Jackson called the development a successful marriage between development and the farming community.
"Sean, you are creating something that is very unique," she said. "It is historic, memorable, something that Delta will be proud of for many, many years. I want you to be proud of what you have accomplished because I am."