Average (but not benchmark) home prices have seen a recent decline in Metro Vancouver, the Greater Toronto Area and various other regions across Canada – a fact that is cheered by many hoping for better affordability.
But don't get too excited just yet, warns finance group Desjardins – falling average prices don't mean you'll pay any less to buy a home.
In a new report, Desjardins observed that home sales were slowing across Canada and that average resale prices have also been declining. "At first glance, the recent slowdown in existing home sales is also being felt on prices. According to monthly transactions, the average price has fallen in the past few months. The average price for an existing home in Canada has fallen by 8.2 per cent since the end of 2017, based on this measure."
However, the report pointed out that average prices are simply "based on the monthly transactions recorded," which are affected by a high or low number of expensive or less-expensive homes being sold, but are not necessarily representative of what a buyer will pay for a given property. Desjardins points to the Home Price Index – also called the "benchmark" price – as a more accurate measure of what buyers will typically pay for a given home at a certain time.
The report said that while average prices are falling, due to more purchases of less-expensive homes and fewer high-end sales, the benchmark price keeps rising.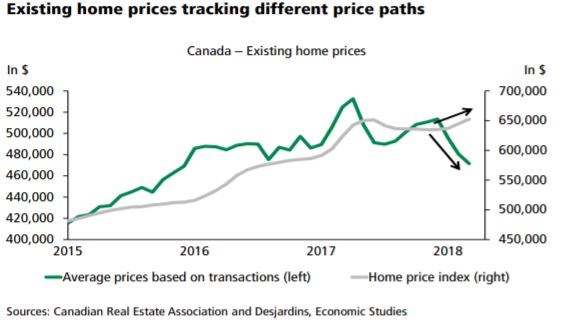 The report said, "The divergence between the two measures in recent months can be explained by the fact that buyers are increasingly turning to less-expensive homes. This has had a negative impact on the average price (based on the number of transactions), but not on the HPI.
"As such, the HPI's stability suggests instead that home prices in Canada have not genuinely declined in the last few months. In reality, prices continue to climb in several regions, especially in Vancouver and Montreal, while home prices in Toronto have been stabilizing somewhat since mid-2017."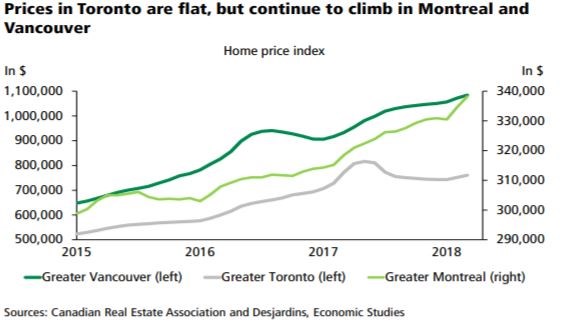 Looking at individual markets, the report said, "In Vancouver, price growth [on the Home Price Index] has been recorded across all markets segments since the end of 2017. That said, less expensive homes – townhouses and apartments (condos mainly) – have seen the sharpest growth. This supports the assumption that demand is shifting toward these types of property."
The report concluded, "However, the risk that the housing market could deteriorate further in the months ahead remains high, which could potentially lead to a genuine drop in property prices."